Featured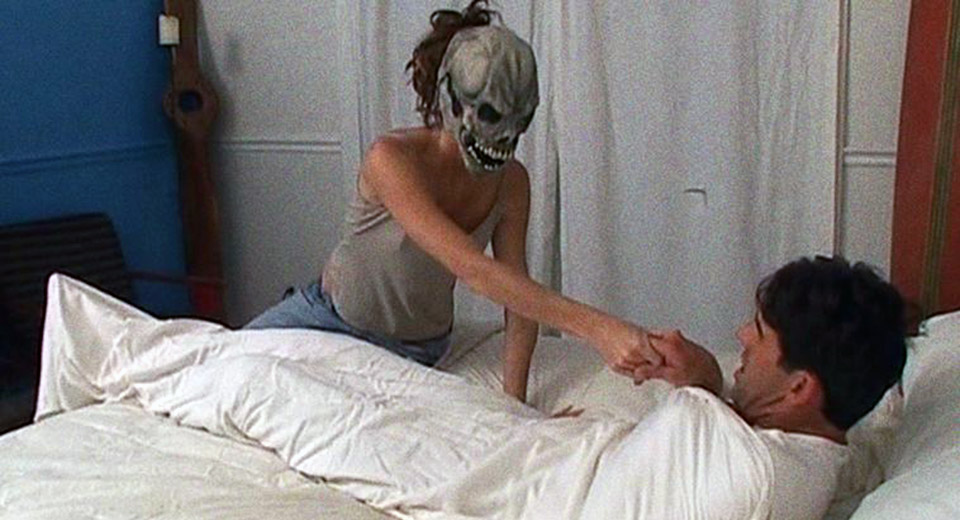 December 16th 2019
In order to "test the inadvertent sensual limits of the Flesh Psyche©️," Adult Swim's Vernon Chatman (creator of, among other things, the channel's greatest gift, Xavier: Renegade Angel) commissioned four separate bespoke porn companies to film individual sections of a surrealist post apocalyptic screenplay featuring lines like "Me shit my brains out. Me feel pleasure," and "Every one of my atoms is writhing in agony, but three are shaking in ecstasy." Together, the sequences form Final Flesh, Chatman's 2009 whatsit stunt that offers an endlessly fascinating and often hilarious dive into the mire of sex, money and exploitation.
Each cast features two women and one man portraying a nuclear family in colliding vignettes that are often, to borrow André Breton's surrealist battle cry, "as beautiful as the chance encounter of a sewing machine and an umbrella on an operating table." There is plenty of flesh on display, though the proceedings are about as sexy as a nude root canal. Instead of fornicating, the trio shake tupperware containers full of meat, eat paper and smell one another's armpits. They spend their Freudian apocalypse consuming and secreting weird offerings from their orifices, from shit and blood to grapefruit and coins. Of course it's certain that someone somewhere has masturbated to the finished product, but Chatman's aim is to revel in the limitations and surprise potential of his contractors. The groups offer their bedrooms and bodies in exchange for small sums ($1,200 for one of the shoots, according to Chatman) and heroically commit to material far more laborious than the outlandish but ultimately simple fetish videos for which their companies were created. Are we laughing at them? Is this an avant-garde equivalent of giving the weird kid in junior high a dollar to eat a tampon? The lines are fuzzy, but most of the groups appear to be having a grand time, if their poorly concealed giggles can be taken as any indication.
Final Flesh invites mockery in the same breath that it provokes admiration. As with most pornography, we can only hope these performers entered the industry willingly, maybe even enthusiastically. They chew on Chatman's garden maze dialogue in an effort to please, not unlike their mainstream counterparts tasked with delivering lines about infinity gauntlets. The final group in particular shines as they carefully light and stage each scene with a relatively impressive production value, resulting in an effectively Lynchian aesthetic that Chatman couldn't have anticipated. Our laughter grows deeper and warmer the more we imagine ourselves tasked with the demands of these impossible scripts, but the film never insists on this framing. The question of exploitation in this case is a question of identification.