Featured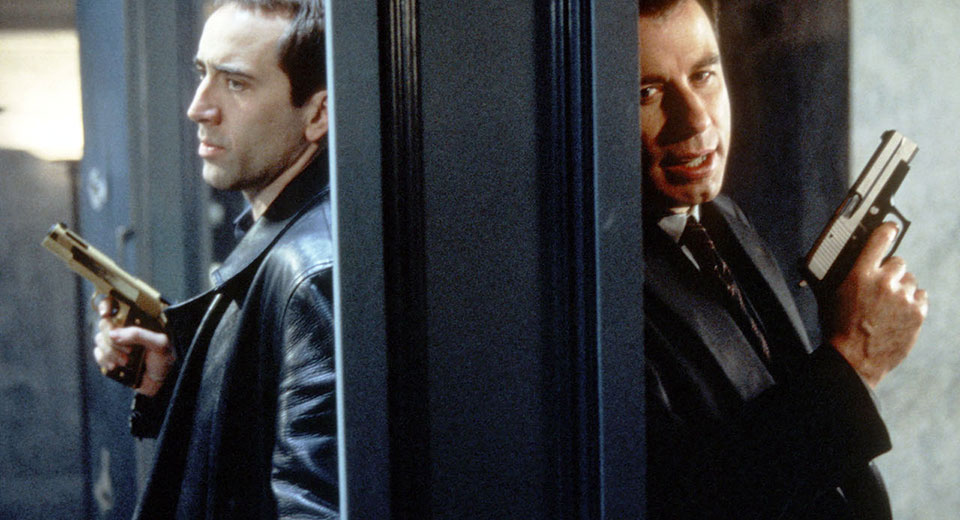 August 14th 2019
This month Film at Lincoln Center presents Another Country: Outsider Visions of America, a series spotlighting international auteurs who have captured and, in turn, shaped the American imaginary from the outside looking in. The entries probe the landscapes and mythologies that build and bolster U.S. identity, as well as the complicated (and often repulsive) dynamics of race, class, gender entangled within. And then there's Face/Off (1997).
Face/Off is the collision of three major 90s film characters during their mainstream career heights. Hong Kong legend John Woo (The Killer, 1989, and Hard Boiled, 1992) was trying to find his way in Hollywood while navigating creative limitations, especially due to MPAA limitations on violence. John Travolta was riding the success of his comeback post-Pulp Fiction (1994) and Get Shorty (1995), having just filmed an American Woo film a year prior, Broken Arrow. And Nicolas Cage had just won an Academy Award for Leaving Las Vegas (1995), as well as having just completed two major action movies, The Rock (1996) and Con Air (1997). Their performances are simultaneously self-aware and absolutely ridiculous, as is most of the film itself, and create a new kind of mainstream-yet-bonkers American action film.
Face/Off establishes the cat-and-mouse chase of psychopathic terrorist Castor Troy (Cage) by his revenge-seeking rival, FBI Agent Sean Archer (Travolta) before introducing the truly absurd central concept: when an injured Troy falls comatose, taking the knowledge of a massively deadly bomb's location with him, Archer submits to a medical face-swapping procedure that will allow him to borrow the identity of his nemesis and infiltrate his criminal circles. Suspension of disbelief ensues, along with hundreds of bullets, dozens of explosions, and many doves, as John Woo's reveling in the freedom of having some Hollywood control is on full display throughout.