Featured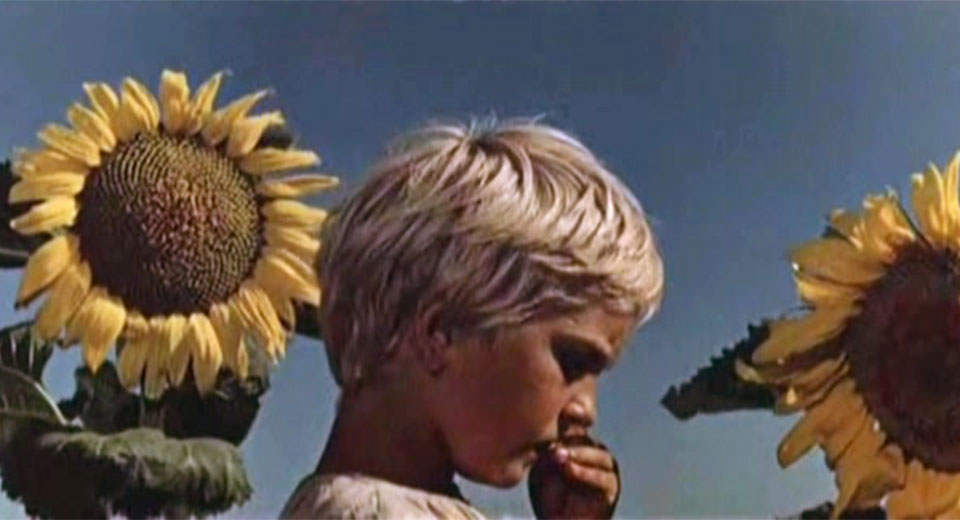 August 21st 2017
Summer may be drawing to a close, but the Museum of the Moving Image is throwing one last hurrah with a screening of Yuliya Solntseva's Ukrainian Trilogy the final weekend of August. If you can only make it to Astoria for one of these rarely shown treasures, ensure that it is The Enchanted Desna , a kaleidoscopic fairy tale complete with blazing colors, talking horses, biblical floods, and fields of impossibly yellow sunflowers — among other fantasies.
Poem of an Inland Sea and Chronicle of Flaming Years technically precede Enchanted Desna, but the films only loosely fit together — all are concerned with war and in awe of the natural splendor of Ukraine. Desna, though, is in a league of its own, an almost episodic depiction of the memories of the protagonist, Alexander, who blends his childhood dreams with national mythmaking and personal biography. "I'm an artist," he tells the audience in one of his rare trustworthy monologues. "Imagination has always been my joy and my curse."
It will play out as both. Returning home from war (depicted only briefly in typical Solntseva style, with towering crane shots and fires sizzling in such brilliant reds that the screen itself looks like its smoldering), Alexander recalls in voice-over his idyllic youth in rural Ukraine. "Why was I born into this world?" he muses, a question that looms larger if he is considered a stand-in for the Ukrainian people themselves. On an individual scale, at least, Solntseva is optimistic: "Even today there's no darkness in my soul." But when modernity and Communism are addressed head on, the answer becomes far more complicated.
Of course, Solntseva's own biography is not the source material for Alexander's story; her husband, Alexander Dovzhenk, wrote the Ukrainian Trilogy, but he died before being able to follow through with his vision. "If Dovzhenko had lived, I would never have become a director," Solntseva had said. "All that I do is considered as a defense and illustration of Dovzhenko." As it turned out, Solntseva's work behind the camera earned her the honor of being the first woman to ever win the directing award at Cannes.
Critic Jonathan Rosenbaum, who will introduce Saturday's screening, called Desna "among the most ravishingly beautiful and poetic spectacles ever made," and on 70mm no less, it will be a splendid and once-in-a-lifetime treat.