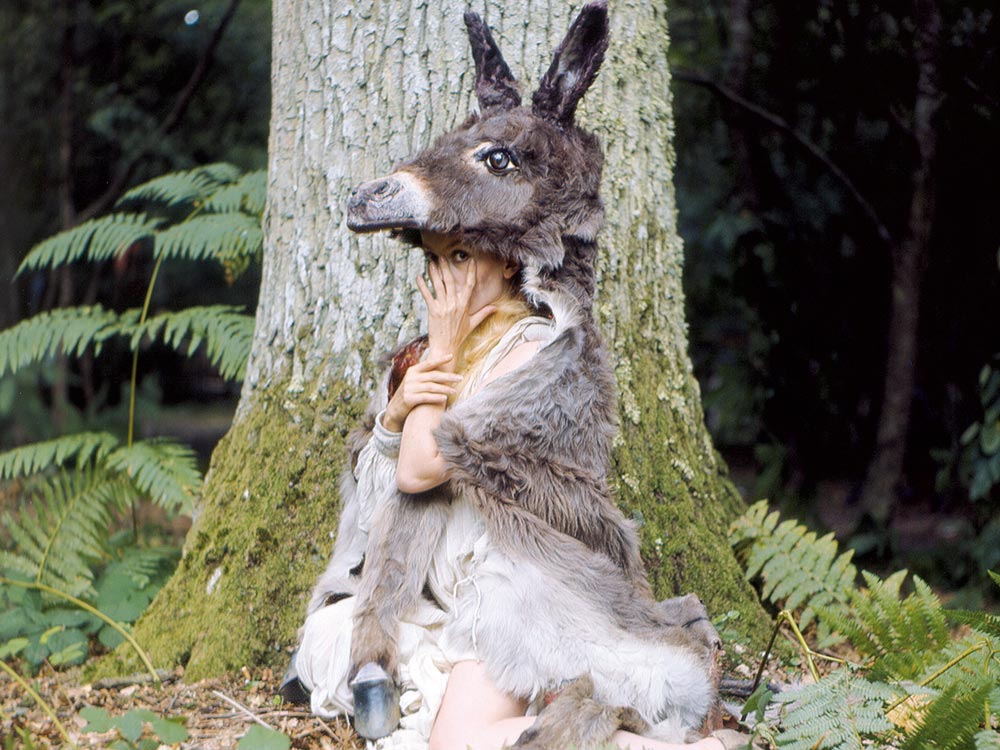 January 28th 2022
"Love is worn around the neck," croons Catherine Deneuve's puff-sleeved Princess in an early scene from Jacques Demy's Donkey Skin (1970), an adaptation of a 17th-century fairy tale penned by Charles Perrault. From an overlooking turret, her father (Jean Marais) watches, having elected to wed her in the wake of his wife's untimely death. Frightened and sexually confused, the Princess requests a triad of impossible prenuptial gowns to buy herself time: one the color of the weather, and one each resembling the sun and moon. When the King's tailors—overwrought but nimble—manage to deliver on her requests, the Princess asks her father for something she knows he cannot give: the skin of his prized donkey, which excretes treasure. When the King returns with the hide of his cash ass, proving his insane desire to wed and bed his child, the Princess dons the pelt and flees the castle grounds.
As ever, Demy luxuriates in the excesses of his story: a glut of six-tier cakes, peacocks, kitschy cat thrones, and sentient roses. His pen traces the castle walls of Jean Cocteau's Beauty and the Beast (1946)—in which Marais played the eponymous creature—evoking its palatial glamour through the film's locations: the chateaus of Chambord, Pierrefonds, and Plessis-Bourré. Folded into all the plushness is that ineluctable incest motif, which flits between farce and legitimate threat. Deneuve's doe-eyed Beauty and Marais's tetchy, zealous Beast are configured less as cat and mouse than as thumb and eye, a relationship premised upon irritation that could easily turn violent.
For a work so indebted to all that glitters, Donkey Skin is constantly probing at the convergence of love and material goods: the Princess bakes a gold ring into a cake to express her affection for a neighboring land's prince; her escape is predicated on the slaughter of a jewel-bearing animal; she even ponders the merits of her incestuous father because he offers her gifts. The frills of Demy's rendering are preceded by his 1969 American drama Model Shop (which he later dubbed "Model Flop"), a commercial failure due in part to its uncharacteristically muted tone and earnest characters. Where Model Shop dipped into American counterculture in the wake of the Vietnam draft, Donkey Skin reoriented Demy toward his whimsical bent. Though the films are divergent on paper, you can trace the cynicism which lines the former to the sticky morals and glossiness of Donkey Skin, a work so warmly assured that it eludes the parabolic quality of its source material, censuring nothing but laughing at everything.
Donkey Skin screens in matinees this weekend, January 29 and 30, at Nitehawk Cinema Williamsburg.