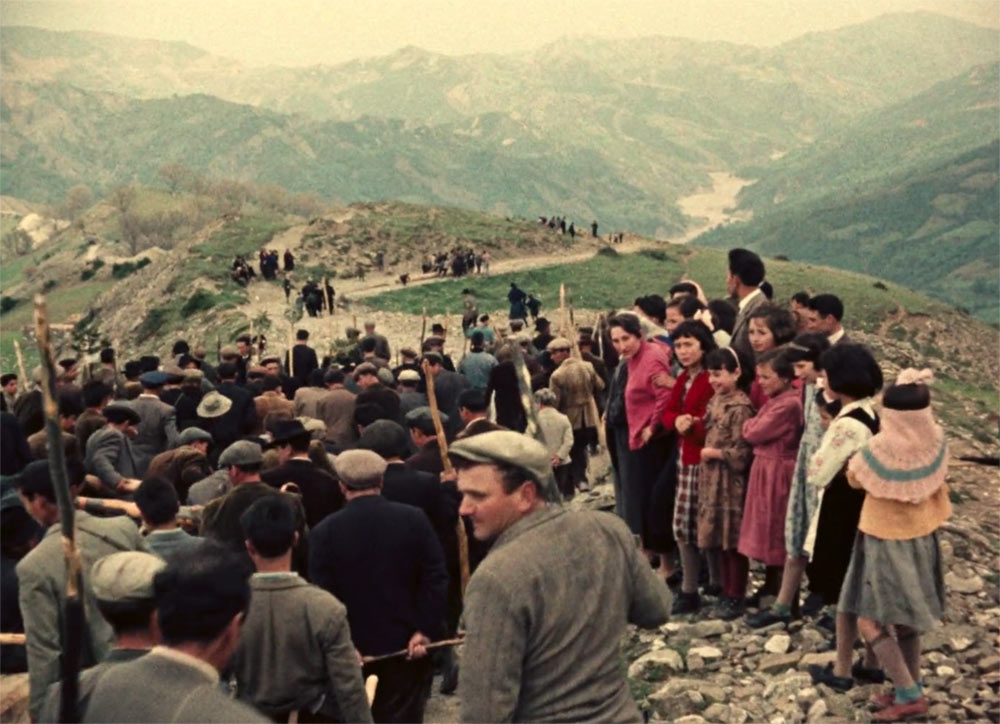 December 5th 2021
The word documentary, Vittorio De Seta once said, "is belittling, almost derogatory." In the Italian director's earliest work, he embraced new film techniques to portray the tensions of tradition and progress in southern Italy, but he was frustrated by the reception of nonfiction films in his lifetime. He eventually turned his attention to narrative, producing several features, including the celebrated Bandits of Orgosolo (1960) and Half a Man (1966). Ten of his documentary shorts have finally been restored to their full-color vibrancy by The Film Foundation and are now streaming on the Criterion Channel.
For Martin Scorsese, the Foundation's founder and director, De Seta was an artist preserving the memory of disappearing customs. Upon seeing these films, "Scorsese was deeply touched," says De Seta in an accompanying 2006 interview, "because he saw Sicily as it was when his grandparents left it. He had been unable to imagine it." With sweeping camerawork, and without use of narrative voice-overs or studio dubbing, these films hew the film form to articulate the lives of working people. This approach to nonfiction filmmaking was radical on many levels, but in characteristic fashion, De Seta didn't want to take too much credit: "This treasure was already there. I didn't create it."
De Seta's first films presented a departure from the Italian studio system, based in Rome and Milan. After careful acclimation to the landscapes and locals prior to filming, he would prepare for a large margin of unpredictability, leaving room for naturally occurring surprises. This adventurous method would lead him to discover new subjects in the process of production. While filming The Age of Swordfish (1954) on the Tyrrhenian Sea, the Stromboli volcano erupted, inspiring De Seta to visit the area that would become his next film subject. Islands of Fire (1955) shows the people of a Sicilian coastal city during a volcanic eruption. In just ten minutes, De Seta gives new grandeur to a location previously captured in Roberto Rossellini's Stromboli (1950).
Each of these short films depicts a specific process: seasonal rituals of harvest and celebration, workers at sea and with their flocks, or the daily labors of women at home and in the fields. De Seta arrived with no preconceived narrative for what he'd film. He allows the complexity of his subjects play out in scenes of the workday's arduous labor, but also its beauty; even the stormy skies above the fishermen in Fishing Boats (1958) are splashed with a rainbow before the day's end.
Made at a time when post-war industrialization was mobilizing a wave of migrations of rural southerners to northern Italy, De Seta's films crystallize the endangered rituals of both work and feast days in Sicily and Sardinia. The camera focuses on expanses, emphasizing wide shots to accommodate the landscapes, animals, and people working with them. The depiction of work outdoors is often alternated with the concurrent maintenance at home. Each film was edited in a similar pattern: starting with the workday or festivity's beginning, the pace quickens as the action intensifies, then subsides, ending with the activity's conclusion, usually near sunset.
Salvo Cuccia's Détour De Seta (2004) is a documentary with a privileged look into De Seta's work, featuring the director himself as well as cast and crew members, with segments revisiting key locations of the films. Most strikingly, the locals depicted in his shorts speak here, decades later, of their experience working with him. With stories of De Seta's unexpected sensitivity, gifts, and way of distilling meaningful traditions, participants include the woman who dries her child by the fireplace in A Day in Barbagia (1958) and a shepherd who helped make Orgosolo's Shepherds (1958).
"Based on their customs, women didn't want to be depicted," De Seta says, "They believed that owning the image of a person allows you to manipulate them." However, he continues, "I was welcomed wherever I went. Perhaps they could feel that I was pursuing the truth." His wife, Vera Gherarducci, was often instrumental in the process of forming trust. Cuccia says it was Gherarducci who bonded with the women of Orgosolo, leading to the creation of De Seta's films shot in the area, including his debut feature, Bandits of Orgosolo, co-written by Gherarducci.
The significant width of the films' frames are enhanced by the audio's depth: as the opening captions of Solfatara (1955) announce, "sounds inside the mine were recorded live 500 meters deep." De Seta felt that audio was often de-emphasized in film. The typical narratorial voice of the outsider is absent in these films, and leaving space for the real center. "I made protagonists of the people," De Seta says, "There are their voices, songs, sounds, noises. The author never intervenes, he organizes, like a choreographer." In a film released just a year before his death, The Filmmaker is an Athlete (2010), he laments that "machinery has put an end to this music."
"Documentary Shorts by Vittorio De Seta" is now streaming on the Criterion Channel.