Featured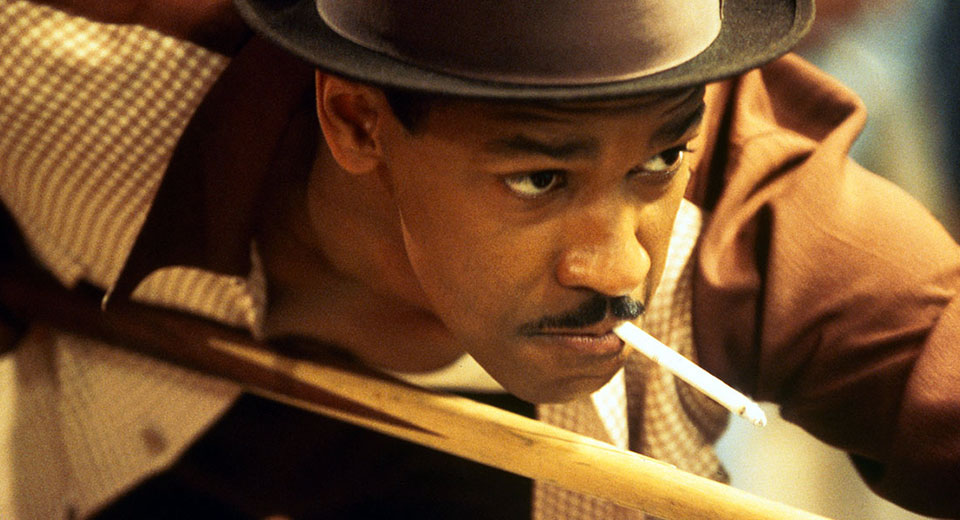 May 13th 2019
The summer repertory season has its first blockbuster in BAM's expansive "Black '90s: A Turning Point in American Cinema" series. Running the gamut from cherished favorites (Waiting to Exhale, Set It Off) to cult jams (Bébé's Kids, Love Jones), "Black '90s" is a rich survey of titles long omitted from our nation's paler and more prevalent canon. And for the classicists among us, count on Carl Franklin's neo-noir adaptation of Walter Mosley's Devil in a Blue Dress to slake your thirst for neat bourbon slugs, glad-handed political corruption, and sunbaked conspiracy.
An answer to the '90s vogue for '40s aesthetics, Devil is a crime thriller situated squarely on the other side of the tracks, affording audiences a rare view of another bygone era largely dominated by white stars. Fans of Golden Age crime thrillers rarely, if ever, encounter actors of color outside those familiar peripheral roles, making star Denzel Washington's turn as reluctant gumshoe "Easy" Rawlins a welcome respite from the usual tired tropes. Laid off from his wartime gig at an aircraft plant, with a mortgage to pay and few prospects, Rawlins turns to detective work; a path trod by many before him, but seldom seen from behind the color line.
It is this obvious distinction – and separation – from his white counterparts that nabs Rawlins the job: the mysterious girlfriend of a local politician has gone missing, and her trail ends in South Los Angeles, past and present nucleus of the city's black community. Fearing scandal, a cohort of swells enlist Rawlins as their "man on the inside," trusting him to know the ins and outs better than any ofay: he moves as silkily and seamlessly through bar back rooms as he does the quiet homes of his unassuming neighbors, down any alley or avenue bearing the elusive scent of socialite Daphne Monet.
Played more maudite than fatale, Jennifer Beals's performance as the elusive quarry employs an equal share of sadness and opacity: what could drive this pampered playmate to trade the manicured gardens of Pasadena for a dingy stretch of Central Avenue juke joints? Classic noirs, for all their seedy glory, often suffer under the burden of their motivating devices: our heroes endure blackouts and shtarkers' blows in search of precious little – a bird statue, say, or strip of dirty pictures. The secret driving Monet – and, in her wake, Rawlins – to the "shadier" corners of a sunny boom town could only be profound in its significance, and dire in its seriousness. Los Angeles's place in the narrative of black history – simultaneous destination of the Great Migration, and petri dish of institutional racism – seldom receives the attention of its sister cities "back East," but the bedrock that birthed Mosley and his ilk is as fecund as Philip Marlowe's Hollywood of Sam Spade's Tenderloin.