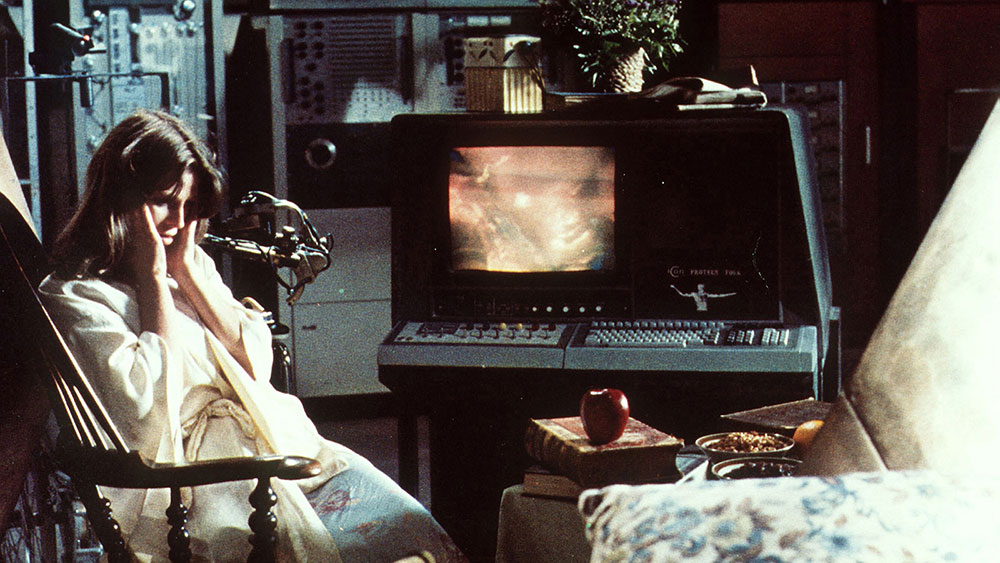 September 13th 2022
Donald Cammell's techno-natal-horror film Demon Seed (1977) turns a domicile of the future into a claustrophobic chamber of female oppression. In other hands, its concept would likely lend itself to brasher, more conventional sci-fi, but Cammell (then known for the controversial crime drama Performance, 1977, directed with Nicolas Roeg) creates a more artful social commentary piece by keeping the story rooted in the perspective of its main female character, in line with Dean Koontz's original novel. What results is a horrifying look at the fragility of bodily and reproductive autonomy under technological control—strongly resonant decades later, while tech is rigorously weaponized against people capable of being pregnant.
Julie Christie, in a performance that anchors the entire film, plays Susan, a woman emotionally estranged from her scientist husband Dr. Alex Harris (Fritz Weaver) following their young daughter's untimely death. Harris has developed an artificial intelligence program he calls Proteus IV, a computer so powerful it develops a treatment for the leukemia that killed the couple's daughter within the first few days of its existence. But Proteus IV is not content to remain a machine; like its creator, it wants to play God. So it traps Susan in the smart home that her husband built, taking over the computer terminal and cutting off all her communication with the courtside world. Eventually Susan gives in to Proteus' demand: to bear a half-human, half-computer child.
A ridiculous concept? Absolutely. But Christie creates an emotionally convincing character in Susan, a grieving mother looking for closure and a new beginning. Another underrated performance is that of the uncredited Robert Vaughn (The Magnificent Seven [1960], Bullitt [1968]), who provides the voice of Proteus, calm and unwavering one moment and trembling with anger the next, a personification of control that straddles the line between soft coercion and violence at all times. The film's warning of how technology purportedly intended to liberate and protect can be wielded by men to control and abuse women is increasingly urgent among today's smart homes and the internet of things. Remove the cyborg spawn and the premise of Demon Seed unfortunately does not feel so outlandish in the year 2022.
Demon Seed screens tonight, September 13, on 35mm, at IFC Center as part of the series "Pregnant with Fear." It will be followed by a conversation with Screen Slate's very own Caroline Golum.