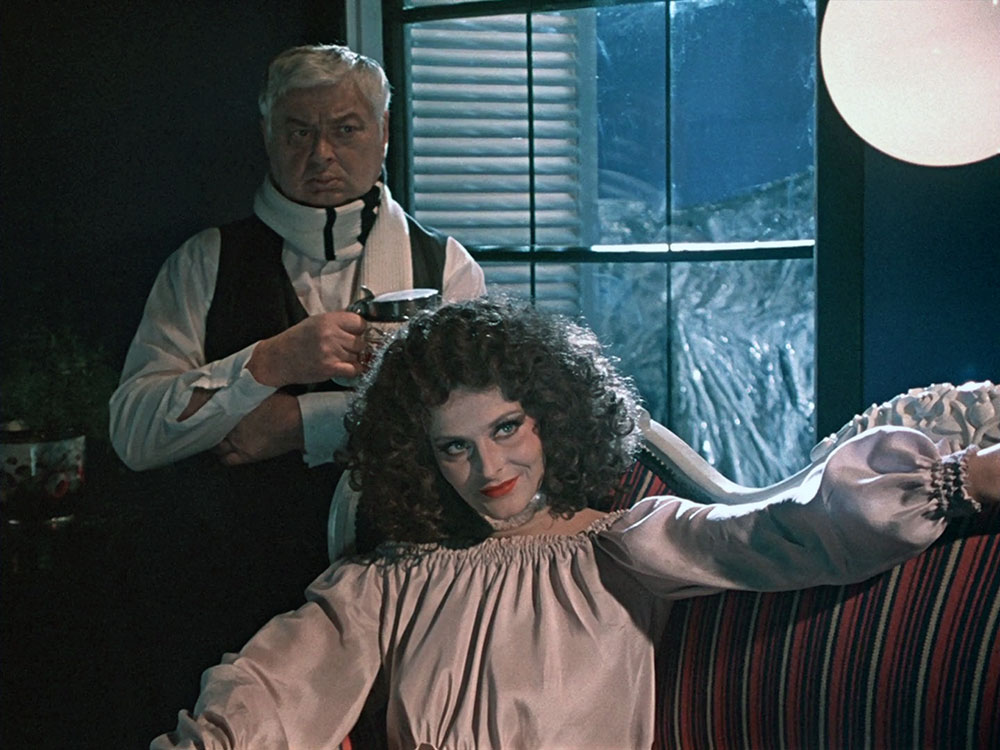 May 29th 2021
It's a sad fact of our algorithmically determined epoch that it's hard to find something unless you're already aware it exists — or, if you follow Anthology Film Archives during this uncertain juncture, you can put your trust in the taste of a devoted institution to broaden your horizons. Picking up where the pandemic forced them to leave off, Anthology offers the entirety of their planned 2020 Baltic Modernist Cinema series free online at the dawn of Summer 2021. If you haven't heard of a single one of the series' nine titles, that's the point; unlike their Soviet counterparts, these gems of Baltic experience and experimentation made under Soviet rule didn't quite make it to Western shores.
Dead Mountaineer's Hotel is my personal exception, seen as part of both Spectacle's 2012 "Nearly Distant Futures" and Anthology's previous 2017 "Strugatsky Brothers on Film" series. But with a fresh restoration, the film's previous murkiness is removed to restore its intended high-style chiaroscuro, revealing a noir/sci-fi crossover with a banger soundtrack to a wider audience.
Despite coming out three months after Tarkovsky's Stalker in 1979, Dead Mountaineer's Hotel is technically the first big-screen adaptation of an Arkady and Boris Strugatsky novel. The film opens with a classic noir voiceover by our hero (referred to as such, by turns earnestly and sarcastically, by the hotel's motley patrons), police officer Glebsky, sharing a case whose truths he keeps hidden and haunt him to this day. Tipped off by a phone call, Glebsky arrives at a remote ski lodge to investigate a crime that didn't occur; he is then warned of a murder that has yet to happen, and what appears a classic 'locked room' murder mystery quickly shifts to something far more cosmic. Instead of scraping by on the outskirts of the American Dream, Glebsky is a macho burlesque who, faced with moral grays, falls back on what he calls loyalty to the law, really a moral cowardice absolving him of responsibility.
As if symbolized by Dead Mountaineer's too-vast mountains and claustrophobic interiors, director Grigori Kromanov both enjoyed open latitude and suffered severe restrictions. Despite directing Estonia's highest-rated and most-seen movie (1969's medieval period piece The Last Relic), his studio Tallinnfilm was held strictly to the Soviet party line. Born to Russian émigrés, Kromanov's small but potent body of work (a mere six films) broods on alienation and otherness. Dead Mountaineer's Hotel exudes ambiguity, from a Western-coded, deliberately alien environment mixing French signage, Marlboro cigarettes, alpine surroundings (nonexistent in Estonia), and Toyotas, to hotel's boyish young women and over-rouged men contrasting Glebsky's near-parody of manly authority.
For those with a deeper familiarity with Estonian national identity in the face of forced absorption into the USSR, there are layers to unwrap, starting with a pan-Baltic cast of Estonian, Latvian, and Lithuanian actors. Masks of 'Western' (i.e. non-Soviet) and 'science fiction' (i.e. non-reality) seem to cover the film's overt androgyny, the closest to queerness a film could veer under Soviet rule.
Famed Estonian composer Arvo Pärt was supposed to write the film's score, but was held up by prolonged difficulties with Soviet officials (leading him to permanently emigrate to Europe). Prog rocker Sven Grünberg took over on short notice, creating a heady, otherworldly score that'll echo in your head long after the film. According to Deep Baltic's Maarja Merivoo-Parro, "The tiny budget only allotted him a few precious moments with an EMS Synth 100 in Moscow, and even then what he created almost got barred by Soviet censors, who were convinced that 'Ball' was a lesser-known track by Pink Floyd."