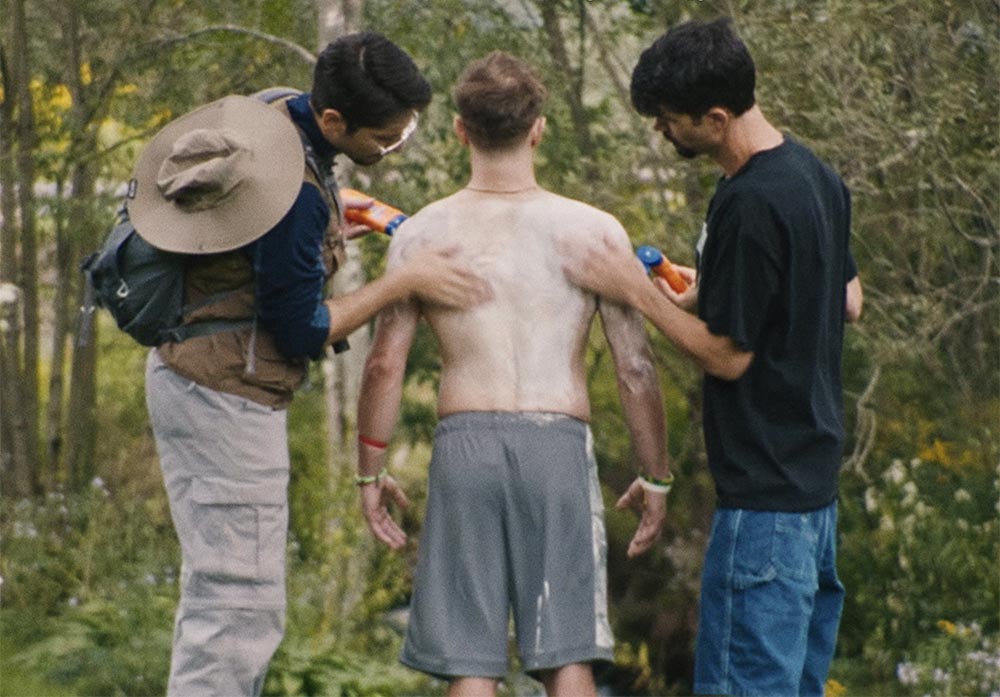 March 9th 2023
Developed over several months of heavy improvisations, Tynan DeLong's Dad and Step-Dad (2023) is an endlessly quotable and unexpectedly poignant film that marries tranquil momentum with argumentative drollery. An expansion on the 2018 three-part short of the same name, the film centers on Jim (Colin Burgess) and Dave (Anthony Oberbeck)—dad and step-dad, respectively—attempting to bond with their 13-year-old son Branson (Brian Fiddyment) on a trip upstate.
At first glance, the two dads are alarmingly similar: tall, lean, goateed white dudes in belted, pleated trousers. But the film teases out the differences below their sardonically chipper dopiness, and we come to see they are more like bizarro-world versions of each other: Jim, a designer of disposable dinnerware, exhibits fatherly caution and deploys rules, while Dave, a gym-parts replacement salesman, is more lax, though his deep scowl harbors traces of anger.
An extended bout of one-upmanship ensues, as the two argue over myriad topics: the safety of highways; whether an air mattress is soft or firm; how often you can masturbate without being labeled a sexual deviant; how to properly grill a hotdog. Other debates, like whether or not Branson should be allowed to smoke a cigar, are less theoretical and more significant. Fiddyment, a full-grown adult, commits to playing the pre-teen Branson with teetering discombobulation to gut-busting effect.
Dad & Step-Dad is a hailstorm of wisecracks with an unusually restful energy. DeLong savors each shot, and a shimmering score of undulating harps and twinkling keys complements the babbling-brook environs. Buttressing the comical squabbling is an inquiry into male fragility and non-nuclear families. More than just a master class in restraint and timing, the film is a surprisingly tender emotional study. The dueling dads' understated snark masks an attendant anxiety, which at times materializes in physical form: a hard gulp, a hand gripping the edge of the sofa.
Dad and Step-Dad screens through March 16 at Spectacle Theater. Director Tynan DeLong will be in attendance every night for a Q&A.