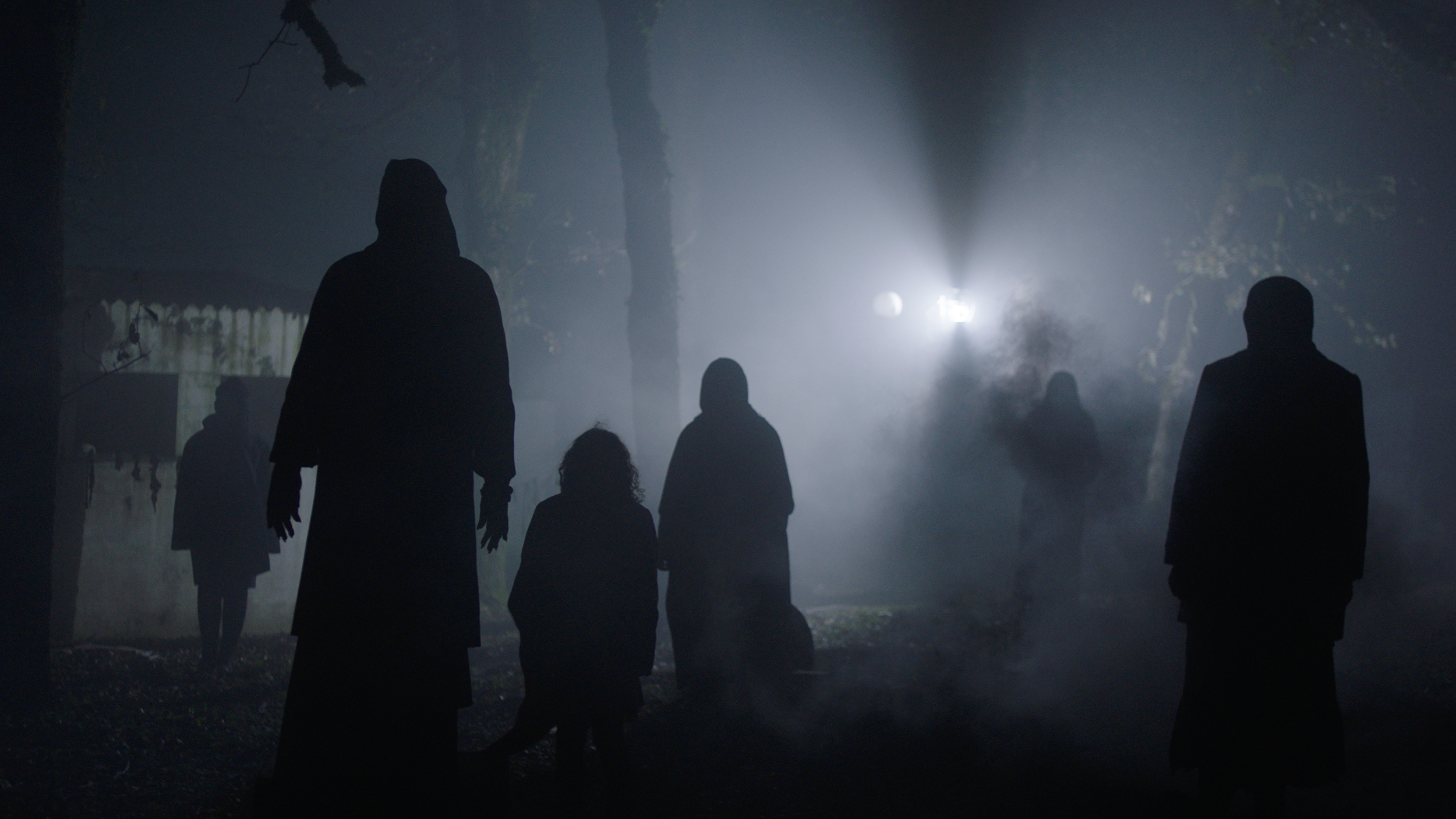 July 28th 2021
Two of Dachra's most powerful sequences occur toward the beginning. In the cold open, a man drives to a fire-lit scene and proceeds to assist in the ritualistic murder of a child who "has the key in his eye." The scene is filmed in oblique close-ups that pointedly deny any attempt to situate the goings-on and recognize the parties involved. Shortly thereafter, we witness the well-lit preparation of an anonymous body for interment, from the sponging of lifeless limbs to the stuffing of cotton in orifices. The marked mystery and striking contrasts in the treatment of these two burial rites highlight a tension simmering just beneath the surface of the film, the majority of which is devoted to familiar plot beats and revelations that are given new life by translating them into a new symbolic idiom.
Yassmine, Bilel, and Walid (Yassmine Dimassi, Bilel Slatniaare, and Aziz Jebali) are journalism students who set out to trace the origins of the storied "witch" Mongia, known for attacking the guards at a local mental health facility where she is held. Trekking deep enough into the woods to lose any cell signal, they are led by a child-imp to a dachra, or small village, where the women never speak, the homes are decrepit, and everyone is eating mass quantities of what is insistently referred to as simply "meat." Finding themselves trapped in these increasingly threatening environs, our heroes slowly discover the ancient and ongoing evildoings that led to Mongia's fate. Will Yasmine's religious uncle arrive in time to save his cursed niece?
Often described as Tunisia's "first horror film" and made for a purported $80,000, Dachra's intertextual references to the horror canon are blatant (and much remarked-upon). Many of the characters' symbolically freighted actions are unique to the film's Maghrebi setting (running couscous — the Tunisian national dish — through a corpse's fingers; Yasmine's uncle's entreaty to "go to the Sheikh" rather than, say, confession), but cannibalism, cults, and the age-old battle of patriarchy vs. witchcraft (good vs. evil, of course) are part of the traditional bedrock of horror. Translating these familiar archetypes to a physical and spiritual locale relatively unknown to the genre serve to keep it fresh.
Though genre-bending, auteurist, or "art" horror films have received a great deal of crossover attention in recent years (particularly those of A24), the love for a solid exercise composed of well-worn tropes, effective jumps, and homages of varying degrees of subtlety continues unabated — as the ongoing success of the Conjuring franchise demonstrates. Dachra introduces few formal innovations, but by adapting conventional (Christian) horror grammar to a new set of symbolic referents, it helps create a broader genre of Abrahamic horror.
Dachra is available to stream through its distributor, Dekanalog.