Featured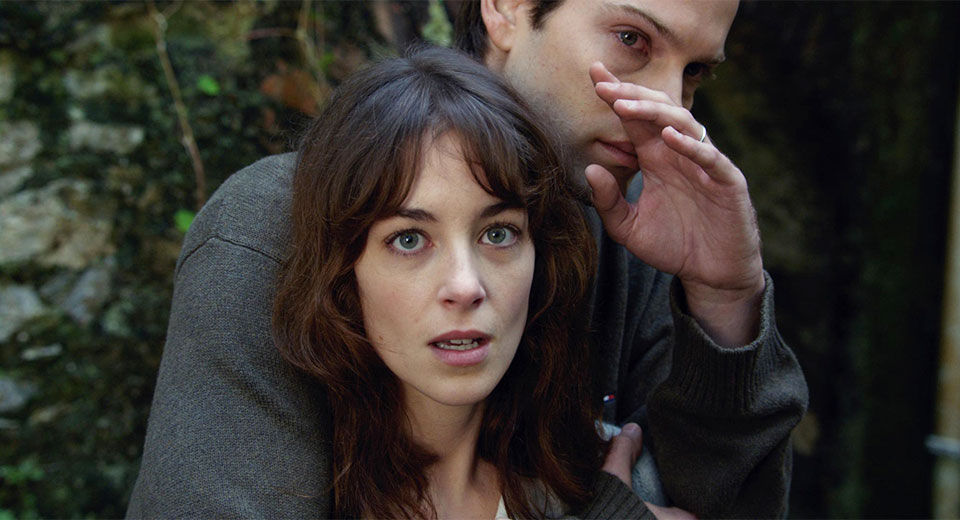 June 7th 2016
Cosmos , Andrzej Zulawski's thirteenth and final feature, arrives with uncommon fanfare. After decades as a criminally under-recognized, cinephiles-best-kept-secret, he began to return to acclaim with the circulation of a beautiful new 35mm print of his best-known film, Possession, followed by retrospectives at BAM and the Film Society of Lincoln Center. The 15 year wait between Cosmos and his previous film, Fidelity, pales in comparison to the 35 years it's been since his most recent film with United States distribution. And amid this return to the limelight, he released this adaptation of Witold Gombrowicz's supposedly unfilmable, cult favorite 1965 novel, claiming the Best Director prize at Locarno — and suddenly passing away. Given that his films' often violent histrionics and eccentric, mannered, agitational style already lend themselves to overzealous critical superlatives, it's frankly difficult to comment on Cosmos with reasonable objectivity.
Here's a start: Cosmos begins as an absurdist, metaphysical amateur detective story starring writer Witold and men's clothier Fuchs, two strangers-turned-fast friends in search of a seaside guesthouse. They stumble upon one where they're warmly welcomed by matriarch Madame Woytis, her husband Léon, daughter Lena, her husband Lucien, and maid Catherette. But the pair are bewitched by abstruse, portentous signs: a hanging sparrow, a vaginal stain in the corner of the ceiling that suddenly develops a silhouette of a rake; a rake whose handle points to a hanging block of wood, grimly echoing the sparrow; and so on. In the meantime, Witold becomes infatuated by Lena, Fuchs is constantly showing up with strange bruises from evening rough trade, and the whole gang has some truly bizarre dinner parties.
One is tempted to reference Zulawski's "hysterical excess," but in fact, Cosmos is singular among his oeuvre for its unmistakable joie de vivre. Unlike Posession or The Most Important Thing: Love — which gets a meta-shoutout in a rapid-fire patch of dialogue hopping from Stendhal to Bresson to Besson to Ophüls to Pasolini to the new Star Wars — it's less a psychic slasher flick than a surrealist screwball comedy. When the entourage packs it in and heads to a country retreat at the halfway point, the fun really begins, and I suddenly felt as though I was watching Zulawski's Bringing Up Baby.
Nevertheless, it's difficult not to ponder why Cosmos, of all Zulawski's work, is hitting theaters. It is unquestionably neither among his best work nor representative enough to be a suitable introduction to his work for newcomers (who should just dive into the hard stuff). And yet there's something I can say about Cosmos that I wouldn't allege of any of his other work: I love it. It's a madcap, unabashedly ridiculous metaphysical farce, and after a career beleaguered by censors and incomprehensible neglect, Zulawski's fans might take some comfort knowing he went out having fun.