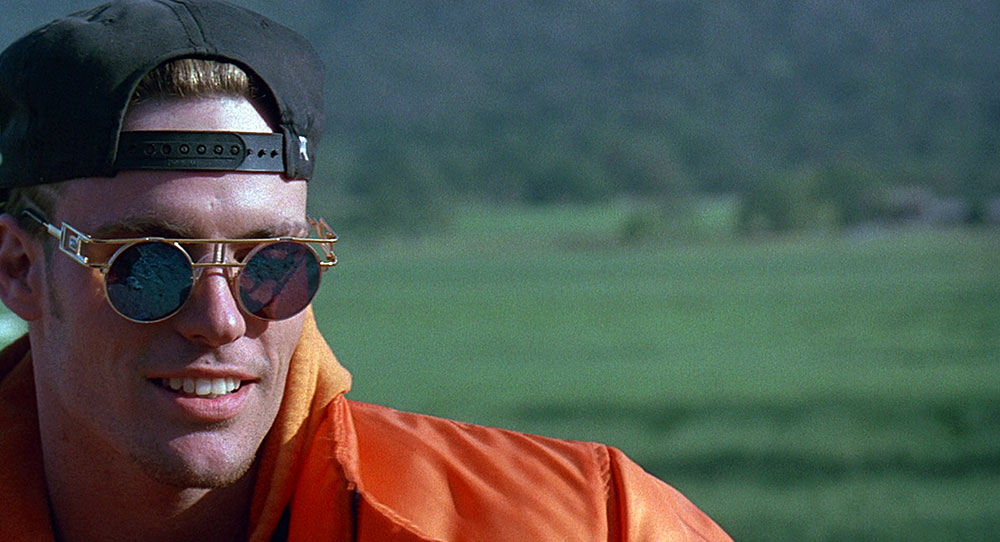 March 10th 2022
Two decades before celebrated filmmakers Curtis Hanson and Jim Sheridan would thrust the semi-autobiographical screen debuts of rappers Eminem and 50 Cent on screen in 8 Mile (2002) and Get Rich or Die Tryin' (2005), respectively, commercial director David Kellogg took chart-topping pop-rapper Vanilla Ice to the multiplex with the surreal and surprising Cool as Ice in 1991—the same year that Ice brought "Go Ninja Go" to Teenage Mutant Ninja Turtles II: The Secret of the Ooze—announcing the flamboyantly dressed party starter as a hip-hop leading man for the whole family.
Kellogg's film is far removed from the street-life-struggle realities of many other rap industry crossover films; in good company with Michael Schultz's comedy Disorderlies (1987), starring The Fat Boys, and Rick Rubin's sole directorial effort Tougher Than Leather (1988), a cartoonish exploitation riff starring Run DMC and Beastie Boys. Cool as Ice, more than any of these other films now found on the margins of hip hop culture and esoteric cinephilia, is a bonafide art film in a family matinee's clothing; a brightly colored, pop-soundtracked love story that's as much about juvenile rebellion as it is about the music that gives rebellion form.
What will immediately turn the heads of cinephiles approaching Cool as Ice from afar is Steven Spielberg's regular cinematographer Janusz Kamiński behind the camera. Cool as Ice is full of canted angle shots, experiments with perspective, and a kineticism that would make Jonas Åkerlund envious. Add to that the outlandish costume designs of Ingrid Ferrin, who would go on to handle the wardrobe needs for Joel Schumacher's Batman films, and you have a surrealist hip-hop fable that looks like nothing before or after it, adopting a unique visual language that had the potential in the early '90s to introduce children to the avant-garde. And, if that's not enough to pique the interest of those who have until now avoided the copious pleasures of Vanilla Ice's Razzie Award–winning vanity project, don't sleep on the script, which includes Ice-delivered jewels like "I'm gonna go across the street and, uh, schling a schlong." In an alternate universe, that could have replaced "I ate his liver with some fava beans and a nice chianti" as the movie quote of 1991.
Cool as Ice screens tonight, March 10, at Nitehawk Prospect Park on 35mm.