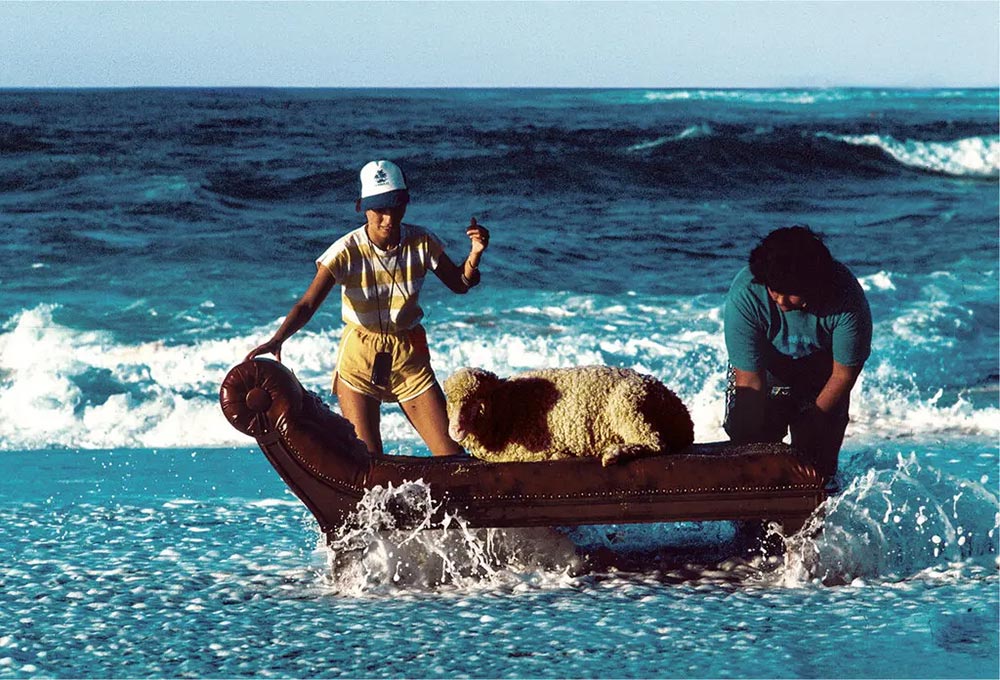 June 9th 2023
The filmmaker, photographer, and designer Anton Corbijn visits Film Forum this evening for the screening of his new documentary, Squaring the Circle (The Story of Hipgnosis). The film chronicles the misadventures of designers Aubrey "Po" Powell (taking questions alongside Corbijn tonight) and Storm Thorgerson, whose album covers for Pink Floyd, Paul McCartney, and Led Zeppelin, among countless others, have become arguably more recognizable than the music they were commissioned to promote. Within Corbijn's typically sumptuous photography—which itself has defined the look of bands like Depeche Mode, Joy Division, and Echo & the Bunnymen—Squaring the Circle and its famous talking heads offer a feast of vinyl propaganda and music-biz morsels, digging deep into the iconic imagery that surely festoons boomer Valhalla. He spoke with Screen Slate about the business of popular art, analog creativity, and, of course, records. Our conversation has been edited for length and clarity.
Patrick Dahl: I'd love to start with the album design that really spoke to you as a young person.
Anton Corbijn: It's been so many years, but I remember playing music in my bedroom with the sleeves laying on the floor. You know, it really influences the way you listen to things, because you read everything on the album sleeve and stare at the pictures. They fit the mood that the music is supposed to get you to. But I'm not sure how much attention I gave to the sleeves at first. I know I loved The Beatles' Sgt. Pepper and Rubber Soul sleeves. They got my attention, but that was all pre-Hipgnosis. I think the oldest Hipgnosis sleeve that I really loved was Atom Heart Mother, because of the simplicity of the cow. It's very striking, and I like that album a lot. too. I veer toward the more photograph-based album sleeves from Hipgnosis that are, in a way, simpler. Like all the Peter Gabriel sleeves. Although they look simple, they're not. But I love those because they were based on a photograph and then something was done to it.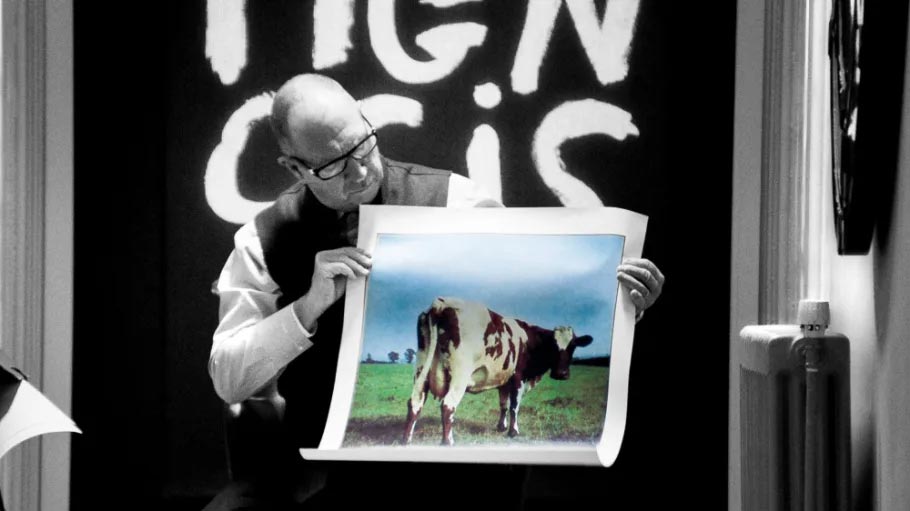 PD: So, this is your first feature documentary, and—
AC: Apparently. [laughs]
PD: Have you wanted to make a documentary for a while?
AC: No. I didn't particularly want to make a movie either the first time. So it's just some position you get yourself into and it's like, "Oh, I better move forward with this." I don't think I was thinking about doing a documentary particularly. I don't think I'm an interesting documentary maker, but this subject matter was close to my heart. And I met Po and he's quite a great storyteller. Some would say a good salesman. He came over to talk and told his story to me, and I agreed to give it a shot.
PD: You've worked in the commercial world of music and publicity, navigating art and commerce. That dynamic is a big subject of the film, and I'm wondering how you approached that in your own work.
AC: I like to collaborate with people, but I'm also very strong, and if I really don't like something. I won't let it happen in my work. I'd rather not get paid. So, I don't do many commercials for that reason. And I still like to take photographs of people whose look I like. It's very simple, a simple way of living. There's nothing to do with money. It's just a process of needing people and taking a photograph. And in my exhibitions, you actually can never tell the difference between pictures where I got paid a lot of money and pictures where I spent all my own costs.
PD: So the approach is the same.
AC: Mm-hmm.
PD: You were the subject of a documentary [Anton Corbijn Inside Out (2012). Did that influence how you approached making a documentary and building a relationship with your own subjects?
AC: Yeah. I was not particularly forthcoming in the documentary about me. I was very protective, and really sitting on the fence. And with Po, you don't have that. He's just happy to talk, to tell you everything. I'm a lot more the inverse, you know. Not prone to sharing so much. It's getting better. Before I made movies, I was even more reluctant to part with information.
PD: What was the transition from photography and music videos to making films like?
AC: Oh, it had a huge impact on my life and also my photography. I got used to being with a group of people together and collaborating on something for two, three months. It's amazing, and I never had that in photography. So, when I think of Control (2007), I think of a summer in Nottingham. When I think of The American (2010), I think of autumn in Abruzzo, and the great memories. Beautiful. Always linked to these places. This is the advantage if you don't film in a studio, of course.
PD: When it came to the look of Squaring the Circle, did you play with any ideas or did you decide quickly? It's mostly very beautiful, relatively simple black and white. Very elegant.
AC: That was pretty quick. Initially I considered color but then I decided when I saw all the archival footage that it would be much better to use black and white. Otherwise, the look would have been all over the place. I wanted some sort of uniformity to it all. Then the album sleeves stand out in color as being the great things in your life, you know, the colorful things in your life.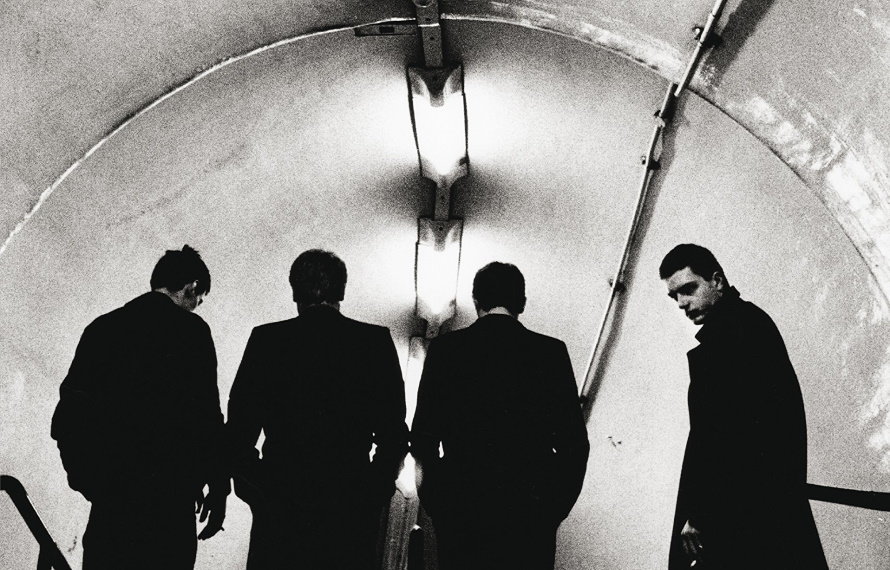 PD: Po and your other subjects have a lot of fondness for pre-digital art, specifically the photochemical process and collage. Did that resonate with you as someone who's been doing this for a while?
AC: Yeah, very much. I like the hands-on approach to things, manual things. I printed my own pictures in the early days. Well, quite a long time, actually, for 20 years or so. So I like this process and I always felt that I was never closer to my work than when I actually printed it myself. I also do some graphic stuff. I design everything, even though generally I'm the photographer, and I don't design. There's a difference. But when I do design work I use cutout things, I use paint, I glue things together. I love that very simple approach. Hipgnosis mastered it quite well. It's a more honest approach.
PD: How do you mean, more honest?
AC: Well, you know, with the digital you can do anything. The beauty of the Hipgnosis sleeves is that they used scissors and glue and made everything in the studio, right? There's no extraterrestrial at work there, you know. No AI kind of vibe.
PD: Productive limitations, right? It kind of binds you to the material world in a way that the digital doesn't because it's practically limitless in a way that's kind of creatively draining.
AC: Yeah, I mean that's what I like about the work. I myself use digital now, too, as a dark room. The darkroom is all digital, even if I shoot on film. Nowadays, you can get really amazing detail and everything. So I like that, but in my photographs there are quite a lot of imperfections. Then when it comes to post, I'm a perfectionist.
PD: Do you still listen to vinyl?
AC: I do. I have a beautiful vinyl set, and I buy records still. I love sleeves, and I like the sound. But of course, we all exchange quality for comfort, you know?
Squaring the Circle (The Story of Hipgnosis) screens through June 15 at Film Forum. Director Anton Corbijn will be in attendance tonight, June 9.