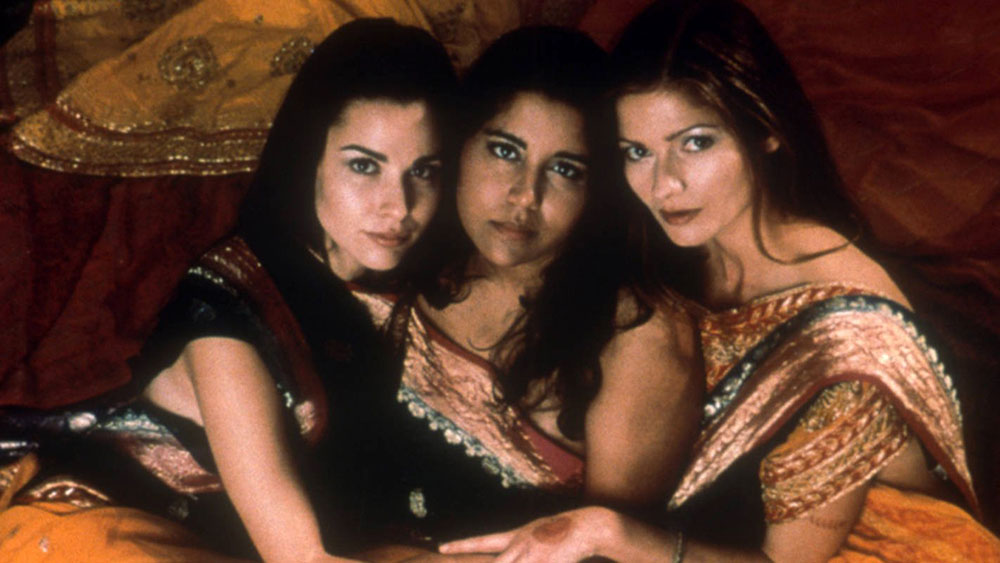 May 7th 2021
For the characters of Chutney Popcorn (1999), life is what happens when they're busy making other plans. Twentysomething Reena (Nisha Ganatra, who also directed and co-wrote the film), a lesbian Indian American henna artist living in New York City, longs to become a successful photographer; her newlywed older sister, Sarita (Sakina Jaffrey), wants to start a family with husband Mitch (Nick Chinlund); and their mother, Meenu (Madhur Jaffrey), wants Reena to settle down and for both daughters to give her a slew of grandchildren. But when Sarita learns she is infertile, Reena surprises everyone — including herself — by offering to carry Sarita and Mitch's child. Though Sarita initially agrees, the situation eventually proves too unorthodox for her. But Reena is already pregnant, with a baby she now realizes she wants to keep.
Having more recently directed episodes of Dear White People, Fresh Off the Boat, and Transparent, as well as the Mindy Kaling film Late Night, Ganatra continues to be drawn to projects that explore outsiders carving out space for themselves. At first glance, her debut film appears to be a similar story, centering on a young Indian woman Westernized beyond her family's comfort zone, the kind of tale of assimilation that Gurinder Chadha would tell a few years later with Bend It Like Beckham. Every look Meenu gives Reena screams Why can't you be more like your sister, while the motorcycle-riding Reena revels in cultivating a bohemian lifestyle that's miles away from Sarita's world of domestic bliss. But Chutney Popcorn isn't narrowly focused on culture clash; rather, it's a reminder that everyone, no matter their background, is constantly renegotiating their identity. Reena's white girlfriend, Lisa (Jill Hennessy), who long ago rejected the idea of marriage, children, and suburbia, is just as rattled by Reena's surrogacy as Sarita, who took for granted that her life would include those things. Even Reena's snarky dyke friends find the ground below their feet shifting as hangout sessions over pizza turn into baby showers.
Appealingly unpolished, Chutney Popcorn is also contemplative, making room for silence as characters reexamine their lives. And though it ends on a buoyant note, with the message that raising — and, for that matter, conceiving — a child takes a village, Ganatra refuses to wrap up all loose ends, leaving us with the sense that, long after the credits roll, her characters will be grappling with the chaos and mess, and joy, of forging a new family.
Chutney Popcorn is streaming on Tubi