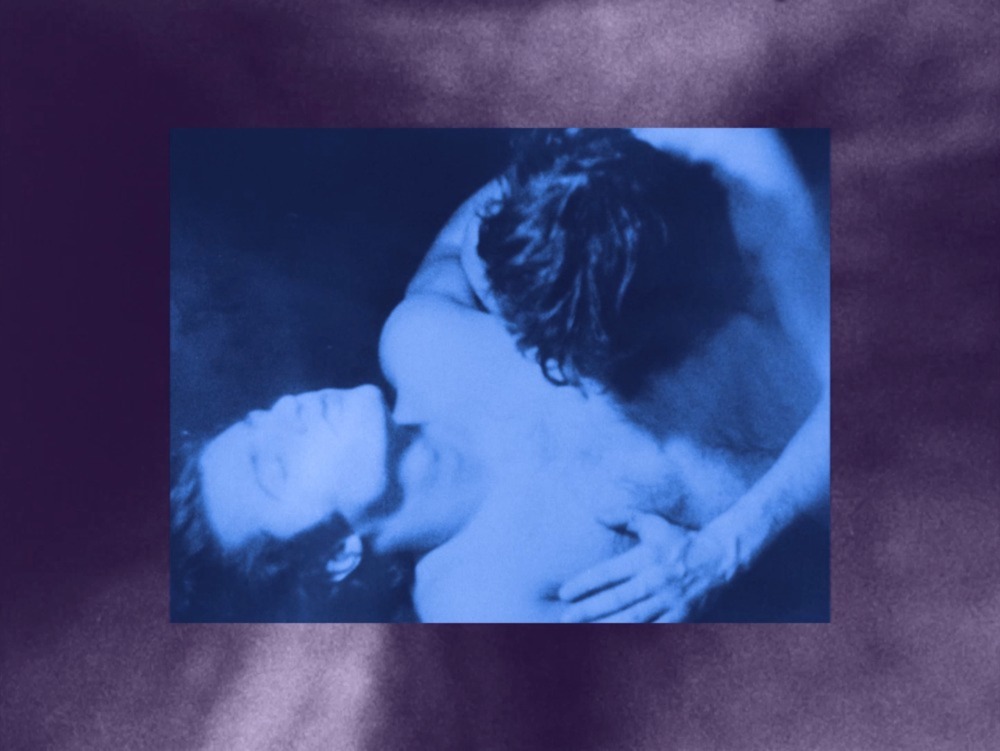 May 22nd 2022
This week's edition of The Carnal Screen series, defiantly programmed in what is traditionally the kiddie matinee slot, features the most transgressive and transcendent American avant-garde film of the 20th century, Barbara Rubin's 1963 Christmas on Earth, showing in New York for the first time in many decades in its original, correct version: as two 29-minute 16mm reels, projected simultaneously onto a single screen, with one image slightly larger and framing the other, the edges of the interior image as soft as . . . well, you'll see.
There have been a flurry of recent screenings of a bootleg video version of the film, facilitated by The Film-Makers' Cooperative, which co-sponsors, with the Museum of Sex, the Roxy's Carnal Screen. The renewed interest in Rubin's work has been inspired by Chuck Smith's careless 2019 documentary Barbara Rubin and the Exploding NY Underground and, among art history and gender studies students and scholars, by Ara Osterweil's brilliant, marvelously readable Flesh Cinema (2014, Manchester University Press.) The bootleg version of Christmas on Earth looks like a crude image-processing video circa the late 1960s, an impression reinforced by a soundtrack composed of pop hits from that period, most or all of them by The Beatles. The visuals in this bowdlerized version have something in common with the psychedelia of Jud Yalkut's Kusama's Self Obliteration (1967) which follows Christmas on Earth on this program. (Feel free to walk out. I suspect I will.)
Barbara Rubin shot Christmas on Earth late in 1963. She was seventeen, recently released from a teenage rehab facility where her parents had placed her because she had been doing copious amounts of drugs. Her uncle William Rubin (not the MoMA curator but a real estate developer who owned the Gramercy Arts Theater, where Jonas Mekas's Film-Makers' Cinematheque was holding screenings) introduced her to Mekas, who set her to work at the Film-Makers' Cooperative and lent her the 16mm camera with which she shot Christmas on Earth.
Rubin entered the New York avant-garde film world when nudity and sexual transgression surfaced on the screen with an explicitness surpassing that of the European avant-garde of the 1920s. When Jack Smith's Flaming Creatures (1962) was shown on a double bill with Jean Genet's Un Chant D'Amour (1950), Mekas and the theater staff (Ken Jacobs and Florence Karp) were arrested and the prints confiscated. The legal cases dragged on for years. Although Carolee Schneemann employed her naked body in films and performances and Yvonne Rainer did the same at the Judson Church, the dominant sensibility in most of this work was male homoerotic; its sign, the lightning flash of male genitalia across the screen. In addition to Genet and Smith, there were Andy Warhol, Kenneth Anger, and Gregory Markopoulos.
And so Barbara Rubin, still legally a minor, made the most direct and aggressive countermove possible, opening Christmas on Earth with a close-up of a vagina, its landscape spread across the larger of the two superimposed images, so that it becomes a spatial and temporal frame, and a centerpiece from which all action issues. Rubin had originally thought of calling the film Cocks and Cunts, or vice versa. There is no narrative, merely a series of sexual couplings seen in close-ups and long shots: men and men, women and women, a dog and a cat fooling around, occasionally a woman and a man.
The action is filmed in two diametrically opposed styles. In one, bodies are painted black, with breasts and genitals outlined in white fluorescent paint, so that the couplings seem ritualistic. In the other, the lighting is bright and direct, and whatever mystery or eroticism has been suggested is thereby removed. Christmas on Earth is Rubin's only completed film. She edited and re-edited it obsessively, refining the relationships between the reels so that they would maintain their balance of intentional and aleatory congress no matter the circumstances of their projection—forward, backward, superimposed or sequential, in or out of sync. Night after night, she examined that succession of images, the sign of the central region of her being—as an artist, a lover, a midwife, a gynecologist, but mostly, I think, as a displaced person. Eventually she went too far and, having taken a lot of speed, cut a print of the film into three frame pieces, tossed them around in a trash basket and tried to paste them together. Luckily, Mekas had kept either the original edit or another early version, and it's a print made from that which will be shown at the Roxy.
Post Christmas on Earth, Rubin wrote scripts, started but never completed other films, and initiated and participated in multimedia events. She is probably best known as the person who brought the Velvet Underground to the attention of Warhol, setting in motion Warhol's "Exploding Plastic Inevitable," that combine of art and music underground, which took up a brief, dark, and drugged-out residence at the Dom on St. Marks Place and where Rubin often could be found covering projector lenses with colored gels and showing avant-garde film classics including Christmas on Earth on walls, ceiling, floor, any light-reflecting surface.
Rubin was my friend, and so I can say that what she wanted, more than to be a filmmaker, was to become a mother. Toward the end of the 1960s, when the creative community that had been her home was falling apart, she made what seemed an inexplicable turn and became Hasidic, ending up in France, where she married, had six children in as many years, and died of childbed fever after the last. She was thirty-five.
Before she left New York, she asked that all her work be destroyed, but then relented and left Mekas Christmas on Earth. Whenever I've programmed it, or when others showed it in the 1970s and 1980s, it was evident why Rubin could never arrange the pieces to her satisfaction. For all that image after image of sexual coupling appear to issue forth from that amalgam of vagina and mouth, there are none that could result in the conception of a child, unless it was the immaculate one suggested by the title.
The program will be introduced by J. Hoberman, who has also built a soundtrack along the lines of the ones Rubin made during each screening by channel surfing a radio, in order that history, fixed in the image, could meet the sound of the present, and couple with it by chance.
Christmas on Earth and Kusama's Self-Obliteration screen this afternoon at the Roxy Cinema on 16mm as part of the series "The Carnal Screen."