Featured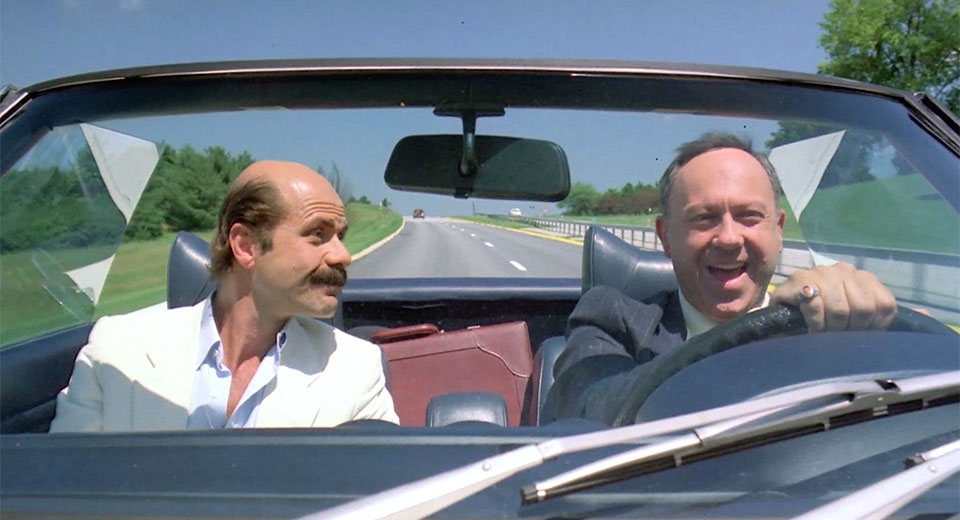 October 15th 2019
Tibaraku, we learn by way of an animated introduction, is a Polynesian nation on which "the sun always shines," recently granted "conditional independence" from France. The young country's President, Chief Henri Zabu (Manu Tupou), is in New York to make a bid for U.N. membership. A new democracy means new frontiers for capital, and so the vultures fall into formation. While Zabu contents himself with Churchill's biography in his rooms at the Plaza, middleman extraordinaire George Dankworth (Allan Arbus) sells off the island's soft drink and fishing rights downstairs.
"See, it's no longer mergers and acquisitions. The name of the game today is countries!" Dankworth makes his pitch to half a dozen demi-titans of industry. Among them is Ben Sydney (Allen Garfield), whose mouth rests agape when not cracking peanuts. Knowing at least that he knows nothing, Sydney seeks the counsel of Sammy Brooks, a stand-up comedian slumming it as a real estate broker – Zack Norman, in a semi-autobiographical role. Under his birth name, Howard Zuker, Norman also co-directs with Neil Cohen and co-writes with Cohen and Nancy Zuker.
During a long night at the library, Sammy turns up some cause for concern: the more-sadistic-than-fiction French nuclear weapons tests being conducted just offshore. When Sydney allows himself to be convinced anyway, Sammy turns enthusiastic accomplice and enabler. The pair set their sights on the millions of one Skip Keisel (Ed Lauter), heir to the New Jersey Turnpike fortune. His desire is only to please his father, who both his butler (Ferdy Mayne) and his wife (Lucianne Buchanan) seem to prefer. Elsewhere, Marianna Hill and Shirley Stoler steal scenes as Jennifer Holding ("star of The Deluded Chimp") and Joan Ironwood (the Plaza's credit manager), respectively.
For thirty years, Chief Zabu went unseen, known only for its weekly advertisement in Variety, which itself became a running gag on Mystery Science Theater 3000. In 2016, Norman and Cohen noticed that another real estate blowhard cum political menace had captured the collective imagination and thought it an opportune time to revisit their project, reducing the 90-minute cut to a freewheeling 73. They will be in attendance at Spectacle tonight to field questions.
Chief Zabu manages somehow to be a feel-good romp for the age of extreme income inequality. Its characters, displeased with their vassalage, aspire to sovereignty. And, as in our contemporary political theater, these bunglers have fashioned themselves an improbably happy ending.
Chief Zabu is now available to stream