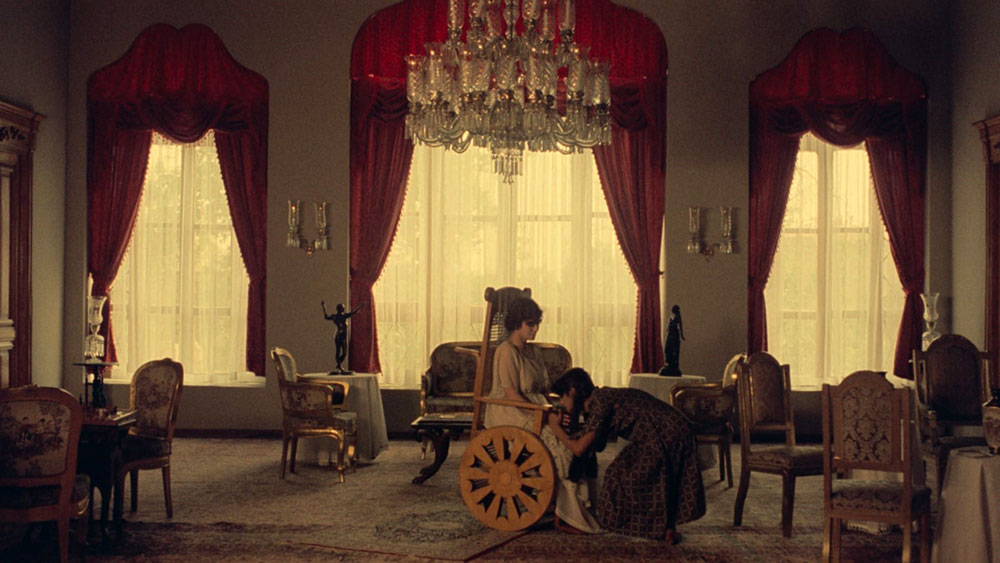 November 2nd 2021
The squabbling, backstabbing family members of Mohammad Reza Aslani's Chess of the Wind are constantly dwarfed by their shadows. The matriarch has died, under suspicious circumstances, and her daughter, her husband, and his nephews circle her massive fortune and Tehran estate like vultures. The men have ambitions of international grandeur—they plan to use the wealth to begin importing wine and rent out real estate to Westerners—but in the cavernous, dusty mansion, lit only by pools of candlelight, they appear diminutive, even pitiful. Meanwhile, the paraplegic daughter is confined to the upper story (the ailing Gothic woman in the attic), accompanied by her maid, who may also be her lover. All of these rather despicable characters have ulterior motives, and their various truces and alignments are quickly and violently broken.
Aslani directed Chess of the Wind in 1976, well into the Iranian New Wave, but its style is in stark contrast to the period's predominant social realism. An upstairs-downstairs melodrama set at the dawn of the Pahlavi regime, Chess of the Wind luxuriates in objects—trinkets, baubles, fishbowls, vases, and jewelry (some of which double as murder weapons). The house's towering, foreboding staircase is shot as if by Ophüls, and the widescreen zoom lenses and natural, practical light was inspired by the previous year's Barry Lyndon. The film opens with a sequence of static wide shots, so when the camera does move, in impossibly long tracking shots that snake through hallways and find frames within frames in the mansion's ornate rot, it creates an unnerving paranoia, aggravated by Sheyda Gharachedaghi's distressed, clamoring, percussive score. Aslani manages to make the huge estate feel so paradoxically claustrophobic that the series of punctuating exterior shots of the heiress's maid doing laundry with a group of cross-talking women is a relief.
A 4K restoration of the film is now playing at Film Forum, having been preserved and scanned by The Film Foundation's World Cinema Project and Fondazione Cineteca di Bologna. The frankly incredible story of its recovery and restoration is detailed in this roundtable from the Wexner Center. It begins with a disastrous press screening at the 1976 Tehran International Film Festival involving projector sabotage, after which the original elements were thought lost for nearly forty years (the only existing television positives in Iran were of poor quality and had excised all of the scenes of the servant women) until the supposedly chance discovery of all of the original negative material in a Tehran thrift store. It's stunning, if not a little bit horrifying, that a film so resolutely bold could remain buried for so long.
Chess of the Wind screens through November 11 at Film Forum.