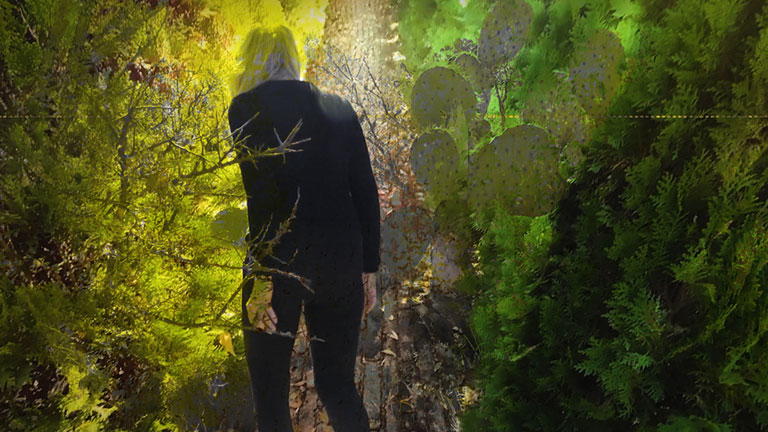 May 21st 2020
Thursday, May 21 at 8P EST
Artist in live conversation
Co-Presented by Electronic Arts Intermix
Watch at twitch.tv/screenslate
Screen Slate is thrilled to launch its online streaming series with a career-spanning screening and live Q&A with artist Cecelia Condit on Thursday, May 21 at 8:00 pm EST, co-presented by Electronic Arts Intermix. Watch live at twitch.tv/screenslate, no account required.
Cecelia Condit (born 1947, in Philadelphia, Pennsylvania) is an American artist working in video and photography. Since 1981, Condit produces films that swing between beauty and the grotesque, innocence and cruelty. In the psychological landscape of contemporary fairy tales, Condit's videos put a subversive spin on the traditional mythology of women in film and the psychology of sexuality and violence. Exploring the dark side of female subjectivity, her "feminist fairy tales" focus on friendships, violence, age, and childhood.
The program consists of:
Possibly in Michigan (1983, 12 min)
Beneath the Skin (1981, 12 min)
Not a Jealous Bone (1987, 10 min)
We Were Hardly More Than Children (2019, 9 min)
Pulling Up Roots (2015, 8 min)
I've Been Afraid (2020, 7 min)
TRT: 58 min
After the screening, Condit will join for a live Q&A moderated by media art conservator and Screen Slate editor Jon Dieringer.
The screening and Q&A will be archived and made available to Screen Slate members. Join here.
Co-Presented by Electronic Arts Intermix
Founded in 1971, Electronic Arts Intermix (EAI) is a nonprofit arts organization that fosters the creation, exhibition, distribution, and preservation of moving image art. A New York-based international resource for media art and artists, EAI holds a major collection of over 3,900 new and historical media artworks, from groundbreaking early video by pioneering figures of the 1960s to new digital projects by today's emerging artists.
Upcoming Stream Slate Events
May 28 - Ken Jacobs, co-presented by Anthology Film Archives
June 4 - Simon Liu, co-presented by Speculative Space
June 11 - Frank Heath, co-presented by Simone Subal Gallery