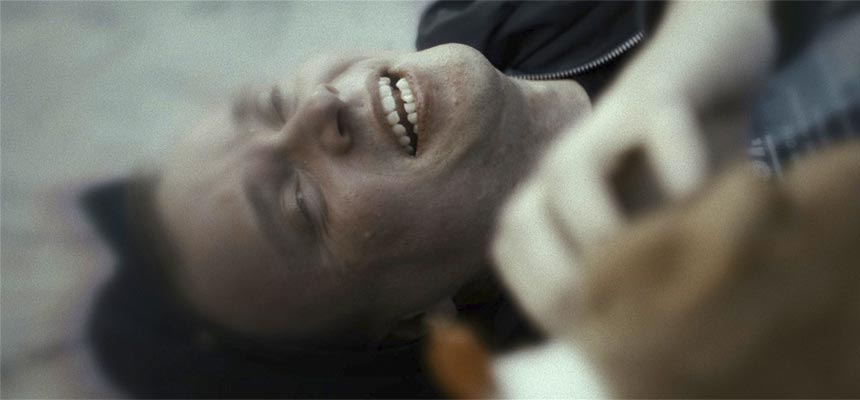 February 5th 2023
So many of cinema's operative metaphors have to do with spectatorship and seeing. There is the male gaze (credit Mulvey) and the oppositional gaze (hooks), as well as the concept of suture (Oudart, Silverman, et al.). The latter—the aesthetic and ideological process by which the viewer is "stitched" into the fabric of the film frame—is too often equated with a film's cinematography and editing elements, with the visual track gaining the upper hand. To describe a work as cinematic is to detail its sweeping vistas, its deep focus, its general bigness. And that we call the filmgoer a viewer might be the biggest tell of all.
But there are many complementary, even contradictory, ways to orient oneself in a film and in the world, and The Blind Man Who Did Not Want to See Titanic (2023) luxuriates in this tension, beginning with its punny, self-aware title. This Finnish film, directed by Teemu Nikki, centers on Jaakko (Petri Poikolainen), a blind man with multiple sclerosis. Jaakko is in love with Sirpa (Marjaana Maijala), who is housebound with her own chronic illness. The two are devoted to one another even though they have never met in person. But when Sirpa's condition worsens, Jaakko commits to making the three-hour journey to visit her—and to making that trip independently.
The film goes in and out of focus with the action, and this imitation of Jaakko's impairment turns this slice-of-life drama into a legitimate thriller. The world melts into a blur at the moments of highest tension, and the result is an intense, visceral experience: the dropping of Jaakko's cane on the train tracks, in the film's second act, hits like a blow to the sternum. There are moments of visual beauty, as the camera lingers on the faces of the characters. But these images are so suffused with emotion that it is as though we feel their expressions rather than perceive them with our eyes.
Petri Poikolainen's lead performance, devoid of pity or sensationalism, is a tribute to the sardonic, vulnerable character he portrays. Jaakko orients himself in the world through his sharp humor, his ability to quickly read the intentions of others (particularly those intending him harm), and his abiding dedication to Sirpa. But, perhaps most of all, it is his long-standing commitment to film art that sustains him. His mind, his language, is populated by movie references, from Misery (1990) and One Flew Over the Cuckoo's Nest (1975) to jokingly describe his no-nonsense home assistant, to Braveheart (1995), Fargo (1996), and the pre-1990s works of John Carpenter. Movies make up the gap between his dreams and his lot, between what he wishes for and what he lives with every day.
As Nikki has explained, the film was inspired by Poikolainen's condition—the actor is himself blind and suffers from M.S.—but he chose to make a fictional film, rather than a documentary. Still, the proximity between the action and the actor's reality presents a speculative enactment of a hardship we hope will never come. "Petri's MS is so aggressive that we were in a hurry to film," Nikki writes in his notes.Who can help but be drawn to the film that has everything on its side but time?
The Blind Man Who Did Not Want to See Titanic is now playing at the soon-to-close Regal Union Square.