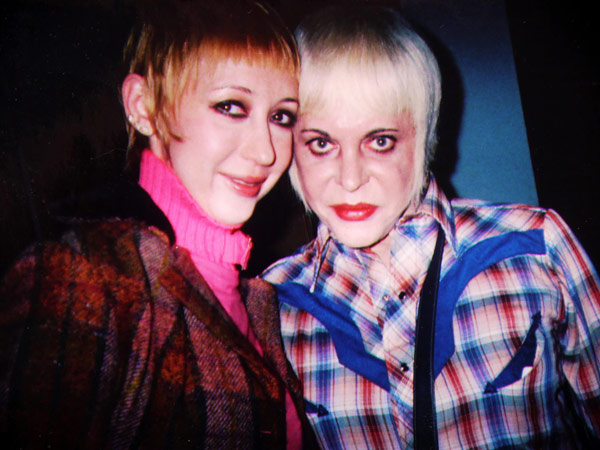 March 21st 2020
This essay ran in our daily email dispatch Stream Slate. Sign up here.
Artist, musician, and provocateur – founding member of performance art collective COUM Transmissions, industrial music progenitors Throbbing Gristle, and acid house pioneers Psychic TV – Genesis Breyer P-Orridge left us a week ago today. As h/er daughters Caresse and Genesse P-Orridge announced, s/he "dropped her body" early on the morning of Saturday, March 14, 2020, to be reunited with "h/er other half" Lady Jaye Breyer P-Orridge. Genesis identified as third gender, using s/he and h/er pronouns, "s/he" representing both "she" and "he" and "h/er" representing both "his" and "her." Genesis would also speak in the first person using "we" and "us," reflecting that, as s/he saw it, since Lady Jaye died in 2007, s/he represented both of them bodily. Before Lady Jaye dropped her body, the two had embarked on a project of becoming a third gender, or "pandrogyne," both undergoing a series of plastic surgeries to look more like each other, two parts of a whole, questioning commonly held notions of gender and selfhood. They documented their pandrogyne project in their art and, in recent years, it also found expression in the @pandrogyne Instagram account, through which Genesis documented h/er many reincarnations, images of Genesis and Lady Jaye over the years mixing in with frequent documentation of visits to the hospital (or "thee HorsePistol" in Genesis parlance) and chemotherapy treatments, as Genesis sought treatment for leukemia over the past two and a half years.
The romance between Genesis and Lady Jaye and their merging together into a third gender is also documented in The Ballad of Genesis and Lady Jaye (2011), which director Marie Losier has made freely available on her Vimeo page. Losier's first feature documentary, made over the course of seven years, The Ballad of Genesis and Lady Jaye brings together years of footage of the two, dreamily set to music by Psychic TV and Thee Majesty. Intimate home movie footage of Genesis and Lady Jaye, shot by Losier in their Ridgewood, Queens home, mixes with highly theatrical, staged performances by the two for her camera, and film shot by Losier on tour in Europe with Psychic TV, with very occasional, judicious use of archival material from pre-pandrogyne days — including captivating footage of Lady Jaye in earlier East Village years and of Caresse P-Orridge in the wonderful Psychic TV video for "Are You Experienced," shot in the bleakly beautiful garden Derek Jarman created on the barren coast of Dungeness, outside a nuclear power station — Jarman reportedly watching filming from behind the scenes, thrilled. With its gorgeous mix of video, Super 8, and 16mm, The Ballad of Lady Jaye is entrancing, much like its subjects. (Genesis would later suggest that Losier was smart to start shooting the two on Super 8, the short rolls of film allowing them to feel they were not constantly being recorded.)
The resulting film is something of a ballad, musical, telling a highly romantic tale in short stanzas of footage. The story of Genesis and Lady Jaye, and of their pandrogyne project, as they tell it, is overwhelmingly romantic. As Genesis says of their project at one point in the film, "It began as very romantic, about love, and about wanting to be as much like each other as we could." Ballads are also typically of unknown or multiple authorship, something which might appeal to Genesis and Lady Jaye. As Genesis expands on their concept of the pandrogyne, s/he finds its roots in the cut-up method of William S. Burroughs and Brion Gysin. Burroughs and Gysin cut up writing to rearrange it on the page, creating a "third mind," a text without an author. Genesis and Lady Jaye start to see themselves as cutting up their bodies through their plastic surgeries to create a third gender and to question "the fiction of the self."
At times, The Ballad of Genesis and Lady Jaye perhaps inevitably falls into a narrative of selfhood, specifically that of Genesis P-Orridge, famous musician. Much more time is given to Genesis, h/er childhood, h/er earlier work with COUM Transmissions and Throbbing Gristle, than is given to Lady Jaye. Certainly Genesis was, in h/er own words, almost twice as old as Lady Jaye – and for much of that time had been famous. There is simply a lot more to cover, perhaps. Of course, it cannot have helped that, sadly, Lady Jaye would "drop her body" in 2007, roughly three years into the filming of a documentary which would (typically for a documentary of this kind) take seven years to complete. It is understandable then that the film is narrated by Genesis and we hear their tale largely from h/er. Intriguingly, Genesis also presents Lady Jaye as a force behind what is seen. Genesis recalls that from the first time the two met (after Genesis, only visiting New York, had spent a night out at legendary genderfuck nightclub Jackie 60) Lady Jaye started to cajole Genesis into wearing her clothes. Genesis presents their use of plastic surgery, the key element in their pandrogyne project, as an idea Lady Jaye introduced. Long before the two ever met, we are told by Genesis, when Lady Jaye was performing in the East Village, her performance art was marked by a "refusal to accept what you are supposed to be based on your gender." Because of the untimely loss of Lady Jaye and because of the way she is seen by Genesis as not only a co-creator but in many ways a primary force behind their work together, the film can only make us mourn the loss of her voice more acutely. It remains a key document of a life of artmaking and a life as artmaking, all the more moving now that these two, who merged into one at the start of this century, are together again.