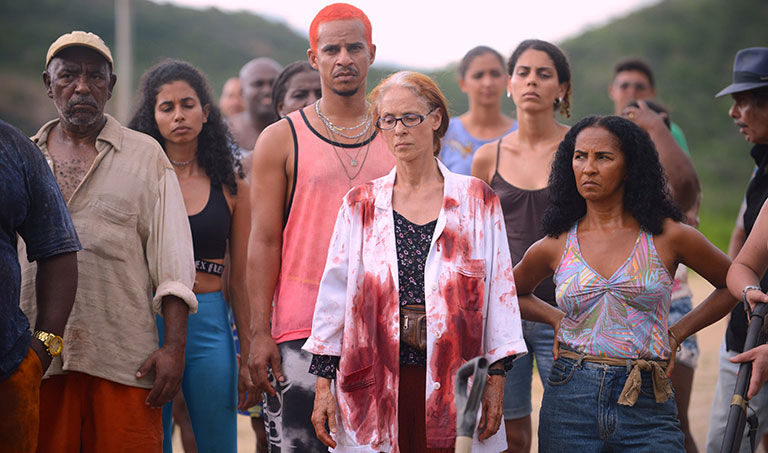 September 30th 2019
Without a doubt the most cathartic cinematic experience of 2019, Bacurau presents an unashamed fantasy of grisly violence against the pillager class at the hands of an indigenous community. If we're doomed to hem and haw over inadequate emissions standards and how politely to chastise fascists for burning down the rainforest, let us rejoice in a rare piece of popular entertainment pointedly at odds with the demons bent on ransacking the natural world and exterminating any who resist. Directors Juliano Dornelles and Kleber Mendonça Filho synthesize graceless exploitation overkill with warmly observed celebrations of village life in remote Brazil and ultimately produce a revenge fantasy cleansed of nihilism. Tired of seeing countless people of color fall to anonymous deaths in the background of globe-trotting franchise extravaganzas? Here's the righteous inverse.
Set a few years in the future, the film opens as the village of Bacurau gathers to dance and take psychedelics at the funeral of a local matriarch. With their imaginary village, Filho and Dornelles offer an unsentimental utopia in which all stripes of queerness coexist alongside nudist farmers, straight-laced school teachers and reformed gangsters. Soon after the funeral, a local politician arrives with expired food and zombifying pharmaceuticals to dull local ire. He absconds without answering questions about the village's dwindling water supply but makes sure to force a local sex worker into his SUV. If only he were the most egregious plunderer threatening Bacurau. In short order the village schoolmaster realizes the town has been erased from all digital maps, and a family of neighboring farmers is brutally slaughtered.
That's when the film takes a wild left turn and a team of white mercenary LARPers arrive to hunt the most dangerous game. In North America they're employed as grocery store managers and corrections officers, but after paying guide Udo Kier's fee these mediocrities lock themselves in competition for high scores murdering people who don't matter in a town that no longer exists. With a limp imitation of military grandiosity, the crew resemble the pathetic pretensions of American mass shooters, but the horror they truly represent is far more vast. In a film blessedly unconcerned with shades of grey, Kier's murderous group channel all who profit from planetary and cultural obliteration. The villagers rise against their pursuers with remorseless fury, culminating in the perfect line: "we have all taken a powerful psychotropic drug and now you are going to die." Ultimately, in this 21st century fairy tale, the queer, the nude, the poor and the forgotten vanquish tech-toting imperalists. Obviously, it will take more than a feel-good film to save Brazil's indigenous people from murderous loggers and a burning Amazon, but Bacurau nonetheless arrives as a tremendous relief for those searching for any indication in our Panglossian pop culture that we are not alone in our searing rage.
***
Bacurau was reviewed at the 57th New York Film Festival, where it screens October 1 & 2. It will be released theatrically by Kino Lorber.