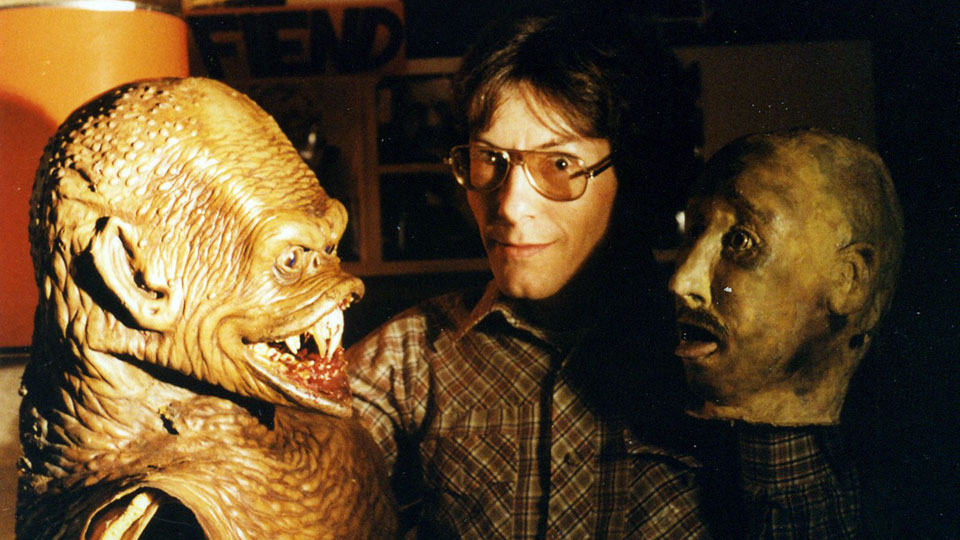 April 5th 2020
Links

The Alien Factor  (Amazon Prime)
Nightbeast  (Amazon Prime)
The Galaxy Invader  (Flix Fling) (?)
---
The seat of Don Dohler's makeshift kingdom is a split-level house on Norway Court — a quiet cul-de-sac in Perry Hall, Maryland. The house is prominently featured in several of Dohler's low-budget films: it's the home of the murderous re-animated, violin teacher, Longfellow, in 1980's Fiend and pops up yet again in Dohler's gore-and-nudity-laden follow up, Nightbeast (1982). It even finds its way into both Alien Rampage (the sequel to Dohler's first film) and Harvesters (2001), a Y2K-ified remake of his fifth film, Blood Massacre.
Dohler was a working-class guy who spent virtually his whole life in Maryland. But his desire for creativity and community extended his purview far beyond his suburban cul-de-sac. In 1961, a teenage Dohler started the Mad magazine-esque fanzine WILD, with his middle school doodle, the dopey, flat-topped Pro Junior, as its mascot. WILD counted as its contributors future underground comix luminaries Art Spiegelman, Skip Williamson, and Jay Lynch. Pro Junior became something of an atavistic icon within the underground, with Spiegelman, Lynch, and even Robert Crumb all drawing versions of him. In the mid-1960s, Dohler began publishing Cinemagic, a how-to magazine for special effects. J.J. Abrams, Tom Savini, and Tim Sullivan were all avid readers.
Throughout the 1970s, Dohler penned books about special effects filmmaking and stop motion animation, but until the middle of the decade, he hadn't yet made his own feature film. Then, on his 30th birthday, Dohler was held at gunpoint during a robbery at his workplace. After he survived the incident, he recounts in the 2007 biographical documentary Blood, Boobs and Beast (dir. John Paul Kinhart), he vowed he would make a movie.
In 1978, The Alien Factor was released. In the film, Dohler employed a variety of the techniques of fantasy cinema he had written about, including stop motion, superimposition, impressive creature make-up (particularly one memorable creature on stilts), and forced perspective. The plot was something ripped from the pages of a comic book, with a collection of dangerous space aliens en route to a galactic zoo crash landing in a small town and running amok. The resulting film is stilted, preposterous, and blatantly cheap, but somehow, compulsively watchable. Beneath all the wild Maryland accents, bleak interiors, and wooden acting is an unmistakably big heart. Despite its clearly humble production, the film found a home in the burgeoning cable market — a stroke of luck that made Dohler's name on the sci-fi horror scene.
When watching Dohler's oeuvre in one fell swoop, as we have these last few days, one starts to recognize not only the filmmaker's house but also a collection of familiar faces. Dohler repeatedly used an Altman-esque troop of local actors and non-actors. These recurring stars are so intrinsic to Dohler's murky sci-fi stories that fans of his films become fast fans of his actors. There's George Stover, a kind-faced human Piglet who was also a favorite of fellow Maryland auteur John Waters. A lifelong government employee and part time actor, Stover's gentle presence brings a Jimmy Stewart-like (if Jimmy Stewart couldn't act) innocence to Dohler's films. The stately, London-trained actor Don Leifert adds a heaping scoop of gravitas to The Alien Factor, Fiend, and Nightbeast . Tom Griffith, a Cinemagic collaborator, plays a sheriff in both The Alien Factor and Nightbeast, his characters differentiated mainly by the horrific perm he dons in the latter. Richard Dyszel, the local late-night horror host Count Gore De Vol, excelled at playing greedy, do-nothing Jaws-esque mayors in both The Alien Factor and Nightbeast, and a kindly professor in maybe the outright worst of Dohler's films: The Galaxy Invader . And our personal favorite, Richard Nelson, puts in one of film's most idiosyncratic performances as a suspicious, mustachioed neighbor in Fiend — sadly, his only meaty role in a Dohler film. Even Dohler's kids are in the mix — his son Greg appearing most memorably as the wise beyond his years Scotty in Fiend.
If acting ability is lacking, characters and their relationships are paramount in Dohler's films. In Nightbeast, your most basic killer alien invades flick, two exceedingly average police officers (Griffith and Dohler's aunt's hairdresser, Karin Kardian) get naked and make love amidst municipal turmoil, serving as a paradigm for small town workplace romance. In Blood Masacre Texas Chainsaw Massacre meets Rambo — Stover, a tortured Vietnam vet, has a blood soaked make out session with a backwoods cannibal cutie that's perverted but also... kinda nice for them. Nelson shares a highly communicative relationship with his wife in Fiend, mostly compainting about their reclusive neighbor who, in all fairness, does turn out to be a violent, supernatural murderer.
Dohler filmed in local bars, houses, and backyards. The surrounding woods of Perry Hall become the ur-wilderness through which a variety of beasts and aliens stalk. Performances by local bands are included at length, complimenting the synthy scores that lend his movies their inimitable cosmic vibes.
His filmography is divided between his first five films, made between 1978 and 1987, and the six straight-to-video films he directed (Alien Rampage) or produced between 1999 and his death in 2006. The later films were marked by Dohler's collaboration with a local Maryland police officer-turned-film producer and director, Joe Ripple. Ripple's taste for gratuitous nudity and artless bloodletting clashed with the fx-driven, sci-fi sensibility of Dohler. Though this later crop of films has enough sensational badness to remain enjoyable, the unique charm of Dohler's first five films is largely absent.
Dohler's early films are folk-like in their simplicity: aliens invade, monsters terrorize, and forces of evil interrupt the daily lives of normal people and the sleepy towns they live in. It's their combination of comic book drivel, repetitious plots, ingenious homespun effects, and community theater chutzpah that makes them something special. In short, Dohler turned Kansas into Oz in his very own backyard and took his friends and family along for the ride. For those of us stuck at home in quarantine right now, it's comforting to remember that Don Dohler lived on the same cul-de-sac for over 30 years, and he made an awful lot happen there. <br>