Featured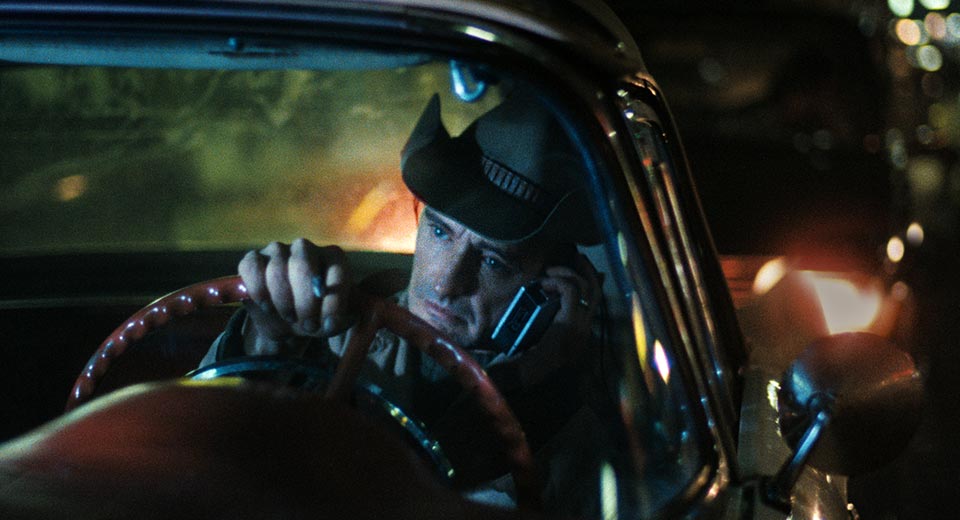 May 17th 2018
Iconic conman Tom Ripley, like any cherished superhero-or-villain, has undergone a number of transformations since his debut in Patricia Highsmith's 1955 novel The Talented Mr. Ripley. And stashed between the two best known, sun-kissed Mediterranean adaptations of Ripley's first outing – Rene Clement's Purple Noon and Anthony Minghella's The Talented Mr. Ripley – is a slightly deeper cut with a very fine pedigree.
Wim Wenders' The American Friend, based on a then-unpublished manuscript of "Ripley's Game," was earmarked for the auteur with the author's personal blessing. Starring Dennis Hopper as a manic and hardly cosmopolitan Tom Ripley and Bruno Ganz as Jonathan Zimmerman, the dying picture-framer taken into his confidence, this thoroughly Cold Wave iteration is surely the strangest. Instead of molding his lonelier-than-thou cityscapes and close interiors to match those established Ripley tropes, Wenders bends the world of Highsmith's gentleman bandit into a shape that is wholly his.
Ripley's narrative arc is quickly scattered, like a whiff of aftershave on a crowded U-Bahn, shifting from art forgery and assassination to Zimmerman's terminal illness and moral decay. Offered a chance to earn an inheritance for his soon-to-be widowed wife and young son, the shy German artisan agrees to a pair of gangland contract killings. And Ganz plays the soft-spoken family man without easy pity, ensuring Zimmerman dies a death of the soul long before his body gives out. Ripley pops up throughout Continent-spanning caper, but the bulk of his screen time is spent in dirty old New York, alongside a rogue's gallery of crooks that include noir legends Nicholas Ray and Sam Fuller (both as pickled as last winter's sauerkraut).
Gadding about, living the life of Riley, crimedom's favorite anti-hero has little concern for the dirty work done by his brow-beaten bud back in Hamburg. But for all the sturm-und-drang, it's easy to see why a dying man would spend his fleeting days in Ripley's sneaky company. Highsmith's most famous creation embodies every impulse, swanning and sly, of American sociopathy. With little to lose, and much to gain, Zimmerman was bound to end up in Ripley's orbit, and Wenders does us a great service in following him there.