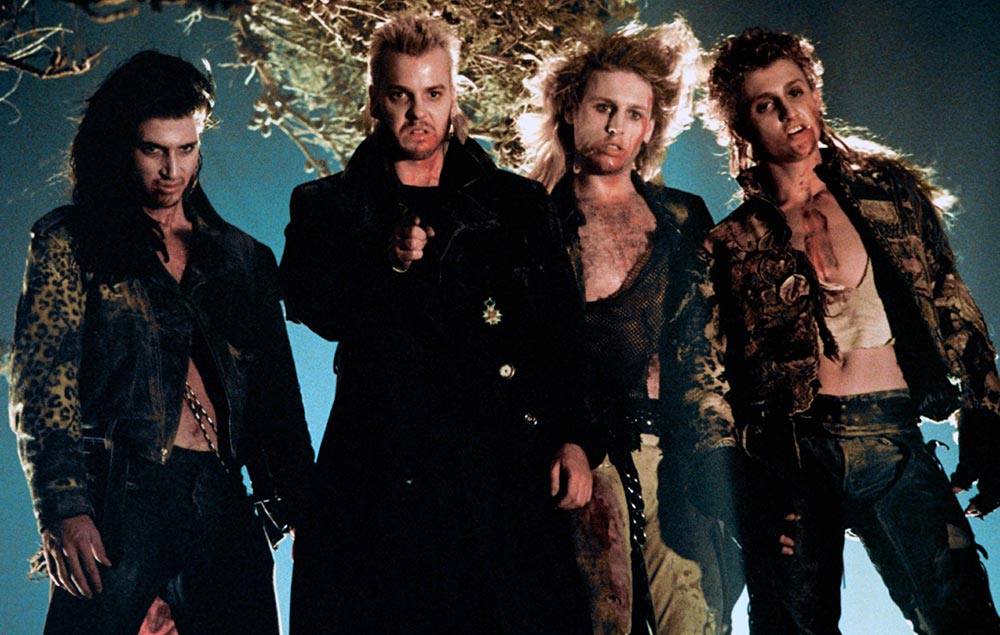 February 19th 2022
When Joel Schumacher stepped on board to direct The Lost Boys (1987), he was already an expert in the art of the decade-defining time-capsule film, having helmed St. Elmo's Fire just two years earlier. And although The Lost Boys takes a less literal approach to conveying the struggles of teendom than Schumacher's previous work (it features a gang of mullet-headed vampires, for one), it seemed to speak to the teenaged John Hughes rom-com audience about their big-haired, Jim Morrison-infused, rebellious world in an authentic way.
The film starts with brothers Michael (Jason Patric) and Sam (Corey Haim) and their mom Lucy (Dianne Wiest) settling into their new home in fictional Santa Carla, California. But this seemingly-idyllic beach town turns out to be more than its pulsing boardwalks and brimming comic book stores. When the sun goes down, out comes a clique of motorcycle-riding, leather jacket–wearing vampires, overseen by smooth-talking, spiky-haired Michael (Kiefer Sutherland).
In its early stages, The Lost Boys was a study of Peter Pan-esque youth, petrified in time by the curse of vampirism. When Schumacher took over the directorial duties from Richard Donner, who had previously been attached, he brought in screenwriter Jeffrey Boam (The Dead Zone, Innerspace) to sex/drugs/rock 'n' roll the thing up. What emerged was a rip-roaring study of 1980s teendom.
The Lost Boys made a permanent impact on vampire media: Joss Whedon credited the film as one of the core influences for Buffy the Vampire Slayer, and the Twilight franchise was certainly inspired by that forever-young-teen-vampire trope. Refreshingly, the teen vamps in The Lost Boys aren't brooding; they're living it up: chasing girls, revving their engines, and hanging posters of their favorite rock icons.
In J.M. Barrie's original Peter Pan and its many adaptations, there is a correlation between a resistance to growing up and an avoidance of one's innocence being corrupted by adulthood. But, from Schumacher's perspective, a loss of innocence doesn't need to be a bad thing.
The Lost Boys screens this afternoon, February 19, and tomorrow, February 20, at Nitehawk Cinema Prospect Park on 35mm as part of their "Love Sucks" series. It is also streaming on Netflix.