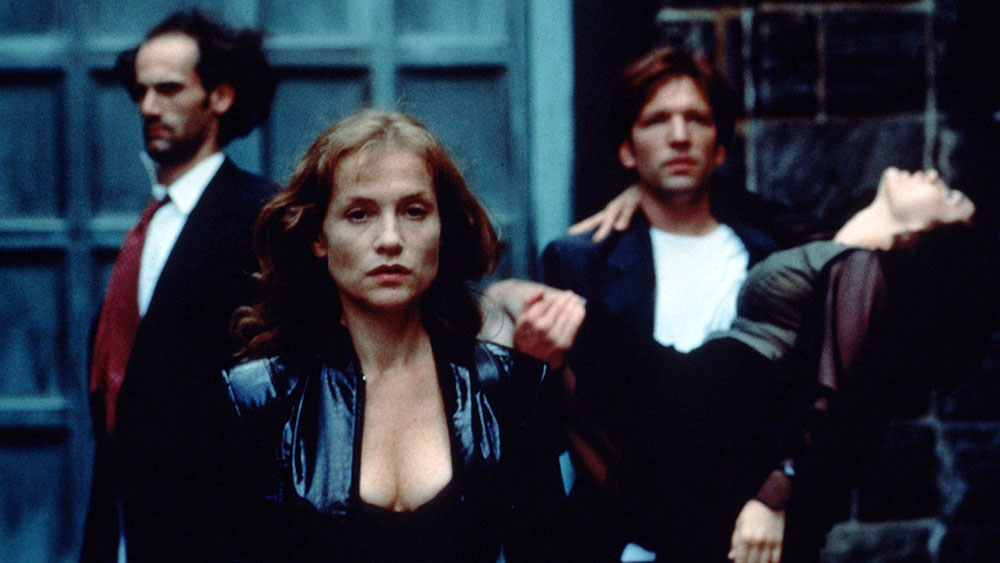 March 16th 2022
A man (Martin Donavan) left for dead in the middle of a cobble-stoned SoHo street awakens and drags his bloodied, now amnesiac body to the smoke- and fried egg–filled environs of a nearby coffee shop, where Isabelle (Isabelle Huppert)—former nun, current virgin, lifelong nymphomaniac—narrates aloud the dirty story she's writing for a "pornographic magazine." In a plot ripped from the purple prose-laden files of her own word processor, Isabelle commits to helping the man recall his identity, in hopes of outrunning his gun-toting former accountant Edward (Damian Young), out-maneuvering the low-rent heavies (former accountants themselves) chasing them both, gaining the trust of his erstwhile wife/victim Sofia Ludens (Elina Löwensohn), and, perhaps, falling in love.
In transporting noir from the seedy, shadowy black-and-white of its original heyday to 1990s lower Manhattan, Amateur (1994) injects its quintessentially convoluted crime story with the deadpan stylings typical of director Hal Hartley. Dark lines from bell-sleeved femme fatale Löwensohn like "He got me hooked on drugs when I was 12 years old" take on a genre-defying irony in the bright white interior of a Dean & DeLuca's–esque eatery, particularly when followed by a discussion of floppy discs; Edward's interrogation-by-lamp is crowned by a wistful "We were good pornographers" and the discovery of his apparently lifeless body by "squatters" Parker Posey and Dwight Ewell—just two of the potently '90s cameos that pepper the film.
Amateur makes for an inviting entry point into Hartley's singular oeuvre, due in part to the noir trappings and the slightly more overt humor—most notably in Young's delightfully physical performance, his lanky form stumbling through gun fights in an oversized suit. Huppert's accent and enigmatic charisma alongside Donavan's amnesia-inspired naïvete imbue the droll Hartley dialogue and hyper-controlled performances with an aura of appealing absurdity. The richest incongruity of the film is the original score, co-composed by hymnist Jeffrey Taylor and "Ned Rifle" (a Hartley pseudonym). International financial crimes of an unknown nature, sex trafficking, the aforementioned incriminating floppy discs: the typical elements of a blockbuster thriller come up against an alternative '90s soundtrack that is rather inexplicably interrupted on occasion by a driving piano sequence and swelling chorale. The sincerity of these aural interjections lends a little magic to Isabelle's claims of divine purpose, and gives an otherwise alienated film a beguiling emotional core.
Amateur screens tonight, March 16, at BAM as part of the series "New York 90s."