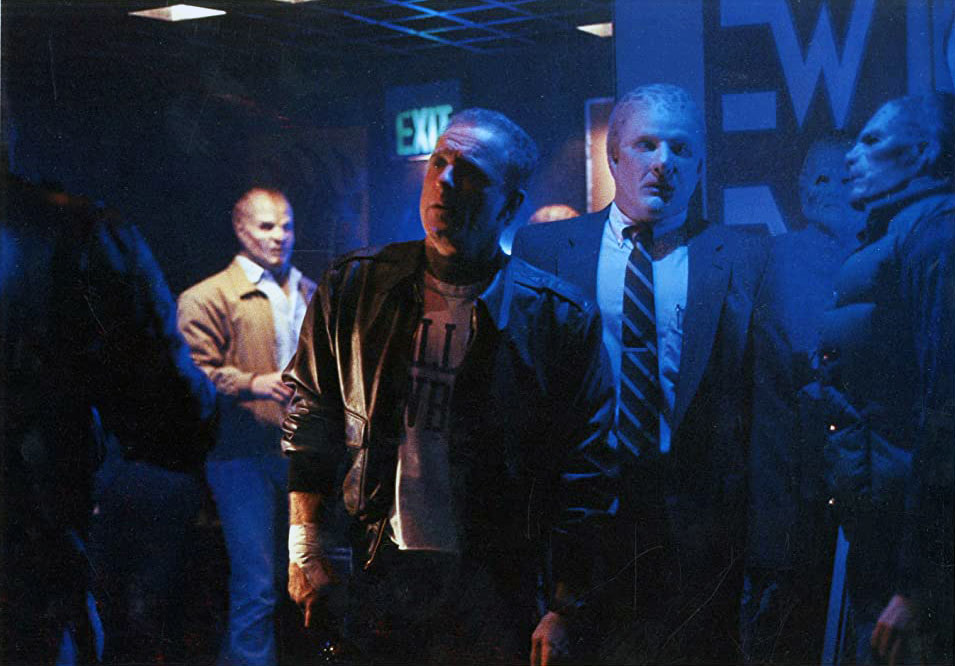 October 1st 2022
Alien Nation (1988) opens in 1991 Los Angeles, in which extraterrestrials have arrived on our planet and assimilated into society. They tend bar, work at the burger stand, adorn Pepsi billboards, and serve as police officers. A satirical view of the near future (one where Rambo 6 adorns a cinema marquee) animates a cultural criticism of the 1980s. The opening news broadcast cuts between discussion of civil liberties for aliens and footage of Ronald Reagan giving a speech.
Though Alien Nation leans on moments of humor to build its imagined future, it has much less in common with the likes of Men In Black (1997) than it does with the gritty crime films of the time. Cobra (1986), for instance, also opens with a brutally violent convenience-store robbery gone wrong. Alien Nation places a human detective, James Caan, at the scene of the crime—a stick up featuring alien-on-alien violence that erupts into a nighttime shootout on the streets, dispersing in mere minutes the number of bullets and bodies that we had come to expect from entire action films of the era.
Alien Nation came out at an interesting time for James Caan, predating his acclaimed performance in Misery (1990) and capping off a decade in which the star had no real hit movie, outside of the modestly successful Thief (1981) which earned more of a fanbase on video than in its theatrical release. Caan's last studio film with a decent budget had been Steven Spielberg's epic comedic flop 1941 (1979). In that sense, Alien Nation is a comeback for Caan. The film is a witty, none-too-subtle genre hybrid of buddy-cop action/comedy and geo-political sci-fi, a bit like District 9 (2009) by way of Lethal Weapon (1987). Its brand of gratuitous violence, sledgehammer-delivered allegory, and frank banter can at times make it feel like a relic of a bygone era but it—and the single-season TV series that followed—helped to revive the deflating buddy genre in the late 1980s and ushered in a new era of performances for James Caan.
Alien Nation screens this afternoon, October 1, and on October 8, at the Museum of the Moving Image in 35mm as part of "The Caan Film Festival."