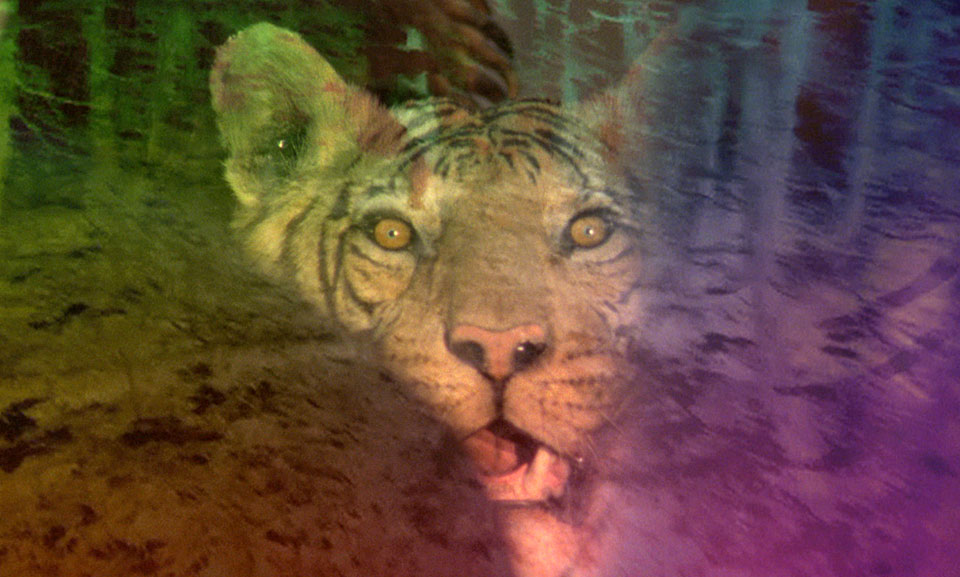 August 8th 2020
"The boundary between social reality and science fiction is an optical illusion"
— Donna Haraway (quoted in John Akomfrah's Last Angel of History)
Snakes make themselves at home in a hotel room. People go clubbing as plants slither through abandoned buildings, regaining space once taken from them. Humans and the nature around them adapt to one another and their ever-shifting terrain. Whether it's the Florida Everglades, the desert of New Mexico, Africa, or even outer space, our pasts, presents, and futures are in constant collision and rearticulation as we attempt to make sense of what it is to inhabit a planet together. The crisis is here, and perhaps always has been, but it reveals itself to us in uncanny moments, a series of whimpers instead of a bang. Maysles Documentary Center's new series of experimental speculative films, After Civilization, couldn't have arrived at a better time, as many of us wonder what comes next for civilization, while also attempting to figure out together what we can build.
Adam Khalil and Zach Khalil's debut feature INAATE/SE [it shines a certain way. to a certain place/it flies. falls./] (2016) (previously covered on Screen Slate) serves as a good thematic centerpiece for the series. The film re-imagines the Anishinaabe Seven Fires Prophecy, which predicted the arrival of European colonizers, the loss of indigenous culture, and the poisoning of the earth that would inevitably lead to a reckoning for humanity. Through a mix of narrative and documentary, it examines the specificity of indigenous identity in a community on the Michigan/Canadian border while using this prophecy to open a space for human beings' potential to come together and shape a new world. Pat O'Neill's Water And Power (1989) reflects on the desertification of Los Angeles resulting from over-consumption of water. Caroline Golum recently wrote in Screen Slate how O'Neill, "deploys a rich texture of juxtapositions, anecdotal voice over, and optical effects to condense a century of environmental history into 58 fleet minutes." In The Last Angel of History (1996), John Akomfrah (founder of the Black Audio Film Collective) blends talking-head interview clips with Octavia Butler, Ishmael Reed, George Clinton, DJ Spooky, and more, with archival video and the narrative journey of the time-traveling "Data Thief" to present Afrofuturism as a metaphor for diaspora. And in her new film Truth and Consequences (2020), Hannah Jayanti imagines a near future where space travel has begun and five people who reside near the first commercial Spaceport in rural New Mexico decide to stay behind on earth.
The shorts selected in After Civilization are also interested in the synthesis of past, present, and future. Christina Battle's video installation Water Once Ruled (2018) collages and collapses all three into a single repeating loop linking Earth's colonial history and future to that of Mars via water as the shared finite resource. Her other film in the series, Bad Stars: Chemical Valley (2018), looks to the stars for guidance in navigating the interconnectedness of environmental/political/social disaster and asks if disaster can instead be turned into strategy for building a better future. Fern Silva's Wayward Fronds takes us to Florida's eerie Everglades as nature begins to engulf civilization, forcing the humans who continue to inhabit them to adapt to it, instead of the other way around. Sousa Dias's Fordlandia Malaise (2019) gives voice to the inhabitants of what we're come to know as Fordlandia, Henry Ford's company town in the Amazon rainforest - the remnants of the neocolonialist ghost town etch its history into the world, but what if those it displaced can reclaim it?
In A Park For Detroit (2019), Nicole Macdonald narrates over news and surveillance footage of Detroit's Belle Isle, pondering the attempts to reinvest in the city while examining the flora and fauna that are taking over the abandoned zoo. Basim Magdy superimposes static images of animals and stone statues onto kaleidoscopic footage of a lush forest in The Many Colors of the Sky Radiate Forgetfulness (2015), meditating on inevitable death and loss. In G. Anthony Svatek's .TV (2017), an anonymous protagonist tells the viewer over voicemail about how he had no choice but to escape into cyberspace from the sinking islands of Tuvalu, which in reality will be the first country to disappear due to rising sea levels, and whose revenue derives largely from leasing the .tv domain extension. And finally, in Slow Action (2010), a 16mm projection that artist Ben Rivers has said, "was made in the shadow of" Werner Herzog's Fata Morgana (1971), potential ecological possibilities are imagined for Earth's future post-societal collapse in four locations/scenarios.
Memory (and memento mori) is present throughout After Civilization, as each film reminds us that all humans have built and experienced is temporary. However, memory is consistently wielded in order to envision the post-human future that is potentially more humane. While dystopia currently feels top-of-mind to us and is often predicated on the fear of civilization crumbling, the films in this series all understand that "civilization" is inextricably bound to exploitation and expropriation. Maybe "civilization" isn't something we should be trying to preserve. Something else is coming, no matter what, but what will it be?
The After Civilization series is part of Maysles Cinema's online programming and runs through August 15. All titles are available to stream free of charge with the option to make a donation.