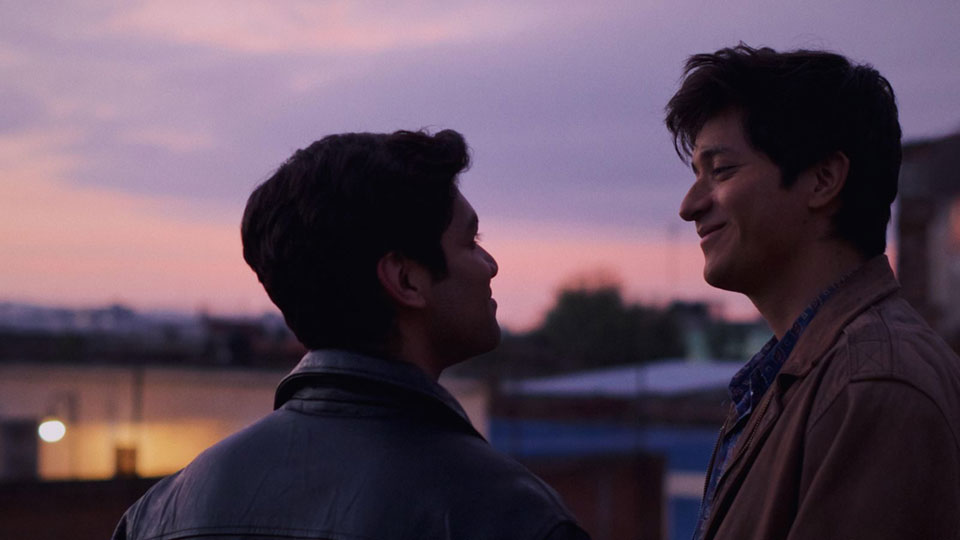 October 2nd 2020
Writers Jeva Lange, Chloe Lizotte, and Jon Dieringer are back for the third and final week of our New York Film Festival correspondence coverage. This time, we cover films including Chaitanya Tamhane's The Disciple, Heidi Ewing's I Carry You With Me, Dea Kulumbegashvili's Beginning, Steve McQueen's Mangrove, highlights from Currents, and more.
In case you missed it, catch up with week one and two.
Jeva Lange
Hello Jon and Chloe! Here we are, nearly at the end of another New York Film Festival, and I have to say, I've been really impressed by this first chapter of the post-Kent Jones era. For me, this year has been all about discovery, where many of my favorite films have been ones that I knew nothing about prior to hitting "play." That's a testament to the strength of the slate, and though I haven't yet had one giant, obvious, runaway favorite like some previous years (aside from perhaps There Are Not Thirty-Six Ways of Showing a Man Getting on a Horse, which I wrote about in last week's dispatch), I've walked out of this festival with more overall movies that I'm enthusiastic about.
One such movie for me this past week was Chaitanya Tamhane's The Disciple, which follows an aspiring vocalist over the course of his youth as he studies Indian classical music with his guru. I found the story to be quite accessible as someone who is no expert on Hindustani music; you pretty quickly begin to piece together the importance of the raga, the improvised melodic backbone of the music, which becomes something of a rut for the impatient protagonist, Sharad (played mainly by Aditya Modak). Though in some ways The Disciple is your standard künstlerroman, Tamhane is an ambitious director, and I was surprised by how enormous and glossy a production this movie turned out to be (proof: the credits last forever, although that is partially due to them citing all the incredible music you hear throughout).
Another highlight from the main slate could maybe also be considered a künstlerroman of sorts, although the dream being chased here is in the culinary arts. I Carry You With Me follows an aspiring chef, Iván (Armando Espitia), who yearns to immigrate to the United States from his home in Puebla, Mexico, in order to open a restaurant — even if it means leaving behind his boyfriend, Gerardo (Christian Vázquez), and young son, Ricky. While it is an immigration story directed by Detroit native Heidi Ewing, this is not another American Dirt; Ewing, a documentarian, had originally intended to tell a nonfiction story of her real-life friends Iván and Gerardo, and ultimately found that narrative was a better fit (she also co-wrote the script with Mexican screenwriter Alan Page Arriaga). Because the film is based so closely on real life, I found that I Carry You With Me largely avoided many of the clichés of the "immigration story" that American-born audiences may have unfortunately grown accustomed to. Espitia has such a tender and expressive face too, and gives this story so much of a soul.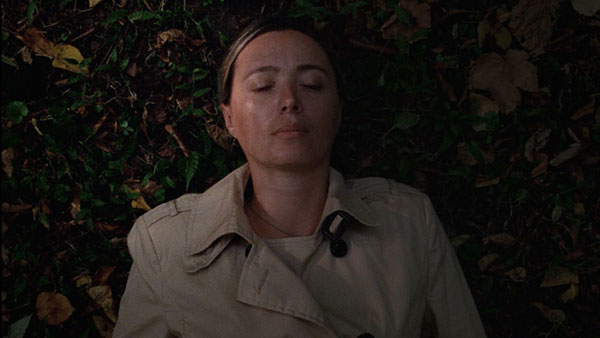 Beginning
Beginning, by Georgian director Dea Kulumbegashvili, is like Carlos Reygadas meets Michael Haneke's The Seventh Continent, by which I think I mean it is beautiful and quiet, while also being horrifically brutal and shocking. The story is about a family of Jehovah's Witness missionaries who are immediately made unwelcome in the small rural village they've come to live in, and centers closest on the domestic life of the mother, Yana (Ia Sukhitashvili). To be honest, I'm still very much in the process of working through what I think of this one, but I feel it's going to stick with me for a long time.
On a far lighter note, I just really adored Hong Sang-soo's latest, The Woman Who Ran, which despite having a suspicious lack of copious amounts of soju in it, is otherwise a Hong film through and through. I have to confess that it's been a little while now since Hong's made a movie I truly loved, and this one served to remind me why I love seeing him at the festival, uh, basically every year.
Excited to hear what's clicked for you two!
Chloe Lizotte
Hello once again! Yes, I suppose we find this year's festival coming to a close, in a more muted fashion than usual. I think you're right, Jeva, that the virtual format has afforded more flexibility to roam the lineup; this year there's no crazy-wall chaos of a physically feasible path through screening tickets. That's resulted in a festival that's felt more democratic—hyped debuts and revival runs mean the same thing to my even-tempered television—but also more encouraging of exploration and sudden mood shifts. I've enjoyed dipping in and out of shorts programs or pursuing spontaneous recommendations from friends, but this multiplicity of choices and varying streaming windows has also caused me to less organized than normal. Maybe that's on me to plan more carefully for the next virtual festival I attend, but we're all here to learn!
I've largely been enthusiastic about what I've seen, too. In past years, I would feel that certain titles made concessions to distributor negotiations or programmers' friendships, but this time around, even less memorable films still seem vital in their own ways. So when a movie stands out, it's a livewire experience.Sometimes I know it's coming, like when I was emotionally annihilated by Tsai Ming-liang's Days, but I'd love to focus on a film that took me totally by surprise: Joe DeNardo and Paul Felten's Slow Machine. It's interesting in light of the expectations that its synopsis sets up—we learn that it follows an actress, Stephanie (Stephanie Hayes), who's entangled with a mysterious counter-terrorism agent (Scott Shepherd) before she ends up on the lam to upstate New York, where an acquaintance is sound tech-ing for Eleanor Friedberger's band (delightfully acerbic in her acting debut, and her music is always welcome). But the characters in the film might tell you that you're focusing on the wrong things if you're only looking for the plot: taking influence from Mark Rappaport's paranoid Downtown New York films, DeNardo and Felton circle characters gaining momentum in personas until their improvisations are hard to stop, with no landing in sight.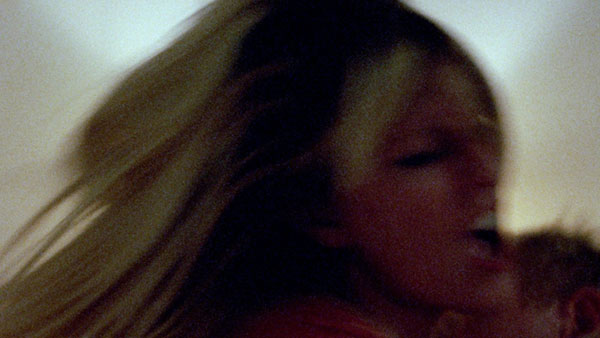 Slow Machine
I found Slow Machine's energy totally infectious, more actorly than incident-based; its succession of bizarre interpersonal dynamics makes you wonder what uncanny forces draw people together and apart. And it's also incredibly funny, with lines that are maybe better delivered than transcribed. Stephanie ends up going for drinks with Chloë Sevigny, playing herself,in a scene that reminded me of how great it is to see her really act: Sevigny tells a story about an audition that plays with trance and rupture, as Sevigny seeks to pin down elusive truths while Stephanie gets hilariously bogged down in minuscule logistical details. The film takes place within that gap between expectation and occurrence, between scripted and channeled performances—and it's never too self-serious to negate its own absurdity.
The other film I'm left thinking about is one that snuck up on me after it ended, Philippe Garrel's The Salt of Tears . Even his smaller works tend to have moments that unexpectedly stay with me; here, too, I was moved by the way Garrel captures such a naturalistic intimacy and vulnerability between characters. Garrel's third film co-written with Jean-Claude Carrière and Arlette Langmann, The Salt of Tears follows a Moral Tale-style setup: twentysomething Luc (Logann Antuofermo) meets Djemila (Oulaya Amamra) while in Paris taking a furniture-joining exam; when Luc moves temporarily back in with his father (André Wilms, Le Havre), he falls back in lust with his high school girlfriend (Louise Chevillotte, who also stars in Garrel's 2017 Lover for a Day). It's not exactly a spoiler to reveal that Luc succumbs to horniness depending on who's nearby, and he gets harder and harder to take as the movie shuffles along. But that makes the ending, as inevitable as it seems, heavy. You could say that the film is about a youthful shallowness of perspective, but it's especially about the moments that are doomed to end, which are more precious in hindsight—Luc is too self-centered to figure out how to build something lasting on top of those fleeting instances. The dance scene at the center of the film, choreographed by Caroline Marcadé (whose previous Garrel credits include Regular Lovers and Wild Innocence), plays with these ideas, and it's exhilarating.
I'm eager to see what else I might be able to catch before the festival's end, but Jon, I'll let you close it out!
Jon Dieringer
Hello Jeva and Chloe, great to be here with you once again!
I agree with Jeva that this year has been full of discoveries and rewarding blind viewings. It's worth acknowledging that we're in a position of having the relatively low-stakes option to click and watch things at our leisure, albeit within limited windows. I wonder whether committing to a $15 digital rental of films — especially during a pandemic — has made some potential viewers less likely to take a chance on something unfamiliar than physical screenings? I hope not. And I also hope that the bar that has been set with this year's programming is held next year.
I was especially missing the IRL festival experience this week as I dove into the Currents shorts on view this week. Although New York offers year-round opportunities to engage with media art and experimental film through venues like Anthology, Light Industry, Maysles, Microscope, Spectacle, and UnionDocs, even COVID aside, at the moment, there isn't really another annual festival that gathers people in this community from around the world the way the sidebar formerly known as Views from the Avant-Garde/Projections does. Despite the criticisms that have been levelled at it over the years — lack of diverse representation, limiting curatorial scope to a clique of MFA programs, including the same artists every year, not including the same artists every year — it's a significant event. Even if you're skipping the festival, you can usually rely on being able to catch up with someone for a beer near whatever couch they're crashing on.
That said, my favorite program I've seen so far was composed primarily of filmmakers with whom I was unfamiliar, save one. Although all five films in "Code Unknown" were indeed shot on celluloid, that link feels secondary to the thematic resonances that make them such an engaging selection. Aya Kawazoe's Humongous! , a series of haunting and playful mnemonic impressions, sets the tone for the elliptical, non-linear, playful and bewitchingly abstruse line-up. Greek filmmaker Jacqueline Lentzou's The End of Suffering (a proposal) splinters a young woman's anxious breakdown into a distanced dialogue with a Martian interloper, playfully riffing on language, mythology, love and cognition over fantastic and strange assemblage of footage. It resonates wonderfully with August 22, This Year , by Canadian cinematographer Graham Foy, which combines a similar kind of asynchronized narration contemplating apocalypse with mannered footage that feels at once diaristic and rife with narrative associations. And Screen Slate favorite Sofia Bohdanowicz, director of MS Slavic 7 and Maison de Bonheur, continues in the spirit of shorts like Veslemøy's Song with a semi-autobiographical cultural detective film concerning Wassily Kandinsky and Hilma af Klint in Point and Line to Plane. Overall, the program is also noteworthy for its soundtracks, including Leonard Nimoy's "Consilium" in Foy's film and Lentzou's use of Αννίτα Κουτσουβέλλη's insanely great psych pop gem "Τυλιγμένοι Στο Χάος" ("Wrapped in Chaos").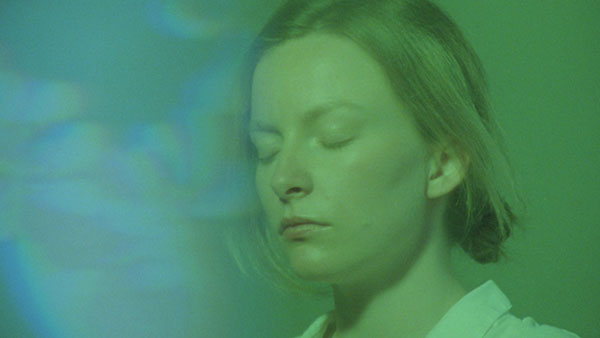 Point and Line to Plane
Speaking of soundtracks, there might have been some question as to whether Mangrove, the second installment of Steve McQueen's "Small Axe" anthology of films to show in the festival, would hold the party line of Lovers Rock — indeed it does. Based on historic events, Mangrove tells the story of the title restaurant owner, Frank Crichlow (Shaun Parkes), whose business and customers are beset by racist persecution from the police, leading to a peaceful protest that land nine people, including British Black Panther Movement Altheia Jones-LeCointe (Letitia Wright), in court. Much as it's a bit of disingenuous shorthand to call Lovers Rock a "party film," the same could be said of the courtroom drama appellation given to Mangrove — despite the heavy subject, McQueen's portrayal of London's West Indian community is deeply steeped in joy, solidarity, and acute cultural and social detail. He's abetted by Shabier Kirchner deft camera work and knockout performances by Parkes and Wright, the latter of whom, best known for her supporting part as Shuri in Black Panther, carries a major dramatic role with force and grace. I've generally found McQueen's films in the past to be cold, pretentious, and overly preoccupied with suffering — so far, what we've seen of Small Axe indicates a major shift, one which will no doubt continue to be analyzed and debated as the films (or are they TV episodes?) are more widely seen.
As we sign off on these dispatches, I want to thank you both for agreeing to do this, and our readers for following along each week. It's been a wild time to try to cover a film festival (Donald Trump was just diagnosed with COVID-19, lmao), and a particularly fraught moment for cinemas. Even as I hope that "Virtual Film Festivals" are a temporary thing, I'm also quite invigorated by the possibilities of lessons that might be learned from them. And in closing — full-throated solidarity for the Film at Lincoln Center Union.