Featured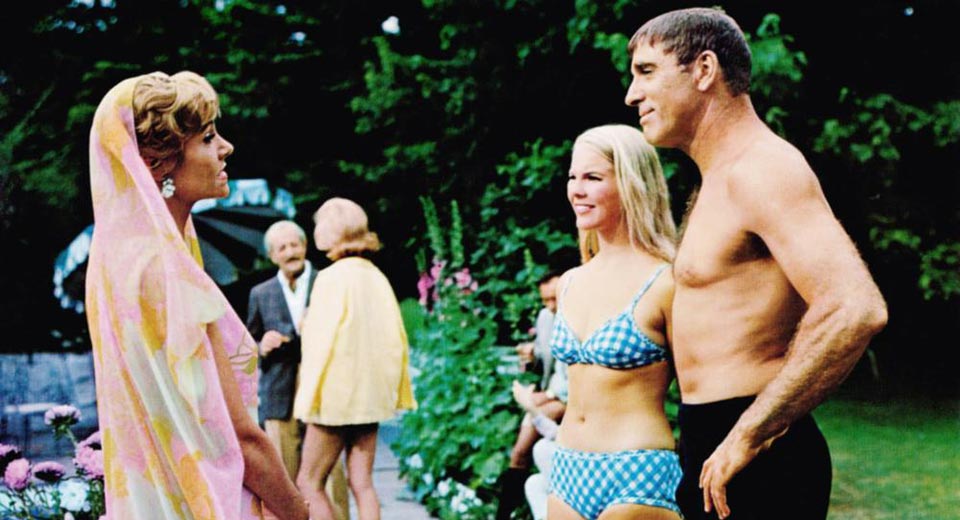 May 26th 2017
There is no better film than Frank and Eleanor Perry's The Swimmer to usher in BBQ season (playing tonight at the Quad Cinema). Featuring middle-aged Burt Lancaster in the title role, this adaptation of John Cheever's short story of the same name follows tan and handsome Ned Merrill as he decides to swim "across the county" from his neighbor's backyard, hopping from one pool to the next until he finally gets to his own house. As his journey through suburbia progresses, his own confidence and grasp on reality become increasingly shaken. What results is a remarkably effective reflection on white male privilege and the tedium of the American bourgeoisie, culminating in an unexpectedly haunting finale.
Lancaster is perfectly cast in this slow burn of a character study, and he knew it. Although he was not the filmmakers' first choice, he fought for the role, and even learned to swim at 52 years old. However, his passion for the project did cause some unrest during production. He didn't get along with director Perry, who was fired and replaced with Sydney Pollack before the film was released. Pollack then went ahead and replaced Barbara Loden with Janice Rule as Ned Merrill's mistress and reshot several scenes.
It's a surprise to learn of the tumult on set because this entry into Frank and Eleanor Perry's cannon of sophisticated, personal, and unusual independent films (all on view last week at the Quad) is particularly exemplary. A piece that at once feels expansive and intimate, mundane and surreal, The Swimmer insidiously exposes the terror inherent in the ignorance and triviality of the American leisure class.