Featured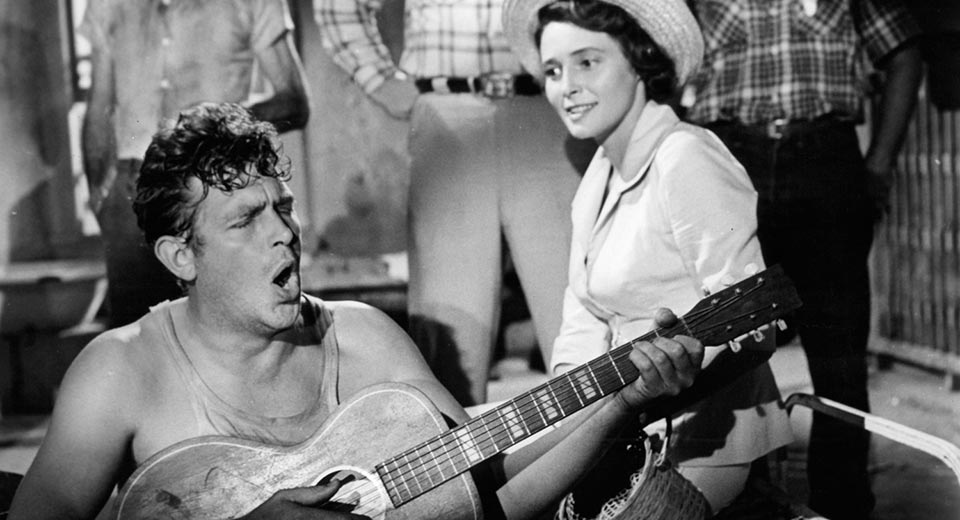 January 16th 2017
A Face in the Crowd , director Elia Kazan and writer Budd Schulberg's heartbreaking satire that chronicles the dangers of mixing showbiz and politics, screens at Anthology Film Archives in 'honor' of Donald Trump's inauguration. The film will also screen on TCM tonight right after the inaugural festivities. The following is a brief analysis of the film, presented without much political commentary because there is no need—it's all so obvious. From the icky gender politics to the stark polarities of for-profit vs. non-profit broadcast media, and everything in between, this film couldn't be more relevant, as terrifying as that may be.
Andy Griffith stars in this rags-to-riches tale of Lonesome Rhodes, an unsettlingly charming entertainer-cum-political advisor. He starts off as a hopeless drunk, strumming his guitar in the local jail, discovered by a public radio producer searching for "the voice of the people." But as his popularity grows, Lonesome discovers his real talent—an innate capitalist intelligence. He understands the urge to consume and knows how to stimulate people to satisfy that urge, driving frenzied herds of people to buy! buy! buy! whatever he's selling. It could be anything as long as the general public is behind him. If they stop applauding and buying in, they stop buying him. His addiction to profit is Lonesome's sole motivation, and ultimately leads to his demise. It is this obsession with and power over public spending that makes Lonesome such an appealing politician. Sound familiar?
If Lonesome's obsession with his brand identity doesn't bear enough of a parallel with that of our own impending big-mouthed leader, the gender politics in A Face in the Crowd will certainly bring out some squeamish similarities. An undeniably pornographic element permeates the film, on a couple of different levels. The first is broad-scale and public-facing: Lonesome is constantly flanked by hordes of baton-twirling teenage girls in hot pants and crop tops, starlets squirming on beds in commercials. It's the manifestation of that old adage—sex sells! The second pornography of the film is more insidious, with the muffling violence of a snuff film. It's the private file of Lonesome Rhodes, the thoughts between the actions we see (could these scenes offer insight into the 'real' Donald Trump?). An underage Lee Remick's solo baton twirl (though his wife, she could be his daughter) in stark contrast to entreating looks from Marsha, his beaten down would-be wife (Patricia Neal) as she suffers helplessly through his misbehavior. Lonesome basks in this submissive attention, becoming drunk with power, his influence exceeding his own control until even his own downfall isn't enough to stop his hype machine's descent into hell.
Note: today, 100% of Anthology's ticket sales will be divided evenly between Planned Parenthood, The Natural Resources Defense Council, and The American Civil Liberties Union.