Scream Slate at Roxy Cinema [Extended]
-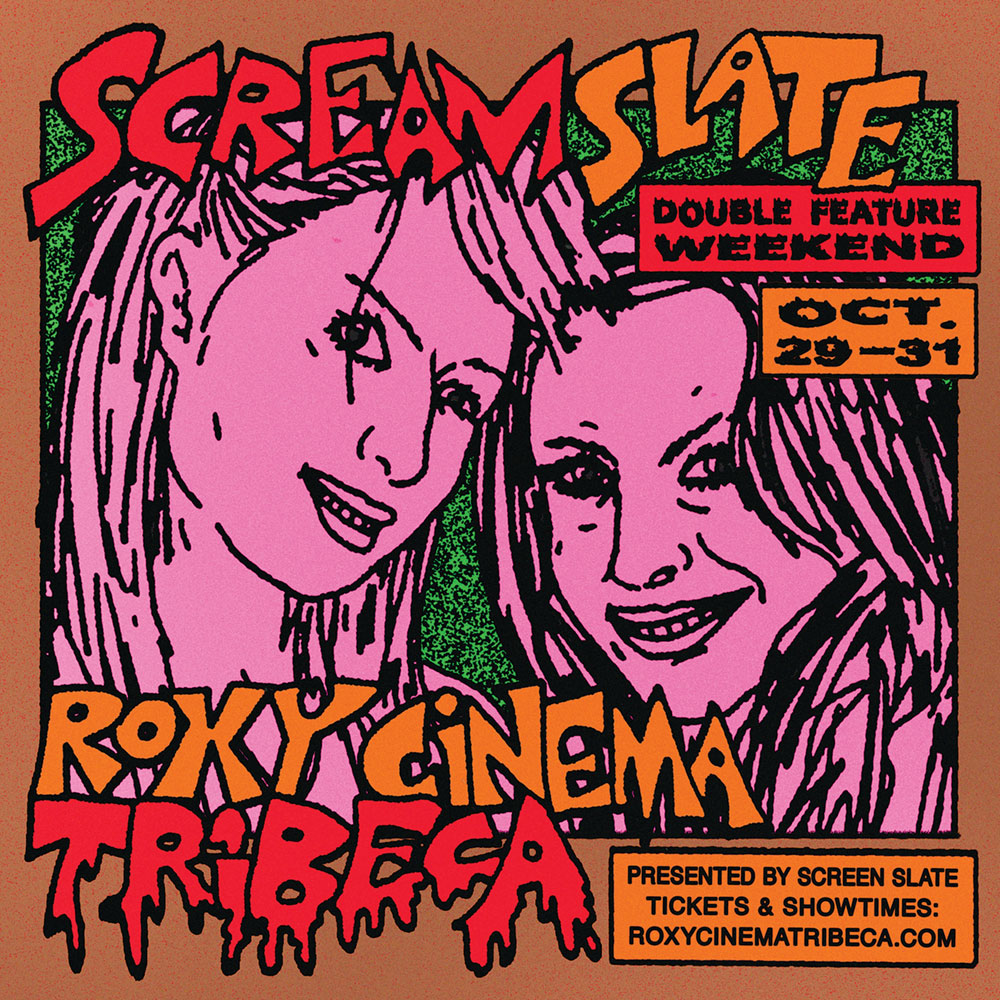 On Halloween weekend Screen Slate takes over Roxy Cinema to present a series of horror double features. While each pair of films is spiritually linked in one way or another, all six are all drop-dead bangers shown on the 35-chill-imeter format, except for Def By Temptation, which shows in a new Gore-K restoration at the bequest of its distributor.
Screen Slate members get a discount at the box office and free popcorn.
ANGUISH (Bigas Luna, 1987) - 35mm
Friday, Oct. 29, 8:30p
Sunday, October 31, 6:45p

POPCORN (Mark Herrier with Alan Ormsby, 1991) - 35mm
Friday, Oct. 29, 10:30p
Sunday, October 31, 4:45p
HOUSE OF WAX (2005) - 35mm
Saturday, Oct. 30, 8:30pm
Sunday, Nov. 14, 5:00pm [added screening]

I KNOW WHO KILLED ME (Chris Sivertson, 2007) - 35mm
Saturday, Oct. 30, 11:00pm
Sunday, Nov. 14, 7:30pm [added screening]
DEF BY TEMPTATION (James Bond III, 1990) - Format TBA
Friday, Nov. 12, 9:00pm [new date]

TALES FROM THE CRYPT: DEMON KNIGHT (Ernest K. Dickerson, 1995) - 35mm
Friday, Nov 12, 7:00pm [new date]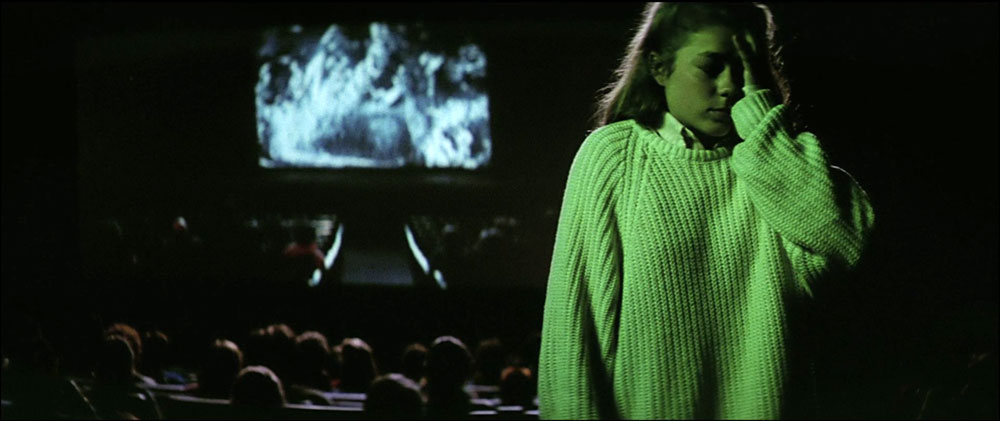 ANGUISH (Bigas Luna, 1987) - 35mm print
Friday, Oct. 29, 8:30p & Sunday, October 31, 6:45p
Fans of David Lynch will lose their minds (and eyeballs) over this undeservedly obscure, offbeat thriller by the late Bigas Luna. A Russian Doll narrative structure spirals around a serial killing ophthalmologist (Michael Lerner) who collects eyeballs under the hypnotic influence of his overbearing mother (Zelda Rubenstein of Poltergeist). Yet when the fourth wall suddenly ruptures, the setting shifts to a movie theater screening the apparent film-within-a-film, where a young patron is convinced that the man sitting near her may be a murderer—and then things get really weird. Rife with paranoia and hallucinatory narrative criss-crossing, the film suggests an unlikely mix of Buster Keaton, Marcel Duchamp, Salvador Dalí, and Lamberto Bava. Few, if any, films are so conceptually premised upon their being seen in an actual theater. The ability of Anguish to make its audience genuinely paranoid is unparalleled, giving each screening the feel of a one-of-a-kind additional layer to the film's surreal structure. Any chance to catch it with an audience in 35mm is can't-miss. Just make sure you know who's sitting behind you.
Screen Slate previously included Anguish in its series "The Medium is the Massacre" at Anthology Film Archives. This screening is scheduled back-to-back with 1991's movie theater slasher Popcorn.
POPCORN (Mark Herrier with Alan Ormsby, 1991) - 35mm print
In this underrated slasher, a killer stalks a group of film students hosting an all-night horror movie marathon at their local theater. Popcorn blends modern practical gore effects with a reverence for old-school scares; like Joe Dante's Matinee (1993), it's full of films-within-the-film featuring William Castle-esque gimmicks like Shock-o-Scope, Odorama, and a giant mosquito that flies over the audience. As the kids rig the gimmicks, the killer stalks the catwalks, knocking them off one-by-one while circling closer to Maggie, a student whose surreal dreams of a cursed short film called Possessor seem to be linked to murders. Released around the same time as the 80s slasher cycle had run out of steam, Popcorn is an idiosyncratic and uniquely endearing entry in the genre.
Popcorn is scheduled alongside Anguish, another cinema slasher that takes the surrealism of the film-within-a-film concept to the next level.
HOUSE OF WAX (2005) - 35mm print
An in-name-only remake of the 1953 Vincent Price film that in fact owes a massive, unacknowledged debt to Tourist Trap (1979), House of Wax is easily one of the most purely entertaining studio horror films of the 2000s. Elisha Cuthbert leads a cast of twentysomethings-as-teens mostly plucked from The WB shows who end up in a ghost town after their cars break down. They soon discover that the site is in fact a massive wax museum—and the sculptures may not be entirely made of paraffin. Director Jaume Collet-Serra creates a genuinely eerie atmosphere of terror and suspense around R-rated gore, and the gooey set piece at the film's climax is rife with indelible imagery. But House of Wax is also known as the quintessential film appearance of Paris Hilton, who was then at the peak of her fame. Despite the cringey allusions to her sex tape, she holds her own in one of the more memorable roles of the era.
House of Wax screens alongside I Know Who Killed Me, starring Lindsay Lohan, whose tabloid-fuelled feud with Hilton is an essential part of 2000s lore.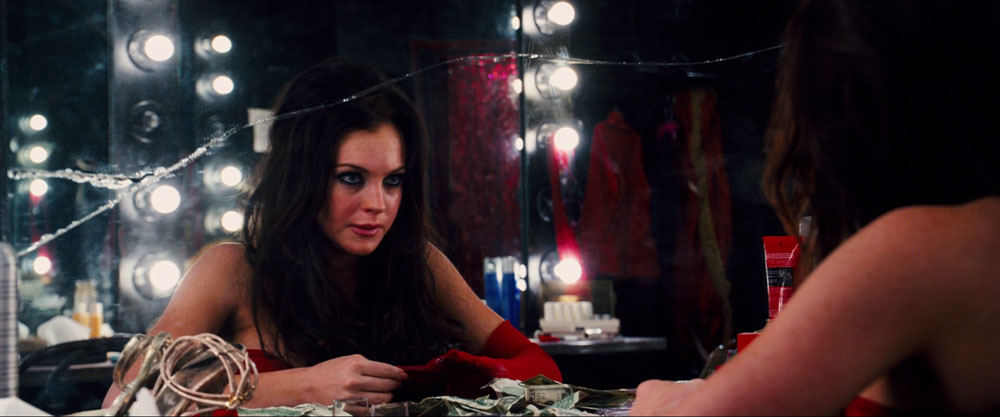 I KNOW WHO KILLED ME (Chris Sivertson, 2007) - 35mm print
In this torture porn-inflected psychological thriller, Lindsay Lohan plays Aubrey, a multitalented high schooler from a stable home who, after being kidnapped and tortured, loses her memory and returns as Dakota, a teenage stripper who claims to be a different person. Is Dakota really someone else—and if so, who, really? Or is Aubrey going through a PTSD-related dissociative episode? After years as a Disney darling, Lohan had achieved mainstream success with Mean Girls and began to establish serious acting cred in Robert Altman's A Prairie Home Companion. I Know Who Killed Me was filmed as her well-publicized struggles with substance abuse made her widely considered unemployable, and the movie was a major critical and commercial flop. Despite the glaring flaws and admittedly compelling trainwreck and camp factors, modern audiences have also found it to be a genuinely thrilling example of a film that dares to be stylish, oblique, and extremely weird, like a sleazy update of Italian gialli plopped into the 2007 summer blockbuster season. Screen Slate's Cosmo Bjorkenheim saw it as a parable for the fractured national consciousness in the wake of Bush administration torture allegations, which makes way more sense than it probably should. In further light of reevaluation of the way young women stars were mistreated and publicly vilified at the time, I Know Who Killed Me is a fascinating lens through which to revisit the 2000s.
I Know Who Killed Me screens alongside House of Wax, starring Paris Hilton, whose tabloid-fuelled feud with Lohan is an essential part of 2000s lore.
DEF BY TEMPTATION (James Bond III, 1990) - DCP
A succubus haunts the dive bars of Bed-Stuy in this sleeper indie horror banger from one-time director (and star, writer, composer, etc.) James Bond III. Bond and Kadeem Hardison play reunited childhood friends—respectively an aspiring priest and struggling actor—who find themselves wrapped up in a slew of demonic sex murders. Bill Nunn is a detective looking into the mysterious disappearances of the men, who were last seen with a ravishing woman (Cynthia Bond, no relation to the filmmaker). Gory, stylish, funny, and with thoughtful ruminations on friendship and religion that recall Cassavettes and Scorsese, Def By Temptation is increasingly recognized as one of the best indie horror films of the era. And if nothing else, it also has an incredible soundtrack of smooth R&B and New Jack Swing (produced of course by James Bond III).
Def By Temptation is scheduled alongside Demon Knight by the film's cinematographer Ernest K. Dickerson, who also shot films such as Do the Right Thing, School Daze, and Mo' Better Blues around the same time with many of the same cast.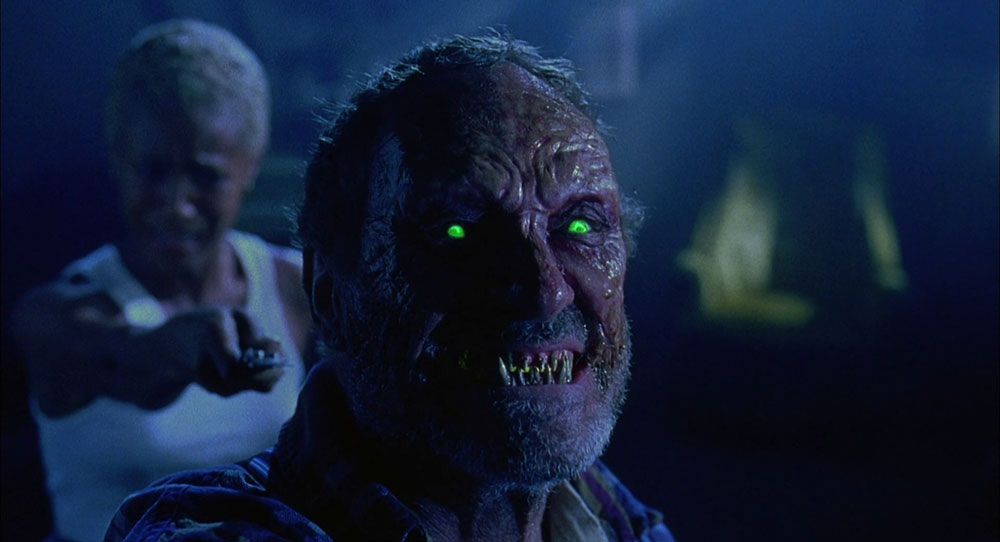 TALES FROM THE CRYPT: DEMON KNIGHT (Ernest K. Dickerson, 1995) - 35mm print
In 1995 The Cryptkeeper made the transition to the big screen with this story about Jada Pinkett (pre-Smith) battling satanic hordes in a rundown hotel. Despite the "Tales from the Crypt" framing device, it's an original story that ranks among the very best horror films of the 90s. Spike Lee cinematographer-turned-director Ernest K. Dickerson, who also shot Def By Temptation, brings a unique style to the proceedings, with a cool, smokey palette splattered in neon green demon blood. And Billy Zane easily out-performs his subsequent role in Titanic as "The Collector," a charming representative of the forces of evil who tries to seduce Pinkett to the dark side. Sort of a Howard Hawks movie with brain splattering (the special effects are top-notch), Demon Knight is an essential big screen experience.
Demon Knight screens alongside Def By Temptation, which has the unmistakable sheen of Dickerson's cinematography and a similarly demonic bent.