Blonde Death + Captain Eeyore
-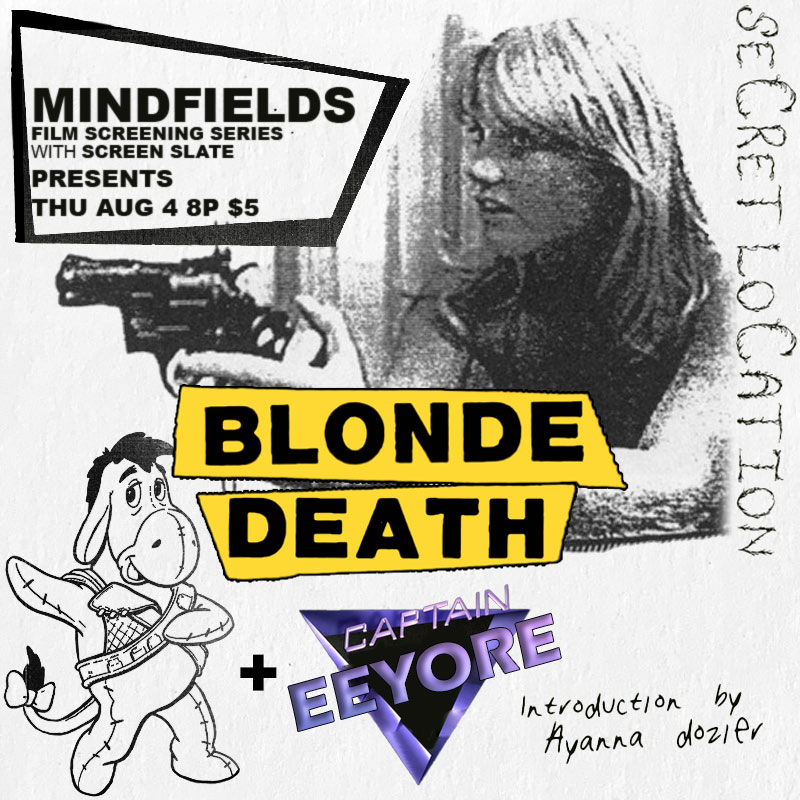 MINDFIELDS #1 - INSURRECTION IN THE MAGIC KINGDOM: BLONDE DEATH + CAPTAIN EEYORE
Doors 8 / Screening 8:30
Introduced by former Disneyland employee Dr. Ayanna Dozier
seCret loCation- DM for info
Accessibility note: venue is up a flight of stairs, no elevator, does have A/C
Blonde Death, James Dillinger (James Robert Baker), 1984, 93 min, SD video
Captain Eeyore, One of the Space Mountain ride operators, 1987, 15 min, multigeneration VHS dub
MINDFIELDS, a new series organized by Draye Wilson and Jon Dieringer with Screen Slate, presents an evening of insurrectionary no-budget movies secretly shot inside Disneyland.
Blonde Death's Tammy "the Teenage Timebomb" is ready to explode. Her closeted father has a spanking fetish, and her evil stepmother is secretly plotting to murder him with poison Tang to steal his money and open a new church with her lover. Tammy is aggressively courted by a one-eyed lesbian, but she instead falls into the thralls of a hunky home invader and his psycopathic prison bunkmate. Together the throuple hatches a plan to rob Disneyland to start new lives—or die trying.
Blonde Death was written and directed by James Robert Baker (as "James Dillinger"), best-known as the transgressive author of the gay pro-assassination novel Tim & Pete about an AIDS-motivated plot to kill Ronald Reagan. Shot on consumer video under the auspices of LA media art org EZTV, Blonde Death feels like a cross between Terence Malick's Badlands and John Waters's most outré work—an apocalyptic hand grenade lobbed at Mickey Mouse and the Moral Majority.
Like the guerilla conclusion of Blonde Death, the legendary Captain Eeyore was shot on the sly in the Magic Kingdom. Produced for an immersive park ride, the original Captain EO—directed by Francis Ford Coppola, produced by George Lucas, shot by Vittorio Storaro, and starring Michael Jackson—was at the time the most expensive film per-minute ever made. According to legend, in 1987 one of the Space Mountain ride operators decided to gather costumed park employees to mount an insurgent remake that not only satirizes the original Captain EO but critiques the dehumanizing labor conditions that come with working at the parks. Long circulated through a whisper network of multi-generation VHS dubs, Captain Eeyore was recently digitized, and will be introduced by Screen Slate contributor Dr. Ayanna Dozier, who first encountered the work as part of her unofficial initiation to working in the park.