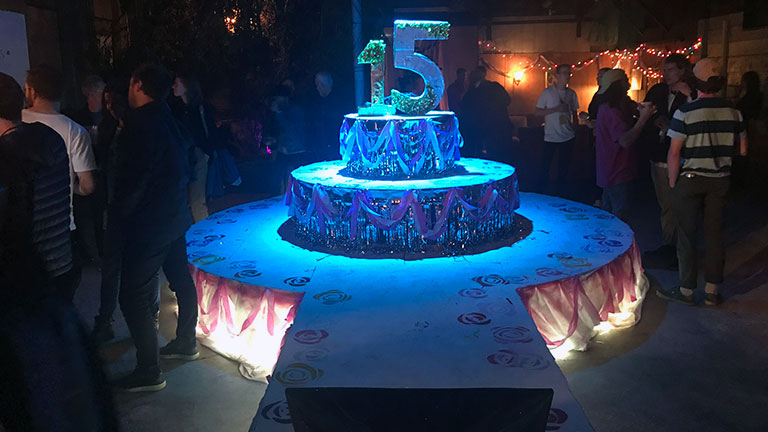 September 23rd 2019
The Atlantic glitters in the mid-September sun, sloops and cabin cruisers at anchor bob up and down on gentle waves, a briny breeze caresses your face and brings with it the promise of smoked oysters and and baked clams. Restaurant entrances are adorned with stickers asking customers not to carry concealed weapons onto the premises. Gift shops sell chocolate lobsters and New England Patriots T-shirts with the minuteman's profile replaced with a moose head. In the quiet morning hours you can hear the irregular tattoo of .45 ACP rounds from a nearby shooting range. For breakfast you wash down a whoopie pie with blueberry milk. You can only be in Maine.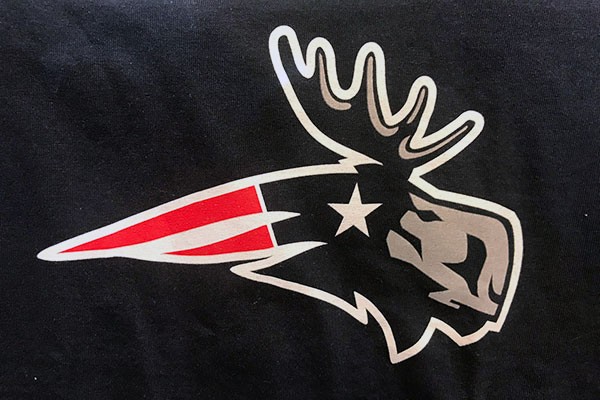 Amid all this maritime charm in the nation's whitest state, once a year in mid-September you'll find an international gang of freaks taking over the picturesque triplet towns of Camden, Rockport, and Rockland. No, it's not a Comic Con or Intercon or Anime Con. There are no lightsabers, battle axes, or Super Saiyans. These are low-key freaks, distinguished less by their regalia than by their shared commitment to a particular craft and a worldview that makes them more observant and inquisitive than most. They're documentarians, and the event in question is the Camden International Film Festival, now in its 15th year. Three-and-a-half days of screenings bring together filmmakers from Boston, New York, and the rest of the Northeast, but also from Canada, Mexico, Germany, France, Lithuania, the Philippines, and Syria. It's a motley crew characterized by a bracing level of support and curiosity for each other's work.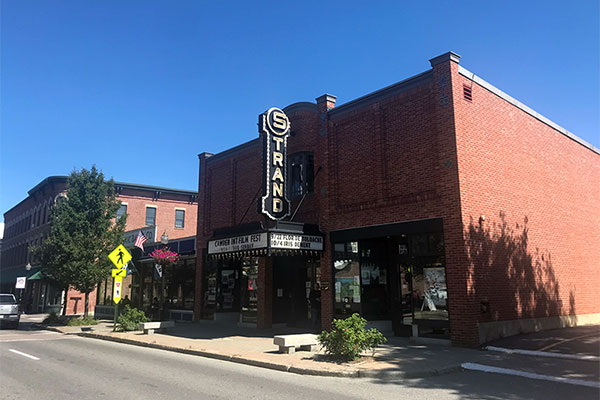 The festival was founded by Ben Fowlie in 2005 as something of a message in a bottle for filmmakers anywhere working in boundary-pushing narrative documentary. The message ended up reaching many people, and within four years they had established the Points North Forum, an annual series of panel discussions, and the Points North Fellowship, a program to help emerging documentary filmmakers produce and exhibit their work. All of this, plus the annual Camden/TriBeCa Film Institute Retreat, is now administered by the recently established Points North Institute, co-founded by Sean Flynn, and the festival's programming is overseen by senior programmer Samara Grace Chadwick. The festival has attracted many prominent sponsors, from the Academy of Motion Picture Arts and Sciences to Showtime and Netflix, but despite its growth, CIFF has retained the personal scale and down-home affability that has made visitors so enamored of it since its starry-eyed beginnings.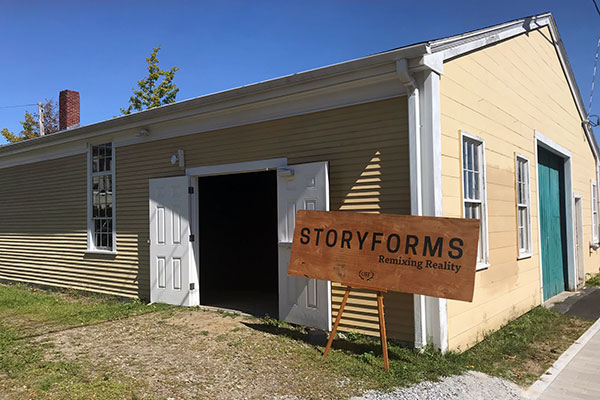 We arrived just in time for Friday the 13th's preview of the Storyforms showcase, set up in an old barn across the street from the Center for Maine Contemporary Art in Rockland. At the door we were greeted by publicist Audrey Ewell, who walked us into the dark, musty structure and introduced us to Storyforms Program Manager Scott Sell. Scott gave us a rundown of the immersive experiences this year's Storyforms consisted of, then ushered us directly to a geodesic dome made of reflective mylar and dotted on the inside with a starry sky of LED lights. This was Alex Suber's Lux Sine. I crawled in, sat on a stump, put on a VR headset, and found myself flying over an arid stretch of South Dakota prairie. Not being much of a VR buff, I was floored. With the exception of a couple of framerate stutters, the experience was seamless. From high above the prairie to deep within the labyrinthine Wind Cave system beneath it, I felt like I was there—but, notably, as an invisible observer, not as a body. My tours of the cave system and the Sanford Underground Research Facility were periodically interrupted by full-body talking heads interviews, during which I could glide right into the subjects' faces or crotches and not be noticed, like a pervy fly. I left the dome and checked out Alvaro Morales's Home with América, set up in a faux living room off to the side. I donned another headset and calibrated it by standing a certain number of feet from the couch. I could now explore an undocumented immigrant's family's apartment back in Peru, and watch it metamorphose in an immersive timelapse. The Nintendo 64 and CRT television gave way to a Samsung flatscreen before my eyes, while some things, like the record player and the photo album, stayed put. After I left the barn, it took a while to shake the expectation that things would morph into other things and locales to cross-dissolve into other locales. I'll try not to make VR a habit.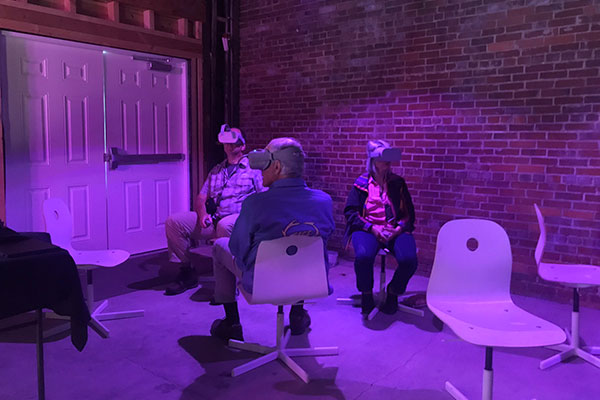 Later in the day I attended a forum discussion called "Reality & Power: Can Documentary Make Space?" with World Records editor Jason Fox and directors Cecilia Aldarondo, Sky Hopinka, and Brett Story. They asked: how are we simultaneously challenged and seduced by films, and how do we make documentaries that effectively advance whatever liberational or transformational political projects we're engaged in? They agreed that there's a common fallacy about documentaries that the problem is one of information, that if we just educate people about various struggles they'll feel compelled to take action. But "bearing witness," while sometimes an OK starting point, is not sufficient for actually making people move. In various ways, these three filmmakers all sought to make visible the often invisible structures of power and ideology that shape our lives and determine our scope of action. Crucially, the participants had established from the beginning that "bad theory" must be avoided, and turgid theoretical navel-gazing was thus avoided.
Friday evening I saw Julia Reichert and Steven Bognar's American Factory about a General Motors plant in Dayton, Ohio, that closed down in 2008 and was reopened a few years later by a huge Chinese automotive glass manufacturing company. At first a big relief for the rehired workers, the Fuyao plant quickly became a site of building tensions; the company slashed wages by over 50% from their GM levels and its Chinese managers and supervisors could not bridge the obvious linguistic and cultural divide. The most uproarious moments stem from these sincere but hopelessly misguided efforts, like when a handful of Americans are flown to Fuqing to tour Fuyao's flagship plant and received with the kind of pageantry usually reserved for foreign dignitaries on state visits. It turns out Fuyao is a nation in miniature, complete with its own anthem (all about performance enhancement and supply line optimization), a workforce with military-style discipline, and a pledge of allegiance. Their workers put on a series of professionally choreographed dance numbers worthy of the VMAs then hand the stage over to their not-exactly-svelte American counterparts, who bumble through an embarrassing lip-sync of "YMCA" in their XXXL polos. I laughed so hard I cried, then just straight up cried. It's not their fault that they live alone and eat refined sugar garbage, that despite degrading themselves daily for their paycheck they still want to be happy. It's easy to make culture clash jokes, and pegging Americans as fat and dumb is low-hanging fruit, but there is no apparent malice on Reichert and Bognar's part; the Ohioans bring it all on themselves. A guy in Hulk Hogan-style mutton chops tries to advise a twenty-something Chinese engineer on fishing. Apparently Wheaties are good bait, but the young man has never heard of them. "Weenies?" he asks. "No—Wheaties, Wheaties. W-E-E-T-E-S, Wheaties." You can't make this stuff up.
At CIFF, all the shorts programs are open to the public and the screenings tend to be packed with retired Mainers. This is great. When you're elderly and attending a free 10am screening of a pair of hypnotically repetitive films about swimmers, you can be excused for snoozing. Thus, Sergio H. Martin's The Six Degrees of Freedom and Thomas Beug's The Swimmer were accompanied on Saturday morning by a peaceful chorus of snores. After lunch we saw Michel Negroponte's My Autonomous Neighbor, which had a fascinating ex-military recluse painter for a subject, but it was easily outclassed by the short that preceded it. Rachel Mills and Maya Tippett's The Magnitudinous Illuminous is a portrait of bartender Pete Napolitano of Melody Lanes in Sunset Park, Brooklyn. In his 60s, missing teeth, and sporting a pair of snow-white sideburns to give Martin van Buren a run for his money, Pete waxes philosophical to all his patrons, getting so carried away in his prolixity that his mouth froths as he coins words like "claritivity" and "Heminitzsch"—a portmanteau of Hemingway and Nietzsche, Pete's top two examples of writers with delusions of grandeur. Made me want to go bowling in Sunset Park before Pete goes to outsider artist heaven.
That afternoon—trite as it might sound—I remembered why I love New York. Brett Story's The Hottest August was shot over one month in 2017 all over the city: The Bronx, Coney Island, the East Village, Bensonhurst, Rockaway, Bed-Stuy, the Financial District—each with its own vibes, problems, delights, concerns, preoccupations, pests. 311 switchboard operators fielding an unceasing torrent of outlandish calls , retired Staten Island cops discussing racism over Bud Lights, a VR entrepreneur listing the merits of fully automated luxury communism, teenage skateboarders hitting their Juuls between heelflips and being interviewed about income inequality ("The rich can do whatever they want." "Do you see that as a problem?" "Not if we kill them all, ha ha!"). Brett Story had set out to create an "archive of the present," and while The Hottest August is a snapshot of a particular historical moment (the white supremacist rally in Charlottesville, the Black Lives Matter movement, the solar eclipse, the city's slow recovery from Superstorm Sandy), it's more of a warts-and-all portrait of New York City and its bedeviled residents.
Luke Lorentzen's Midnight Family was the feature I was most eagerly looking forward to before arriving in Camden. Over three years, Lorentzen followed the Ochoa family as they struggle to make ends meet with their scrappy private ambulance company in Mexico City, where competition and police extortion make things difficult. The city has ridiculously limited government-run emergency medical services, and the city largely relies on private companies to respond to MVAs and other trauma calls. Midnight Family is an intimate and nuanced portrait of the Ochoa men (two of them middle-aged and two of them aged 16 and 10) who spend the vast majority of their waking—and sleeping—hours on the truck together, doing double the speed limit on Mexico City's boulevards and shamelessly cutting off competing ambulances to beat them to pileups and assault victims. So cleanly shot and so seamlessly assembled that only a few moments of unmistakable realness remind us that we're not watching a fictional narrative.
The last feature I caught was Lesley Chilcott's film about marine life crusader and international man of mystery Paul Watson. Watson helped start Greenpeace in the early 1970s, soon broke with them, and started the far more direct-action-oriented Sea Shepherd Conservation Society, whose MO was (and continues to be) to ram its ships into the sides of whaling vessels to force them to stop harpooning cetaceans. Talking heads intercut with archival footage make for a compelling biographical sketch, and the footage of sharks having their fins chopped off, being kicked back into the sea, and sinking to the ocean floor to slowly exsanguinate is harrowing, but the practical or policy implications remain unclear. True, we can't live on a planet with dead oceans, but does that mean I should save up for a battlecruiser and take off in pursuit of rogue Japanese trawlers? In the Q&A, Massive Science co-founder and documentary filmmaker Nadja Oertelt asked Watson what he felt the younger generations should do in the face of calamitous species loss and intractable industrial growth. For all his enthusiasm and personal charisma, he had little more to recommend than his own brand of ubermensch robinhoodism. Maybe it's time for tortured, bearded eco-bandits to cede the stage to teenage girls with sailboats.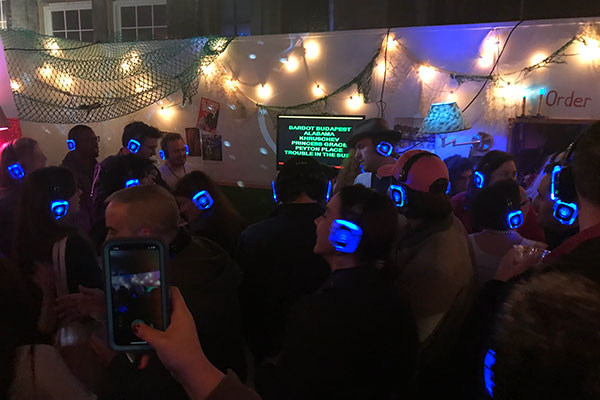 Of course, the movies and panel discussions are only part of the story at CIFF. Friday and Saturday nights they threw parties in a burned out foundry in Rockland, transforming the industrial interior into a maze, a dancefloor, a demented bingo hall, and a silent-rave-style karaoke room where everyone wore wireless headphones while belting out "Maneater" or "We Didn't Start the Fire." Outside was a fire pit and an open bar, which also served locally produced maple sap soda to teetotalers like me. After sweating on the dance floor and barely avoiding getting clubbed in the eye during a riotous pinata session, I walked out into the cool early morning air and, feeling expansive, discussed art and meaning with Cleo Keahna, an actor/writer and participant in Points North Institute's 4th World Indigenous Media Lab. The other participants, including Ivy MacDonald and Ivey Camille Manybeads Tso, had invited us to dinner the evening before and told us about their projects, the workshops and pitches they were taking part in, and other festival experiences they'd had. Before this, I had assumed there was some exaggeration to all the praise I'd heard for the feeling of community that CIFF fosters, but those suspicions were laid more definitively to rest with every person I met. Wanting to keep returning to autumnal Maine for years to come, I wish CIFF—for purely selfish reasons—a long and prosperous future.