Featured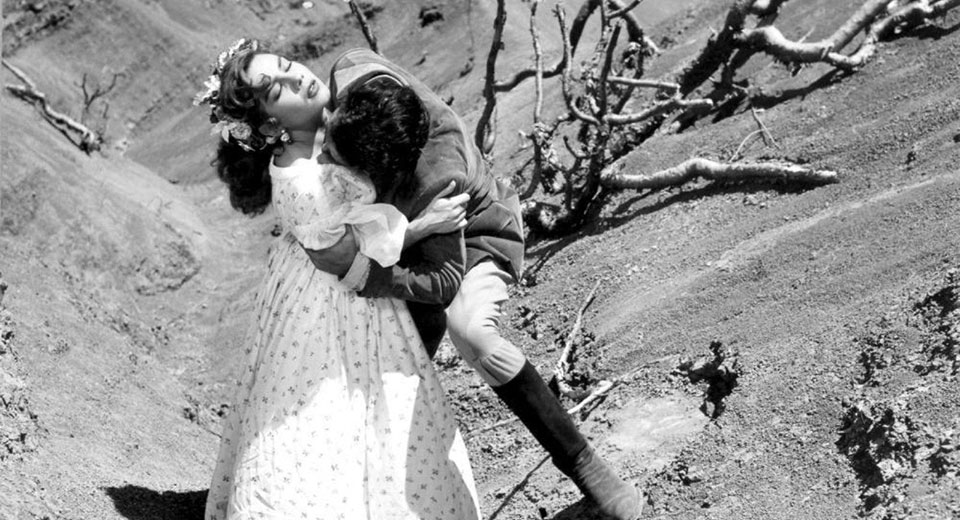 February 20th 2017
The second attempt at adapting Emily Brontë's paean to youthful despair and morbid romantic obsession, Wuthering Heights (1847), came in 1954, when Luis Buñuel turned it into Abismos de pasión .

The tale has been transplanted from the cold, windswept moors of northern England to rural Mexico, which is a bit like moving Das Boot from a submarine to a cruise liner. In recognition of the change of climatological tenor, Buñuel assures us in a prefatory caption that "this film tries to remain true to the spirit of Emily Brontë's novel." The spirit may be there, but its mood and structure have been cast aside. Edgar, Catherine, and Heathcliff are now Eduardo (Ernesto Alonso), Catalina (Irasema Dilián), and Alejandro (Jorge Mistral). Whereas William Wyler and Ben Hecht's screen treatment from 1939 kept the beginning intact and emphasized the class conflict, Buñuel's starts with the adult Heathcliff/Alejandro's return from the mysterious voyage that made him wealthy. In the Wyler version, Heathcliff has also acquired refined manners (Lawrence Olivier couldn't help it, I guess), while Alejandro has merely become rich and remains as vulgar as ever. In fact, the fiery temperaments and "abysses of passion" that the title promises have turned the whole melancholy, Gothic story into a chest-baring, fist-shaking proto-telenovela. Falling gravely ill from punitive weather patterns is par for the course among the desolate heather patches of Lancashire but not under the palm fronds of Alejandro's hacienda. Even Brontë's most visible cultural contribution, the word 'wuthering' itself, makes no sense in the subtropics, referring as it does to the "atmospheric tumult" that the region is exposed to during storms.

In Wyler's film, Gregg Toland's austere, Dreyer-like cinematography emphasizes the fragility of our mortal shells, and Heathcliff's self-destructive drive is inseparable from the impatient presence of death in every cough and shiver, whereas in Abismos de pasión, Alejandro's aggression seems to flow from his hotblooded Latin vengefulness. In a bizarre mismatch, the two films seem to have secretly swapped scores. Alfred Newman's score is so sprightly it feels like it belongs in an episode of Lassie, while Raúl Lavista's is brooding to a Wagnerian degree—in fact, most of it is an adaptation of Tristan and Isolde.
After the Spanish civil war, Mexico had become the foremost destination for Rebublican refugees, and Buñuel lived there for eighteen years, fifteen of them as a citizen. Of his Mexican films several were literary adaptations, including Robinson Crusoe (1952) from Daniel Defoe and Nazarín (1958) from Benito Pérez Galdós, but Wuthering Heights had a special significance for Buñuel: "Like all surrealists, I was deeply moved by this novel". He had written the adaptation as far back as 1930 with Pierre Unik, with whom he had also collaborated on the brutal docufiction Las Hurdes (1933) and the Republican propaganda compilation film España leal en armas (1937). Due to its classic literary pedigree, Abismos de pasión was a so-called "prestige" film, produced independently and circulated outside the main channels of Mexican film distribution. Unfortunately, Buñuel had to use actors that producer Oscar Dancigers had already hired for an aborted musical, which created "horrendous problems" and results that were "problematical at best."
Buñuel's atheism was complex (writer Max Aub called him "as un-Catholic as a Spaniard can ever be"), and it comes through in a striking passage from the Old Testament's
Book of Wisdom
read out loud by an old caretaker to a young boy in Buñuel's favorite scene:
Come therefore, and let us enjoy the good things that are present, and let us speedily use the creatures as in youth.
Let us fill ourselves with costly wine, and ointments; and let not the flower of the time pass by us.
Let us crown ourselves with roses, before they be withered; let no meadow escape our riot.
Let us fill ourselves with costly wine, and ointments; and let not the flower of the time pass by us.
Let us crown ourselves with roses, before they be withered; let no meadow escape our riot.