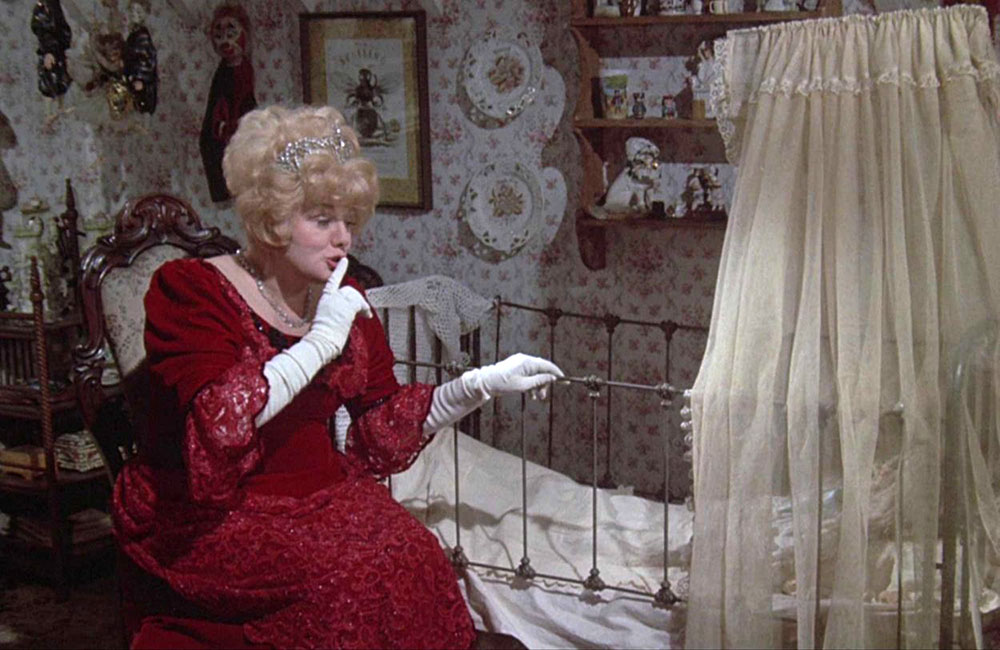 March 15th 2022
Curtis Harrington's 1972 psycho-biddy film Whoever Slew Auntie Roo? is a loose adaptation of the "Hansel and Gretel" tale, which retains all of the lurid horror of the original and adds a glob of B-movie charm. Rosie Forrest (Shelley Winters), dubbed "Auntie Roo" by the children at a local orphanage, is a former soubrette living in her late husband's English manor, plagued by affection for her dead daughter Katherine, whose skeletal remains are locked in an upstairs nursery. As an act of Yuletide goodwill, Auntie Roo invites ten orphans to her home on Christmas Eve, playing house mother and pampering them with toys and buttery sweets.
For want of invitations, siblings Christopher (Mark Lester) and Katy Coombs (Chloe Franks) curl up in a car trunk beneath their more fortunate peers and crash the party. They're taken in warmly by Auntie Roo, who quickly develops an obsession with Katy, having come to believe in the course of an ill-timed seance that she's a reincarnation of Katherine. Roo spoils Katy with plush teddies and candy apples, while Christopher sees through her indulgences, convinced she's actually the cannibalistic witch from "Hansel and Gretel," eager to broil them both. Roo confirms his suspicions by kidnapping the duo and confining them to Katherine's sepulcher-nursery.
Made on the heels of Harrington's 1971 horror-thriller What's the Matter with Helen?—a "menopausal metaphysical mystery movie," according to Roger Ebert—Harrington's gaze shifts only slightly from unhinged mother Helen to unhinged mother Rosie (both played by Winters, who recommended Harrington for Roo). Winters configures Roo with just enough delusions of grandeur to render the character both campy and devastating. Eight years before Jack Nicholson would hack a fire axe through a bathroom door in The Shining (1980), Winters tepidly thwacks at a pantry door with a cleaver, barking "Bad children!" at the pair of innocents pouring paraffin on wood outside. In a fairer world, these scenes would be put in conversation with each other much more often.
An exercise in hagsploitation and mommy issues (the two are seldom mutually exclusive), Preminger pastiche and folk-tale simplicity, Whoever Slew Auntie Roo? is a terribly good time. The film's final act offers some sympathy to its eponymous madwoman, stepping away from Brothers Grimm grimness and inching toward postmortem pity. Harrington leaves shedloads of stones unturned—what to make of Roo's magician husband, who's "just gone to the other side of the mirror," or Katherine's bizarre death by banister?—but his lack of causal exposition is made up tenfold by nifty ornaments: secret passages, guillotines, horse carts toting dead piglets, all reason enough to bite.
Whoever Slew Auntie Roo? celebrates the 50th anniversary of its US release today, March 15. It is streaming on Paramount+.