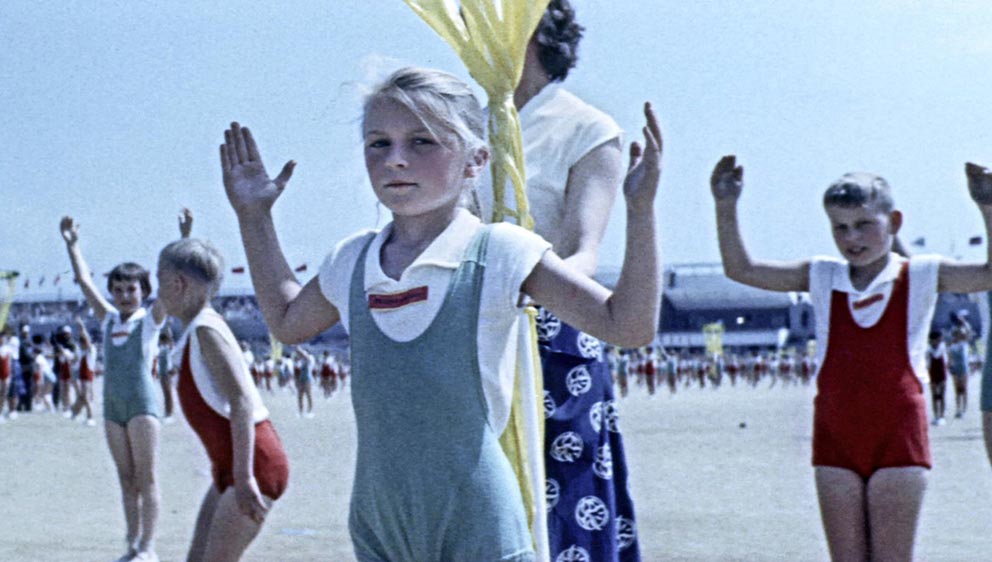 February 23rd 2023
"The state is not only a network of institutions," writes the scholar Branislav Jakovljević, "but also a ceremony that perpetually unfolds in front of its citizens. This ceremony pulls them in, and they emerge from it more and less transformed." Hana Vojáčková's short film We Love Life (2022) focuses on such a ceremony: communist Czechoslovakia's Spartakiad. Organized by Red Sport International and promoted by the Soviet Union, this mass gymnastic event took place every five years from 1955 to 1985 in one of the largest stadiums in the world, designed for its very purpose. Hundreds of thousands of performers synchronized their movements to promote exercise, good cheer, and most importantly, a gleaming vision of socialist harmony.
Spartakiad evolved from the Sokol gymnastics movement, which was established in Prague in 1862 to advance the liberation of Czechs and the spirit of pan-Slavism. Miroslav Tyrš and Jindřich Fügner had modeled Sokol on the German movement Turnverein, whose slogan was "love for the fatherland through gymnastics." The footage in We Love Life is as mesmerizing as it is inscrutable: people in bright uniforms move in pure coordination, forming a collective body in which the individual disappears, blending into a geometrized mass. Vojáčková (who participated in the last ever Spartakiad at the age of five) approaches the historic event with an uncertain curiosity. "Why would you want to participate in mass gymnastics?" the sociologist Vanda Thorne asks in the film. Perhaps, Thorne posits, it was better than military service, or provided a break for overburdened mothers and workers. Perhaps it was simply fun. This was an educational process for collective consciousness, the Head of Spartakiad 1975, Pavel Belsan, adds. He was sent across the world to help implement similar programs––in Tunisia, Vietnam, and Iraq (the last of which fell apart because "there was that intervention of those Americans").
The strategic exportation of socialism is a throughline across We Love Life and Alexander Markov's Red Africa (2022), which are paired in one screening in this year's Doc Fortnight at the Museum of Modern Art. Developed out of a 2015 exhibition at Garage Museum in Moscow, Red Africa is assembled from footage shot by Soviet crews during their visits to Africa after seventeen countries gained independence in 1960. The newsreel and documentary films show meetings with leaders such as Ghana's Dr. Kwame Nkrumah and Angola's Agostinho Neto, locals engaging with exhibitions of Soviet technology (including a robot that can light your cigarette), and syncretic performances such as a U.S.S.R. production of Othello.
There's no voiceover commentary in Red Africa, but Markov's editing asserts his position, which becomes increasingly apparent as the film progresses. One of the ways that the director emphasizes Soviet influence in Africa is through shots of Lenin's presence––as monuments, on building signage, as written dedications by leaders such as Nkrumah and Neto. These shots, which flash as though conveying a virus outbreak, build to the film's climactic ending: with uproarious scenes of crowds in Kyiv and Lithuania during the Soviet collapse, and a statue of Lenin yanked through the air.
Red Africa betrays the Soviet filmmakers' gaze toward African people that, though genuinely curious, remains at times othering. Yet by asserting the U.S.S.R.'s relationship with Africa as a strictly unilateral flow of ideology, the film reduces African independence movements to semi-passive recipients of Soviet aid and influence. Though the topics at hand are well worth examining, Red Africa's framing expresses mostly the filmmaker's own ire toward the Soviet Union. As the film ends pointedly on Kyiv, one can't help but note the current wave of anti-Soviet sentiment, a confused cultural response to Russia's invasion of Ukraine, such as the Cooper Union citing "present-day conditions" for its recent postponement of an exhibition on the 1920–1930 Moscow art school Vkhutemas.
We Love Life and Red Africa screen this afternoon, February 23, and on March 5, at the Museum of Modern Art as part of Doc Fortnight. Both films are North American premieres.