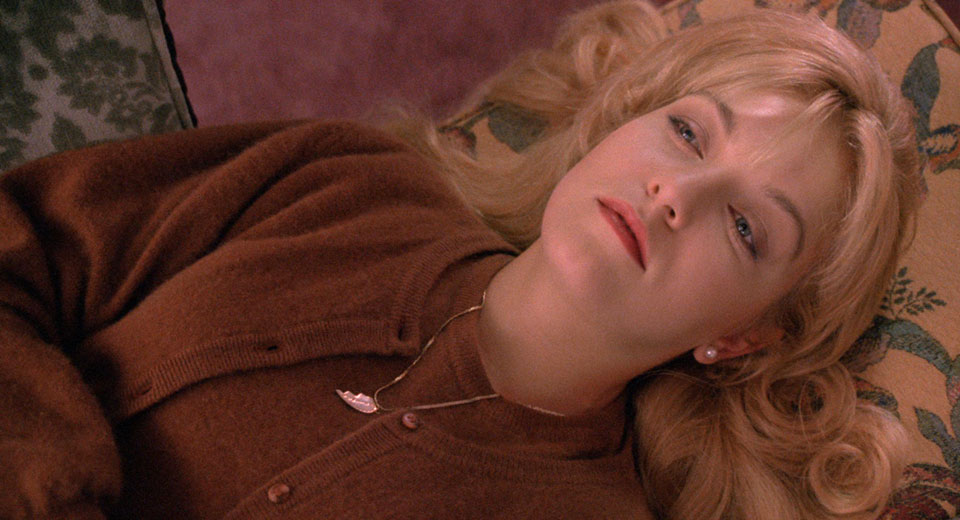 September 8th 2020
Seventeen-year-old prom queen Laura Palmer is part sex object, part scream queen, and part damsel in distress in David Lynch's Twin Peaks (1990-1991) prequel feature Fire Walk With Me (1992). The film follows the last seven days of the enigmatic high schooler's life leading up to her gruesome murder by the malevolent entity Bob. Though notable in the original series mostly for her absence, Laura, played by the incredibly emotive Sheryl Lee, combusts with affective tension on screen; every scenario is both too much and not enough to bear at the same time. The film heavily relies on melodrama to convey sexual abuse and torment, an effect leads to exaggerated scenes and actors who appear ready to ignite.
We see this at play when Laura joins her family for dinner. As she sits at the table, her father Leland Palmer (Ray Wise) accosts her for not washing her hands. On the surface, the scene seems frivolous. Laura quivers uncontrollably as her father tugs away at her hands, cheeks, and necklace all while interrogating Laura about her sexual partners. Her mother, Sarah (Grace Zabriskie), stands across the table and can only hold herself as she begs Leland to stop, repeating, "she doesn't like it when you do that." Laura exits to wash her hands, crying uncontrollably as she does. The film — its format and rating — frees Lynch to reveal more, emotionally, physically, and psychologically about the characters than what was permitted on broadcast television. We are following a protagonist who appears as a corpse within the opening minutes of the series that predates it. Taking Laura's death as a foregone conclusion, the film uses scenes like the Palmer dinner to hold audiences in bursts of suspense. The character's emotions are extended into a period of stasis that we cannot easily turn away from, we endure their discomfort and with Laura, we feel it. This dinner scene essentially gives away the outcome for both works. It lets us know that something is amiss between this family and has been for many in years, ones during which we later learn that Leland has repeatedly raped and violated his daughter. Sarah is, and has been, aware of these transgressions. But no one acts. The melodramatics are an opportunity to express the unbearable tension within the Palmer residence that leaves Laura with the task of trying to reassemble her body's 'integrity' for the night.
What else is there left in the film? An appearance by David Bowie, a thirty minute "false start" to the film that navigates the murder of Teresa Banks with Special Agent Chester Desmond (Chris Isaak), the infamous "Roadhouse" sequence, and numerous other narratives and vignettes that relate to the series. We live with Laura during her last week alive. We experience and bear witness to her trauma, fear, anxiety, sadness, and self-destruction firsthand rather than through secondhand accounts from other characters. Laura speaks for herself and is given agency in her actions in the film. This includes her death, even, which shifts our perspective of Twin Peaks as a narrative of a slain young woman to a young woman who purposefully eludes the possession of a demonic entity through death
The film mediates terrifying states of existence that are, sadly, quite ordinary in our day to day lives. Through eccentric sensations and narrative, Lynch is able to show the ambiguous space of dealing with years of abuse that is not always clearly defined, but rather chaotic and erratic in survivors, like Laura Palmer, and those around them. Special Agent Dale Cooper (Kyle MacLachlan) sums it up best midway through season two of the series after Laura's killer is revealed to be both Bob and her father, much to the disbelief of local officers: "Is it easier to believe a man would rape and murder his daughter" than to believe in demons taking souls? The extremity of that question demonstrates how melodrama, in both narrative and acting, gives space for Lynch to represent the impossible on abuse and neglect.
Fire Walk With Me is streaming on the Criterion Channel and HBO Max