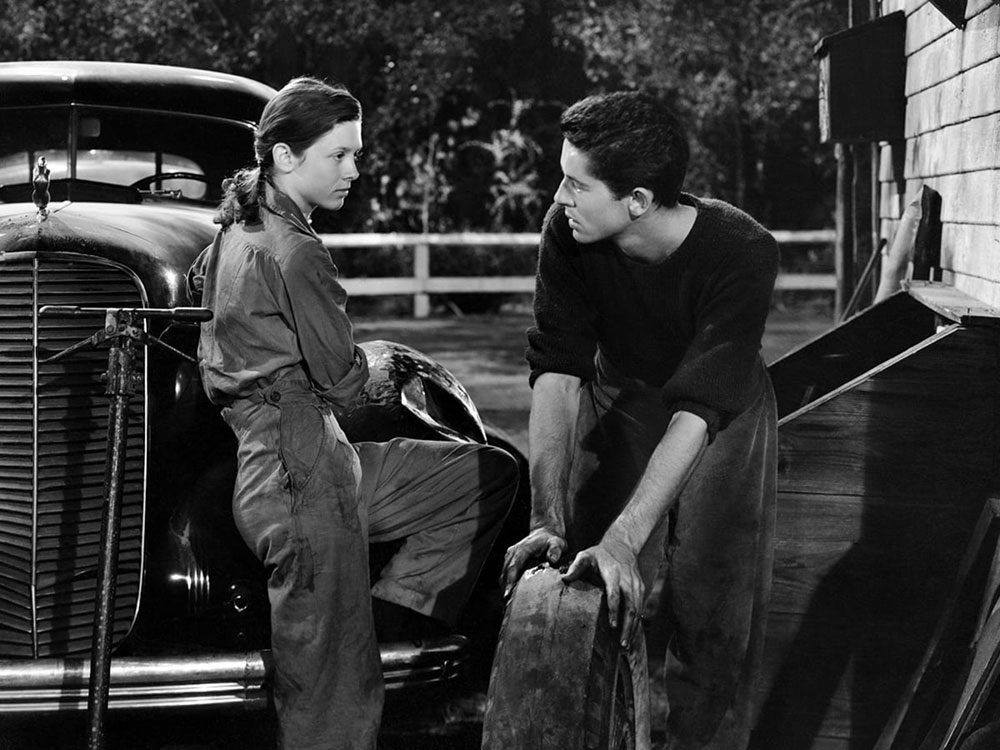 November 29th 2021
Twenty years before Bonnie and Clyde (1967) came to theaters, epitomizing the lovers-on-the-lam film for New Hollywood filmgoers, there was Nicholas Ray's They Live by Night. The director's 1948 debut, starring Cathy O'Donnell opposite a fresh-faced Farley Granger, pioneered the subgenre. Though usually identified as a film noir, its tender depiction of troubled youth on the societal periphery places it closer to Ray's later teen melodrama Rebel Without a Cause (1955) than to the cynical detective stories then populating the noir landscape.
They Live by Night follows Bowie (Granger), a recently escaped convict on the run with the two older, seasoned bank robbers (Howard Da Silva and Jay C. Flippen) who helped him get out, T-Dub and Chicamaw. The trio takes refuge with the latter's brother, who runs a service station in rural Texas alongside his daughter, Keechie (O'Donnell), while they plan a heist, the proceeds of which they intend to use to fund their legal defense. Keechie, initially apprehensive of Bowie and his leering, rough-hewn partners in crime, soon falls in love with the young fugitive. Bowie, who had been in prison for seven years since a murder conviction at age sixteen, dreams earnestly of "getting himself squared around" with the help of an oft-referenced lawyer in Tulsa. Buoyed by dreams of normalcy outside of the eye of the law, Bowie and Keechie set off on the road together.
The young protagonists are a picture of poignant naiveté. On the road after their spontaneous marriage at a neon-lit chapel, Keechie confesses, "I don't know much about kissing." With a half-smile, Bowie replies, "I don't know too much about it myself." The film insists on Bowie's boyish innocence, on his right to a second chance, in spite of the murder he never denies having committed. This sentiment proved too soft-on-crime for New York Times critic Bosley Crowther, who called the film "misguided in its sympathies for a youthful crook."
Like the legions of criminal duos who would take to the open road in ensuing decades of cinema, Bowie and Keechie's path is dark, their plans to go straight illusory. Yet the film steers clear of the nihilism that propels other titles in the noir and crime pantheon. What drives the film instead is grievance, profound but not polemical, over the strictures that suffocate the young outlaws.
They Live by Night screens tonight and Thursday, December 2, at Film Forum as part of the series "Road Movies."