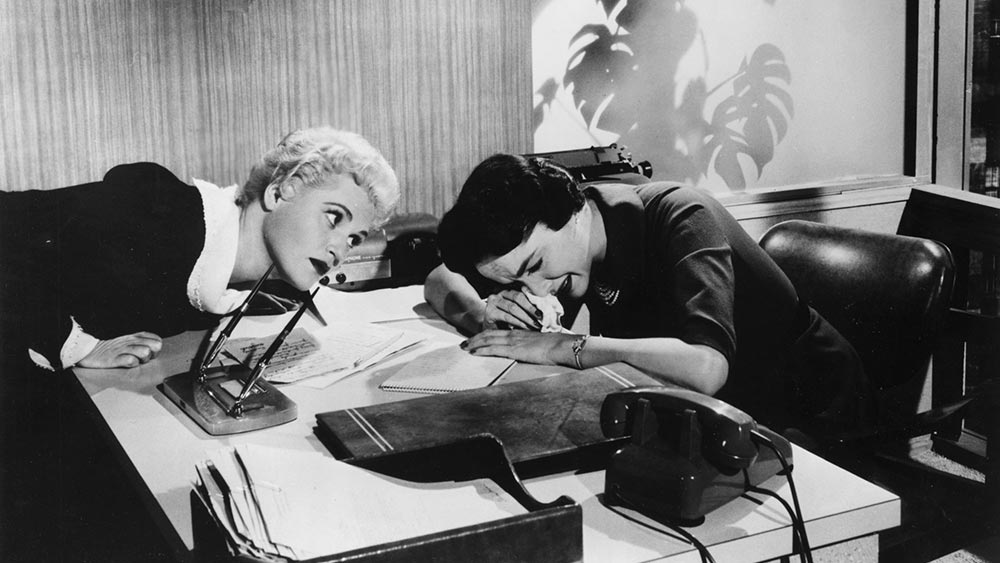 June 5th 2021
All month long the Criterion Channel celebrates Judy Holliday's centennial with a six-film retrospective showcasing her gift for physical comedy and the poignancy that rose beyond her piercing voice and dum-dum persona. Alongside a pair of George Cukor collaborations (The Marrying Kind, 1952, and It Should Happen to You, 1954) and what might be her best performance (Phffft!, 1954) is the big business satire The Solid Gold Cadillac (1956). As cinephiles rattle their pitchforks against Amazon's move to absorb MGM, it's fascinating, even if not instructive, to consider what corporate malfeasance looked like in popular entertainment more than a half-century ago.
After her deceased neighbor bequeaths her his cat and ten shares of corporate behemoth International Projects, daffy actress Laura Partridge (Holliday) begins asking pesky questions at shareholder meetings. She wants to know what the chairman does for his six-figure salary and how often he does it. She proposes a committee to curb the board's rubber stamp and advocate for the little guy, in this case minority shareholders.The old boys club, a standard-issue assortment of gray lechers worried about tee times and the price of stamps, assure the newly roused investors they are "worth every penny" of the gargantuan salaries they receive in exchange for ten hours of work per year. In a delightful montage the suits wear out their gavel bringing meetings to order in response to Partridge's folksy meddling. As is the wont of capitalists, the board decides to neutralize her through acquisition. They hire her as head of investor relations, a make-work position intended solely to prevent her from speaking up at meetings. Soon she develops a heartfelt correspondence with thousands of modest investors, romances the recently departed company founder (Paul Douglas), and forces the oligarchs to bend the knee.
As the plot mires itself in mechanical conveniences, Holliday embodies the proverbial American everyman: a little stupid, a little earnest, a little lucky, a little clever, and ultimately capable of toppling empires. Director Richard Quine's adaptation of George S. Kaufman and Howard Teichmann's Broadway play offers a pie-eyed satire of American business in which democratic ideals have a fighting chance to undermine defense contractors from within. It's a neoliberal fantasy avant la lettre, full of bad apples and good intentions. But Holliday's unyielding charisma injects terrific potency into every scene.