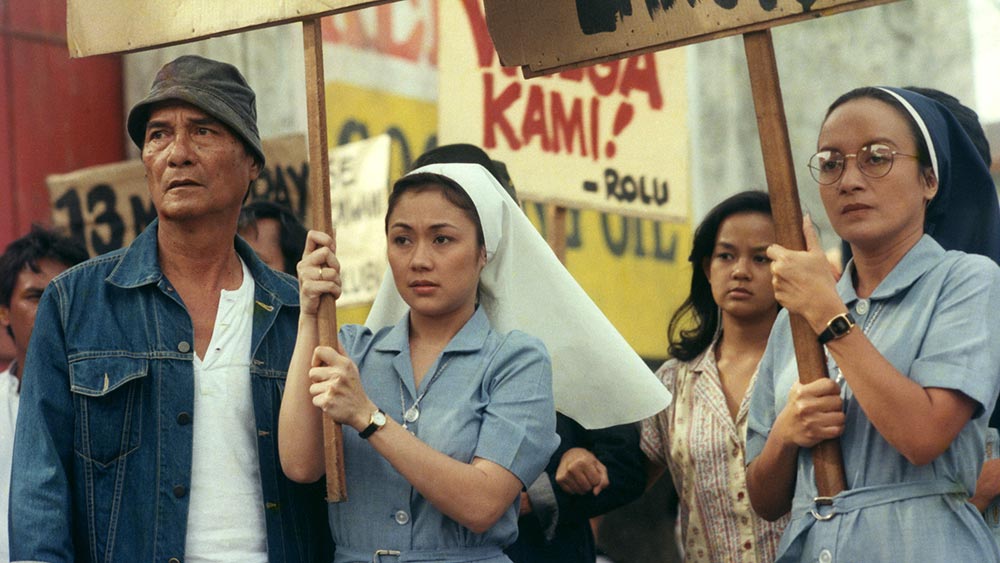 November 23rd 2022
There are three astonishing things about Mike De Leon's 1984 film Sister Stella L. The first is that it exists in a presentable form at all: due to a lack of infrastructure, resources, and in some cases, interest, many of the great films of the Philippines have been lost over the years. (Sister Stella L. itself is in the midst of an "ongoing" restoration.)
The second astonishing thing about Sister Stella L. is that it got made in the first place. Shot during the tumultuous late years of the sadistic dictator Ferdinand Marcos's reign, the themes of the film are decidedly, courageously anti-regime. Relying on a script by Jose "Pete" Lacaba (whose poet-activist brother was martyred by the regime, and who was himself jailed and tortured), De Leon's film never cites Marcos by name, yet it unflinchingly warns of the danger of remaining apolitical in the face of injustice. Young Sister Stella Legaspi (Vilma Santos) works as a counselor for battered women and unwed mothers at a convent but otherwise stays out of politics; she grows uncomfortable when her ex-boyfriend (Jay Ilagan), now a journalist, pries for her opinion about the socio-political involvement of priests and nuns. But when Stella's namesake, the older Sister Stella Bautista (Laurice Guillen), asks for Stella L.'s help on the picket lines during a tense strike at a cooking oil factory, Stella L. awakens to the realization that "if Christ were here .‌ . . he would be with us in this struggle."
As one of the world's great labor films, Sister Stella L. is not shy in its socialist leanings, which represent an overt criticism of the staunchly anti-Communist Marcos. Just as the film is about Stella L.'s political awakening, De Leon and Lacaba clearly aimed for the narrative to be a wake-up call for their audiences. It's debatable if the film was successful in this regard—Stella L. was a commercial failure—but that it didn't insight riots in Manilian theaters is no failing of its emotional force. In the film's final scene, Stella L. demands in a searing direct-to-camera address, "If we will not act, who will act?"
Her question has a chilling resonance today: the Marcos family returned to power this past May in the form of the dictator's son, current Filipino President Ferdinand Marcos Jr. Sister Stella L. is all the more astonishing, then, for its prescience—not for predicting the younger Marcos's rise, precisely, but for looking beyond the contemporaneous regime to realize that the replacement of one tyranny by another, whether in a government or a workplace, is an inevitable aspect of societal struggle. There will always be new oppressors. Only the question remains the same: Who, now, will stand up and fight?
Sister Stella L. screens tonight, November 23, at the Museum of Modern Art as part of the series "Mike De Leon: Self-Portrait of a Filipino Filmmaker."