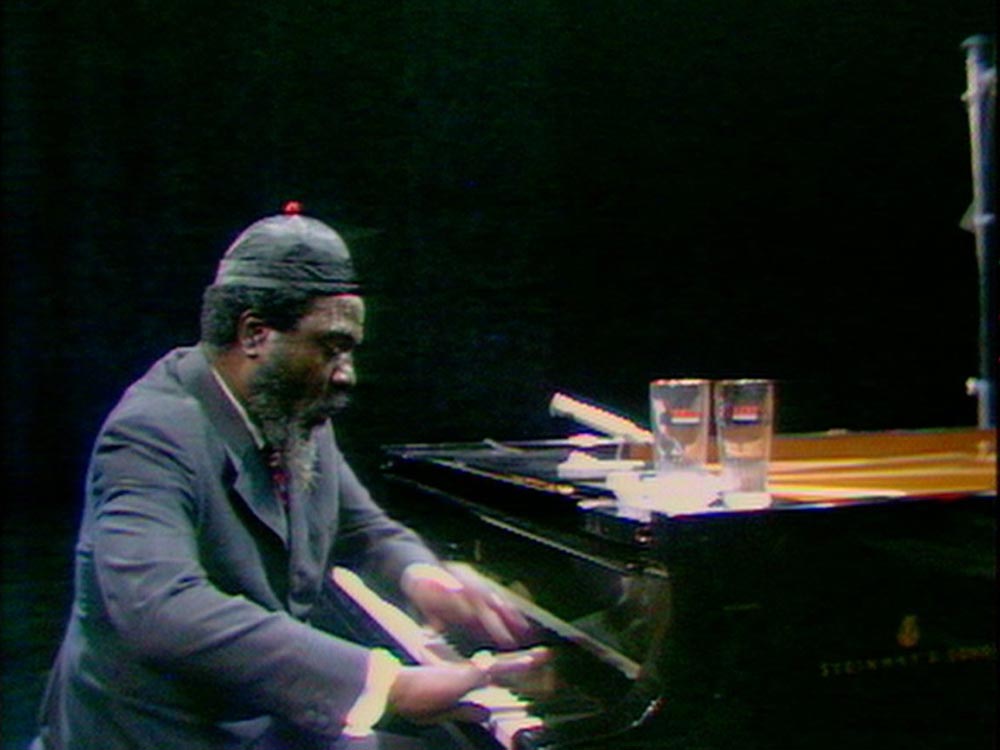 March 12th 2023
Conducting a bad interview is every journalist's nightmare, but few have fucked up as badly as the presenter Henri Renaud, who absolutely flounders while attempting to chat up Thelonius Monk for French TV program Jazz Portrait in 1969. Alain Gomis has repurposed the show's unreleased rushes to construct Rewind & Play (2022), fundamentally an essay film, which illuminates the chasm between tendentious interviewer and inscrutable subject and exposes the slyly pernicious relationship between Black artists and white media machine in the process.
A hallucinatory crackle and low-key chaos permeates Rewind & Play. Filled with stops and starts and clumsy interruptions, the conversation sours into a gonzo interrogation, rife with as many awkward pauses as an episode of The Eric Andre Show. Renaud, a composer and pianist, belabors Monk with the same few questions about why the piano was in the kitchen or non-questions about how his music is too avant garde. When Monk offers a candid response, mentioning he was poorly compensated for his concert in Paris, Renaud rebukes him and tells the crew to throw out the footage.
Gomis's editing, which stitches together flashbacks and repetitions, incorporates new sounds and erases others, evinces a thoughtful spontaneity, not unlike jazz, and demands close attention. But montage is also integral to his dissection of the "symbolic violence," as Gomis has called it, engendered by white gatekeepers and endured by Black artists. Closeups of sweat dripping down Monk's face as he bakes under the studio lights, the camera lingering over each of his features, take on a troubling quality. Dissatisfied with Monk's answers, the presenter resorts to narrativizing the musician with his own words, but Gomis flips the script. Never losing sight of the primary draw for many a filmgoer, Gomis tunes out Renaud's droning colonialist stereotyping and gives voice to Monk through his music—the dazzling melodies and glittering dissonance of tracks like "Round Midnight," "Don't Blame Me," and "I Should Care." While not as expansive as the more conventional documentary Thelonius Monk: Straight No Chaser (1988), which was whittled down from 13 hours of footage, Rewind & Play still offers captivating footage of Monk, his flat fingers gliding effortlessly over the keys
Rewind & Play also treats us to more quotidian moments with Monk before health issues would force him to retreat from the public eye in the 1970s. We see him walking around in his tailored wool coat, opening the door for Nellie, peeling hard boiled eggs: glimpses of a human person, not just a musical genius or artistic commodity, a quality that Renaud and the producers of Jazz Portrait failed to grasp.
Rewind & Play screens at BAM through March 16.