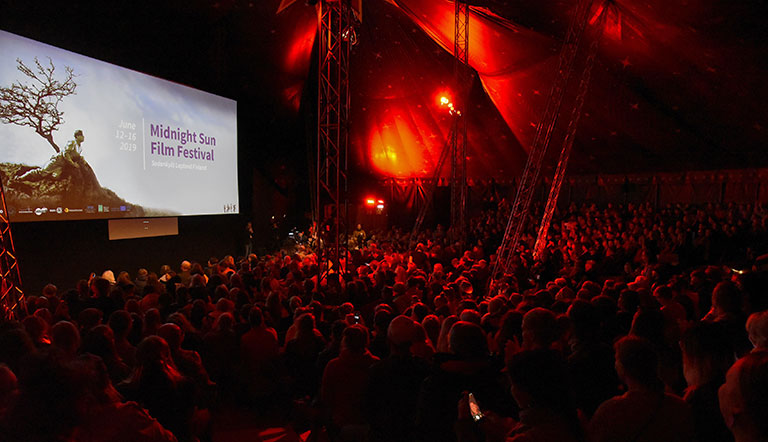 June 24th 2019
One hundred kilometers north of the Arctic Circle in mid-June the sun never sets. Around midnight it bends toward the horizon, casting the slender shadows of pines and birch trees far into the east, but stops short of twilight. A region stuck in perpetual daytime may seem like a counterintuitive setting for sitting together in dark rooms, but the Midnight Sun Film Festival in Sodakyla, Finland, doesn't shy away from contradictions.
The festival was born in 1985 from a drunk bet. The idea of hosting an international film festival in Lapland—where German tanks froze in their tracks the last time the Finnish conscript army was called to duty in 1944—was so absurd that when director Anssi Mänttäri first broached the subject to the head of the local cultural secretariat after a sunlit night of ample drinking, the latter agreed without hesitation. After all, who'd be deranged enough to follow through with such a plan? Turns out Mänttäri and a few colleagues he managed to recruit—including Metrograph's recent retro honoree Aki Kaurismäki—were ready to put their money where their mouth was. Ever since, the festival has drawn larger crowds each year, with a record-breaking 31,000 attendees for this installment.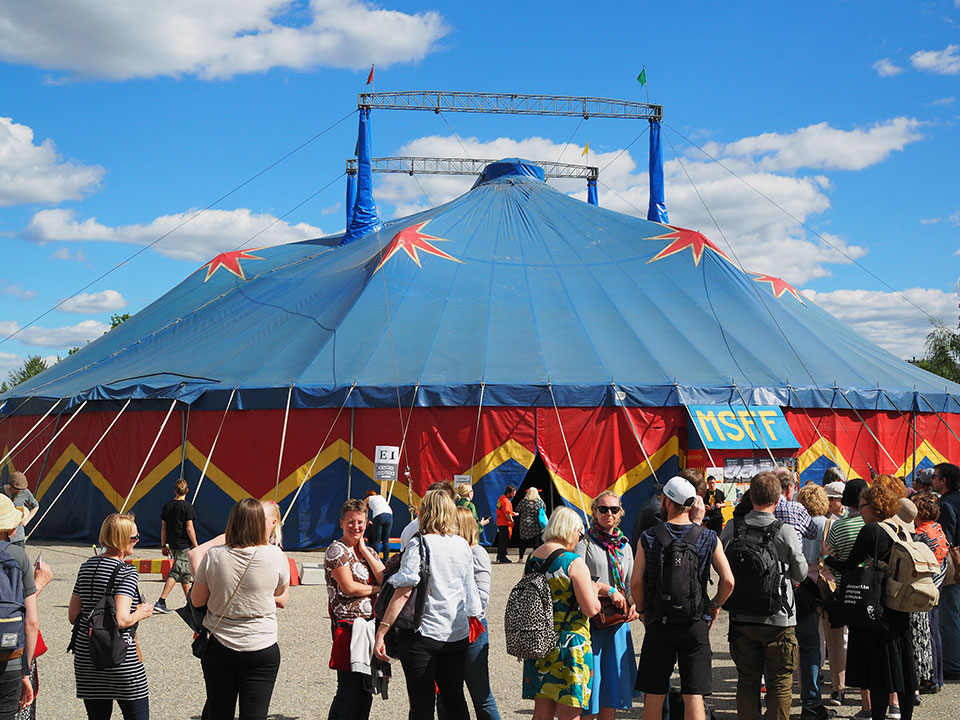 We took a 10-hour train from Helsinki and arrived in time to catch Varda by Agnès , the helmet-coiffed Left Bank New Waver's autobiography, in a small tent (in FC Barcelona's colors, an attendee pointed out) by a placid stream. Three in four spectators were grasping tall boys of strong local red ale, and the farther we progressed into Varda's slow and playful reminiscence the louder the people in front of us got as they compared Finnish soccer league stats on their phones. We left the tent around 23:00 (Finns operate in military time) and the day's brightness had not diminished a bit. After reindeer burgers with chipotle mayo, we drove to our Airbnb at the end of a row of vacant cabins at the bottom of an empty off-season ski slope and were met by a bald man in a hooded onesie printed with Norwegian tribal motifs. This was our host, a 50-something weatherbeaten man who runs a sporting goods company. He toured us through the cabin and told stories of his international guests, e.g. that "Oriental people" flock to him because believe that conceiving a child under the Northern Lights improves one's chances of having a boy. He uses Airbnb mainly as a front for his "experience tours" (licensing a legit tour company requires prohibitively expensive insurance) and was disappointed that we didn't want to go mountain biking or fly fishing. His spot was pretty remote, but staying an hour's drive from the festival grounds had the advantage that we got to see gangs of reindeer on the roads several times a day.
The pace of MSFF is relentless: each day kicks off with a director talk at 10am, followed by up to 35 screenings divided across four venues. The most impressive of these is the Big Tent, a circus tent with wooden bleachers and an interior painted black with stars and crescent moons. On the second night we came here for a karaoke screening of Baz Luhrmann's Moulin Rouge! (2001), which, in case you forgot, presents a serious sing-along challenge thanks to its complex medleys and frequently half-spoken verses. The moment the lights went down, a wave of sharp hisses and metallic pops passed through the audience, building and crescendoing over the course of a full minute: hundreds of tallboys being cracked open. This ritual prefaced nearly all screenings and gave the whole week a vibe of collective abandon.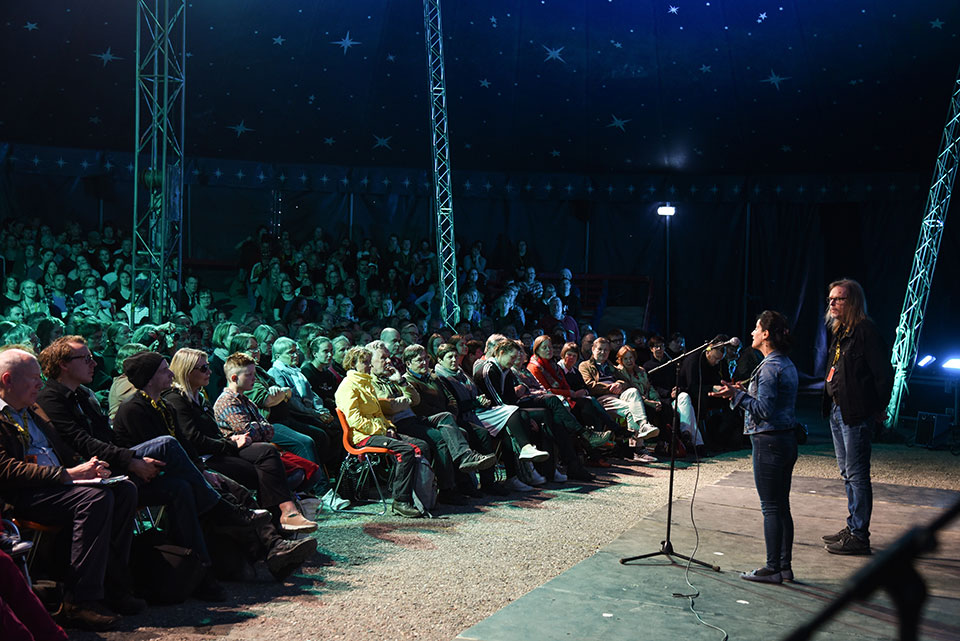 There was a devotional air to the screening of Barbara Rubin's sole extant film, Christmas on Earth a.k.a. Cocks and Cunts (1963), which was screened in reverential adherence to Rubin's original instructions: dual 16mm projection with one image set within the other, color gels, and a top 40 radio soundtrack left to the projectionist's discretion (in this instance R&B chart-toppers from 1963). Experimental filmmaker Mika Taanila's introduction placed Rubin's life and work in the context of New York's avant garde film scene and counterculture more broadly, in which her achievements have been grossly undervalued: as a programmer at Film-Makers' Cooperative she aggressively promoted Jack Smith's Flaming Creatures (1963) and won it its cult status; as a prominent figure in the downtown art scene she introduced both Bob Dylan and the Velvet Underground to Andy Warhol and got them involved in the Factory scene; and as a filmmaker she pioneered expanded cinema years before Gene Youngblood coined the term. As Taanila praised a recently published volume of Rubin and Jonas Mekas's correspondence, I tried to fathom why a roomful of Finns would be interested in the minutiae of the interpersonal relations between members of a tiny art scene 50 years and 4,000 miles removed from them. Maybe the MSFF's efforts to carry on a purist tradition similar to what US institutions like Anthology Film Archives and Canyon Cinema have spent a half-century promoting makes its programmers and crowds exceptionally receptive to the utopian visions of cinema's potential that Rubin pushed.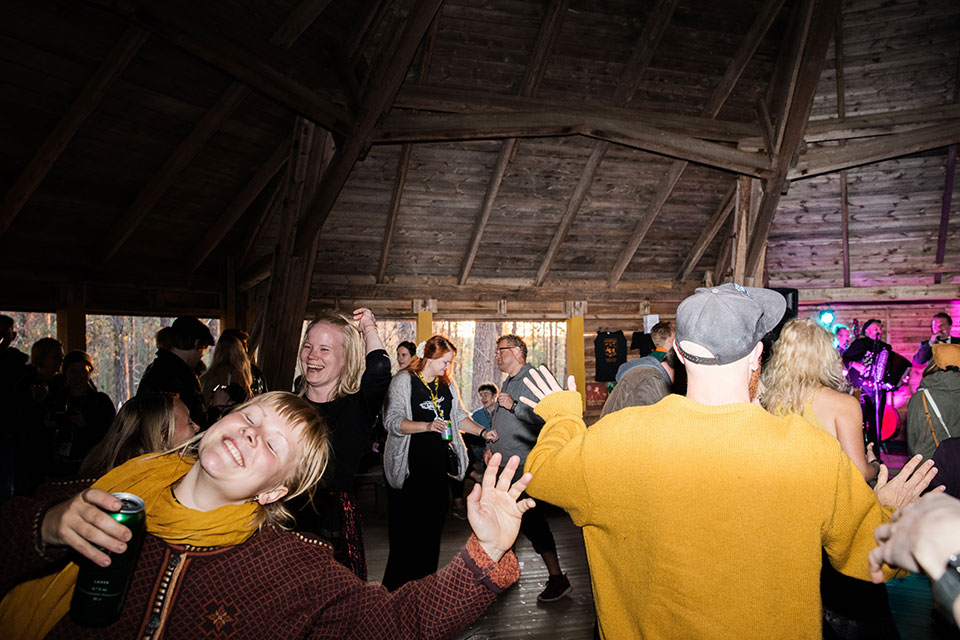 "Roomful of Finns" might sound like an exaggeration, but it really did feel like a good 95% of the festival crowd were natives—and I don't mean "natives" in the sense of "indigenous people," which in this region are the Saami, a reindeer-herding people distributed across the northern parts of Finland, Sweden, and Norway. I met only five other Americans: Kent Jones, director of the NYFF, who was presenting his 2018 feature Diane and introducing a few screenings; a San Franciscan who attended because he had a half-Finn friend; and three Angelenos who were there for a shoot. The 2,000-person lines for the Big Tent were seas of white faces, many of them sporting the blonde dreads and braided goatees that mark many members of the Finnish race. Luckily the programming had some diversity. In the village's elementary school's gym we saw The Gentle Indifference of the World (2018), a Kazakh romantic comedy in the nostalgic style of Pierrot Le Fou, complete with twee role-playing and starring an unrefined charmer in the mold of Jean-Paul Belmondo. The next day we returned to the gym for a Kyrgyz musical, Song of the Tree (2018), in which nomadic warriors erect yurts and defend their honor by playing equestrian rugby using a dead muskrat as a ball. A young warrior is humiliated and banished from the tribe, but spurred by his love for a chieftain's daughter he trains to become an expert hand-to-hand combatant and ultimately makes a triumphant return. Despite its impressive singing, awe-inspiring landscapes, and breathtaking crane- and drone-heavy camerawork, its sheer cultural unfamiliarity drew chuckles from some of the more provincial members of the crowd.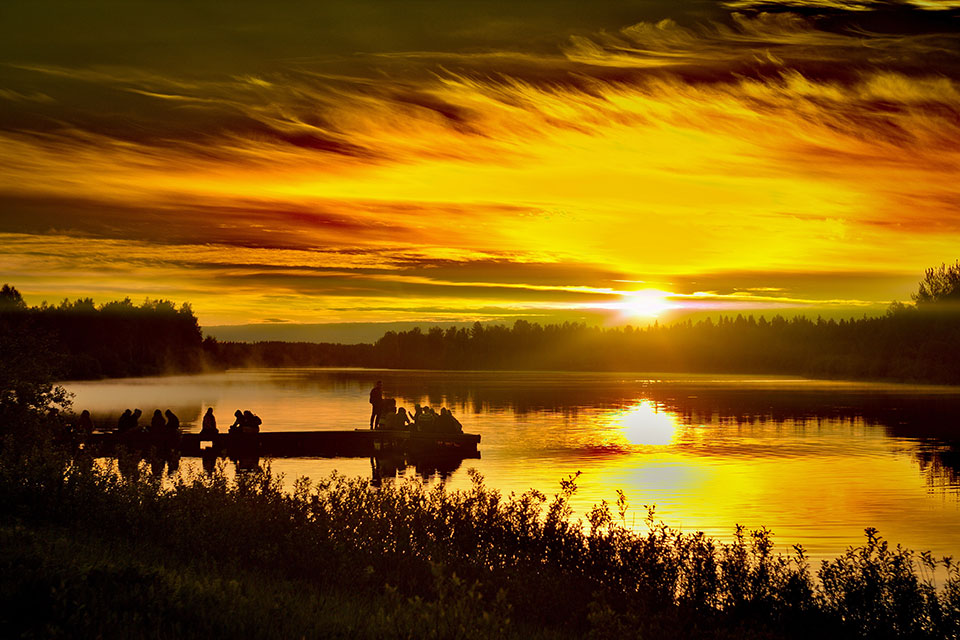 A major attraction of the MSFF are its live scores. The only one we caught was Friedrich Ermler's Fragment of an Empire (1929), a silent Soviet fish-out-of-water comedy about an NCO in the Czar's army in WWI who gets shelled on the Western Front and loses his memory. When he comes to on the other side of the revolution he can't believe his eyes and ears. Where are the masters? Where are the hierarchies? He arrives in Leningrad in his papakha and takes a tram ride, during which he learns the modern visual vocabulary of class and gender identity: women workers in coveralls, proletarians sitting next to intellectuals, flappers wearing short haircuts and above-the-knee skirts. When his search for a master to serve fails and his fellow factory hands finally get it through his head that they've gotten rid of all that, his face lights up in such a radiant smile of relief and joy that a tear came to my eye. At that instant, the British duo of pianist Stephen Horne and percussionist Martin Pyne (who accompanied the whole thing) broke into a majestic rendition of the Internationale, and the entire 4,000-strong tent crowd rose to its feet, enraptured. In the words of P. Stuart Robinson from his Montages Magazine write-up of the festival's 2014 edition, I got the feeling that the MSFF might be "genuinely socialist."
In a festival rich in highlights, the brightest were Iranian filmmaker couple Mohsen Makhmalbaf's and Marzieh Meshkini's retrospectives. Makhmalbaf's Salaam Cinema (1995), a documentary study of obedience to authority in the form of a massive open casting call presided over by a tyrannical director, was a revelation. While in the States Makhmalbaf is well known only in limited circles, in Iran he was such a big name that the thousands who showed up to audition nearly crushed each other in a stampede outside the gates. Meshkini's The Day I Became a Woman (2000) portrayed the lives of Iranian women at three stages of life: a nine-year old girl who has to don a hijab for the first time, a young woman who forfeits her marriage by participating in a bicycle race against her husband's wishes, and an old widow who goes on a quest to buy all the consumer products she could never enjoy while she was still married. The Finns' questions indicated a genuine concern about the cultural and legal pressures that Iranian women face, even if some of them revealed an endearing naïveté ("Are there many black people there?").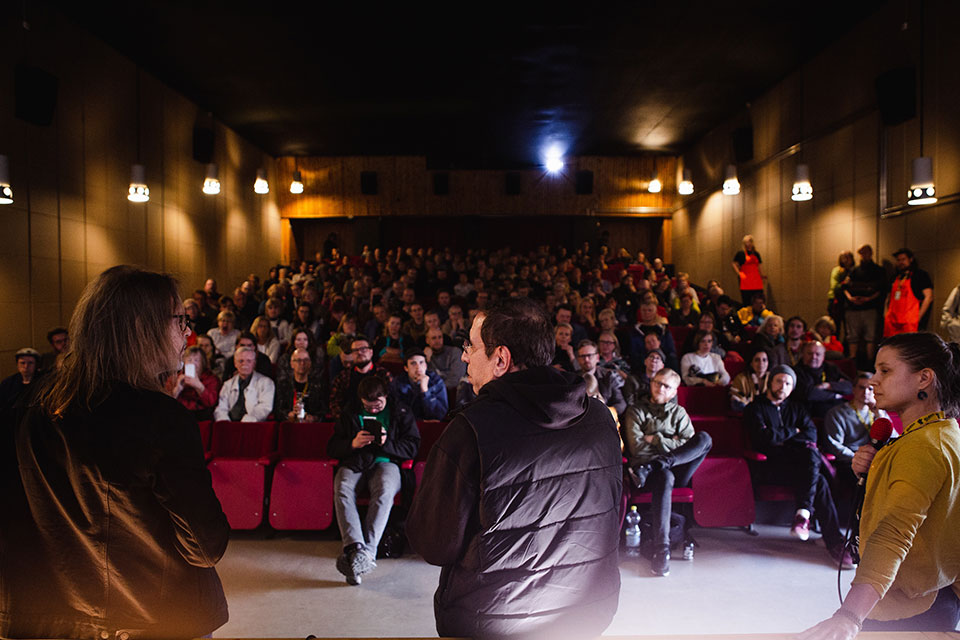 When the sun doesn't set, time starts to feel completely arbitrary. At some point you start feeling a little tired, so you consume some caffeine and a handful of Jaffa Cakes and keep going. You try the door of an electronics store to buy a travel adapter and wonder why it's locked, then realize it's 2:30am. If you ever decide to go to sleep, you feel like you're only doing it because you read somewhere that you should. The Midnight Sun Film Festival lived up to the hype and then some. I'll definitely go back and I hope you will too; Finnish is a hard language (even for a native speaker) and hearing English is a relief.
All photos courtesy of the Midnight Sun Film Festival.