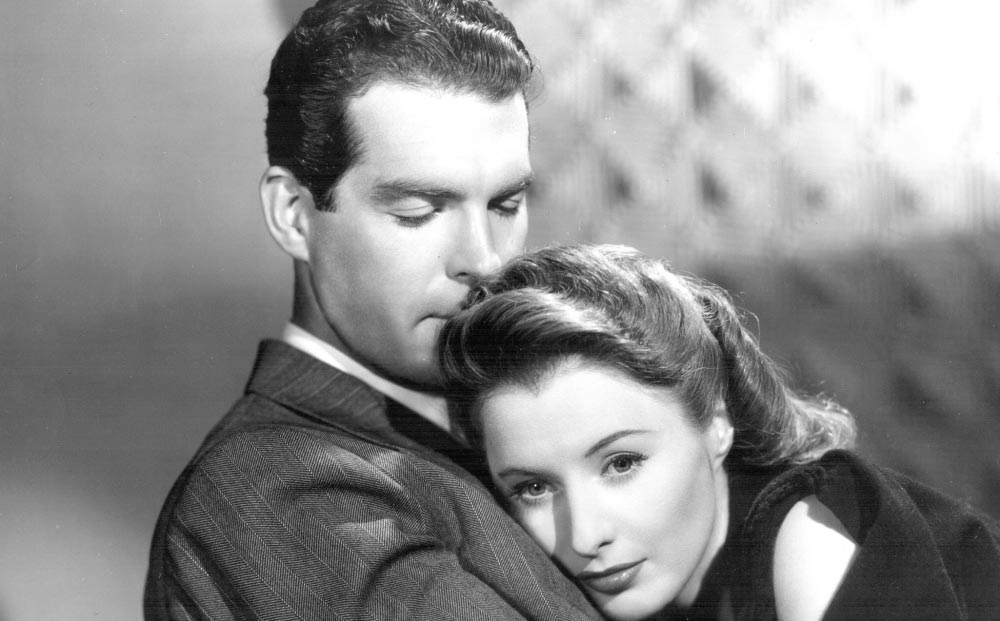 January 25th 2023
When Barbara Stanwyck lowers that gruff, Flatbush-flecked voice to the most hushed and haunted of whispers, the listener might feel as though they are curling up close to a fire, basking in the heat of a destructive force. The effect occurs several times in Remember the Night (1940), a Christmastime romantic drama written by Preston Sturges, whose star would soon permanently eclipse that of the film's director, Mitchell Leisen, once he resolved to helm his own scripts later that year with The Great McGinty.
Leisen, who was as openly gay as one could conceivably be in Hays Code Hollywood, savored and spotlit actresses like Carole Lombard, Jean Arthur, and Claudette Colbert in sparkling screwball comedies that never failed to turn a profit for Paramount. For Remember the Night, Leisen knew that Stanwyck was a no-brainer choice for the role of Lee Leander, a streetwise New York jewel thief who falls in love with John Sargent (Fred MacMurray), the assistant district attorney assigned to prosecute her, right before the courts' holiday recess. Conscience-stricken about forcing a woman to celebrate Christmas in the slammer, John bails Lee out and invites her to accompany him on a road trip to their home state of Indiana.
There is plenty in Remember the Night to make a modern-day viewer wince, from a joke about dog-eating in China to the abhorrent treatment of John's blabbering, Black manservant Rufus (Fred "Snowflake" Toones). Yet once Lee and John set out on the open road, the film seldom puts a foot wrong, a testament to the character-rich simplicity of its screenplay, which Sturges claimed Leisen butchered. But Leisen's patient and precise direction is pivotal in cultivating the lovestruck, rueful mood that enriches Remember the Night, aided by the gentle naturalism he inspires in two leads who say with a wistful look all that Sturges hoped to communicate in his axed dialogue.
The film marked the first of four collaborations between Stanwyck and MacMurray, an unlikely yet surprisingly compatible pair forever etched in film history thanks to Billy Wilder's far more famous Double Indemnity (1941). There is a clenched, closed-fist quality to MacMurray's standard screen persona, but it's a quality that tends to vaporize in the presence of Stanwyck's ardor, eroticism, and pure emotion.
Unlike peers such as Joan Crawford and Sylvia Sidney, Stanwyck, even at her most imperious, never fully sheds her humble, working-class origins on screen. Leisen wasn't the first of Stanwyck's directors to identify and utilize her background, but few harnessed it so organically in the service of her character. There is a moment early in the film where Lee shakes her hand in disgust at a policeman tasked with escorting her back to jail. What we see is not a star's posture of toughness but an actress' embodiment of it. The dismissive, riled-up, Out of my way, pig authenticity of this gesture cements Stanwyck as Lee; this isn't the first time the character has been manhandled by a cop and it probably won't be the last.
No matter Lee's tart tongue and diamond-hard mettle, Stanwyck wears her shame and sadness quite openly in Remember the Night. Lee crumbles within seconds while visiting her unforgiving ghoul of a mother, played terrifyingly by Georgia Caine. Her eyes well and beam with gratitude to be a guest in John's familial home, a rustic cocoon of quirky domestic comforts, complete with a slouching, oversized Christmas tree and presided over by the great Beulah Bondi as John's widowed mother.
The intensification of Lee and John's relationship leads to a pivotal tête-à-tête in which Bondi's character begs Stanwyck's to do the honorable thing and surrender her heart's desire in order to preserve her son's legal career. Stanwyck and Bondi, the latter among the most emotionally precise of classical Hollywood character actors, play this conversation not as a battle of wills but as an accord of stunning compassion, in which two opposed women tenderly and respectfully come to an agreement about a man they both hold dear.
Remember the Night culminates in a wrenching and deeply nuanced scene in which Lee and John's future together is uncertain, but love—new though no less true to both who share it—gives them the fortitude to face a life without each other. Their proud self-sacrifice throws into relief just how much the world's workings—its rules, judgments, and prejudices—are a hindrance to the happiness of its inhabitants.
Remember the Night screens today and tonight, January 25, and on January 31, at Film Forum in 35mm as part of the series "Written and Directed by Preston Sturges." Tonight's screening will be introduced by the Barbara Stanwyck biographer Victoria Wilson.