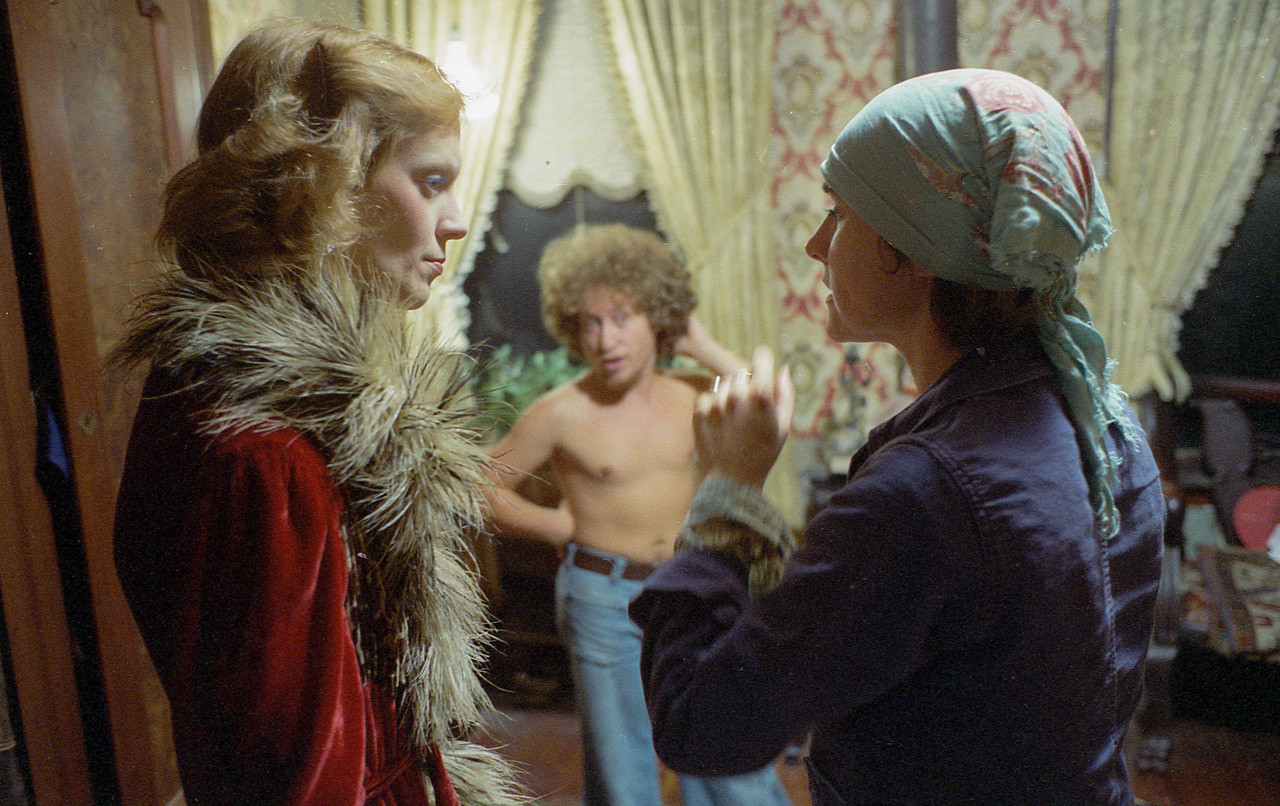 January 26th 2022
In the 1970s, activist, theater critic, and native Oregonian Penny Allen took part in a movement to rescue the Corbett-Terwilliger-Lair Hill neighborhood of Portland from high-rise developers. Inspired by this collective effort to maintain a beloved enclave of ramshackle Victorian homes and their eccentric tenants, Allen wrote a script that condensed the events and the broad swathe of people involved into what would become Property (1977), her feature film debut. Made with recent RISD graduate and first-time cinematographer Eric Alan Edwards (My Own Private Idaho, Cop Land), who brought college friend Gus Van Sant on board as sound recordist, the resulting film's prescient, evergreen relevance and cast of indelible, intimately-captured characters make for an endlessly watchable if bittersweet time capsule.
Property opens with poet Walt Curtis (playing himself) learning about the impending buy out of his block from recently-evicted Butch, whose family has lived in the once majority Black neighborhood for generations. Curtis and his friends, a group of artists and general misfits surfing the edges of imminent cultural shift, decide to band together and collectively purchase the mostly overgrown "Dogpatch" and, essentially, settle down. Amid disorganized and theatrical roundtable meetings; disheartening trips to the bank, the mayor, the development commission, and back to the bank; and swiftly abandoned efforts to raise a little cash toward the required $200,000 down payment; the group walks a bric-a-brac-littered and faded-rug-strewn tightrope between preserving their boho outsider status and surrendering to the normative institution of home ownership.
Gentrification wasn't yet the byword for what was happening in Allen's hometown and thus doesn't appear in the script. Yet much of what occurs will be painfully familiar to today's viewers, who may find the film overly generous to its often self-centered, mostly white characters (in the words of one collectivist, "How many Black people live in this neighborhood, and why aren't they here?"). The echoes of futility don't end there: couch-surfing comedian Corky Hubbert (Legend) relates the excitement of recent demonstrations against the local Trojan Nuclear Power Plant, which was eventually shut down and demolished. Protests of that scope don't seem to be coalescing today around this under-regulated, "safe" energy source in other pre-gentrified areas, the expansion of which is encouraged by proponents of the Green New Deal.
Property's lasting power doesn't arise from its suggested alternatives to capitalist land grabs or any inspiring visions of success. Rather, the naturalistic performances from its charismatic cast—mostly local theatrical actors—bring humor and beauty to a decidedly depressing topic, and the roving, documentary-style 16mm camerawork imbues the film with tender immediacy. Lola Desmond and Marjorie (whose salaries were subsidized by the Federal Comprehensive Employment and Training Act) portray a part-time sex worker and a thrift-store upseller, respectively, and play their post-hippy antics with undeniable magnetism—just one aspect of Property that reappears in the films of Kelly Reichardt and Van Sant, to name a few of Allen's Northwest indie successors.
Property screens tonight, January 26, and tomorrow afternoon, January 27, at the Museum of Modern Art in a digital restoration as part of "To Save and Project: The 18th MoMA International Festival of Film Preservation."