Featured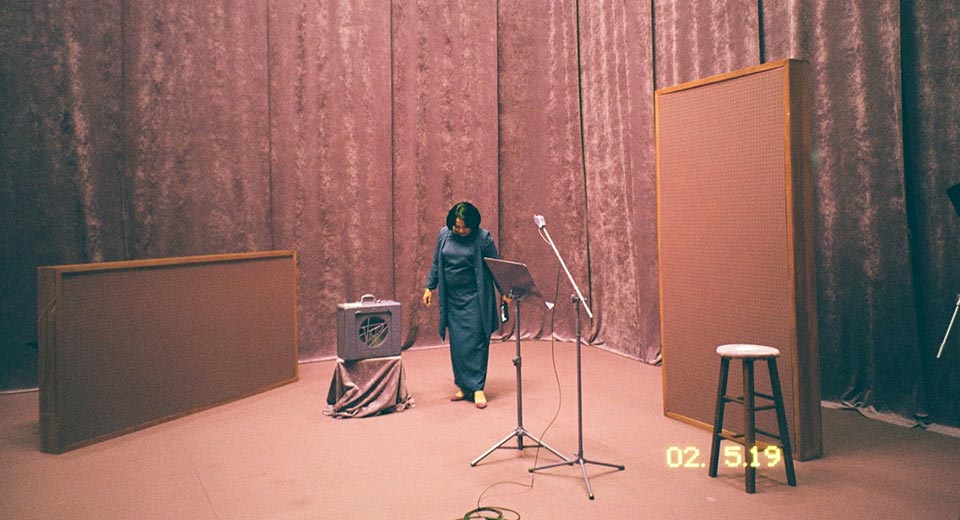 June 11th 2017
Self-proclaimed "conceptual entrepreneur" Martine Syms' debut feature film Incense, Sweaters, and Ice plays as part of her first US solo museum exhibition at MoMA. The film is presented as part of an immersive installation on MoMA's 3rd floor Elaine Dannheiser Project space, an expansive gallery painted to match Syms' signature [The Color] purple (see martinesyms.com), and equipped with a series of movie poster-sized photographs that transform into moving image works with the addition of a site-specific augmented reality app called WYDRN (ie. "What Are You Doing Right Now?").
This may seem a mouthful, but really what it means is that the viewing experience is unlike any you've ever encountered; between the 3-channel video installation, the photographs, and the apps, the images Syms presents and the way in which they are revealed asks us to reconsider our relationship to media such that we become acutely aware of the presence of our own bodies in time and space. Syms designs an inevitably self-conscious environment, then populates it with images referencing black American culture and identity that the viewer must physically move about the space in order to observe and activate. The result is a kind of personal reenactment of the Great Migration, an historical event thrust into the present moment at every moment in Syms' outstanding first solo museum exhibition.
The film itself follows three characters—"Girl," "WB" (whiteboy), and "Mrs. Queen Esther Bernetta White"—each existing in separate spaces, alternating between public and private moments of action. The story's constantly shifting perspective blurs the line between documentary and fiction, and this ambiguity of meaning is likewise reflected in the switching of the image from one screen to the next: the viewer must literally follow the image back-and-forth throughout the space, mirroring the experience of the Great Migration at human scale. The switching-shifting-on-off-ness of the experience is again echoed in the narrative—particularly by Mrs. Queen, a matriarchal figure dressed head-to-toe in purple, who directly addresses the camera to offer spiritual guidance through gospel song and self-help tips on empowerment and faith. Syms' sharp critical insights are nuanced in their meme-ness and the process of gathering them is deliberate and fun. Go early to beat the tourists; stay awhile and see the whole thing.