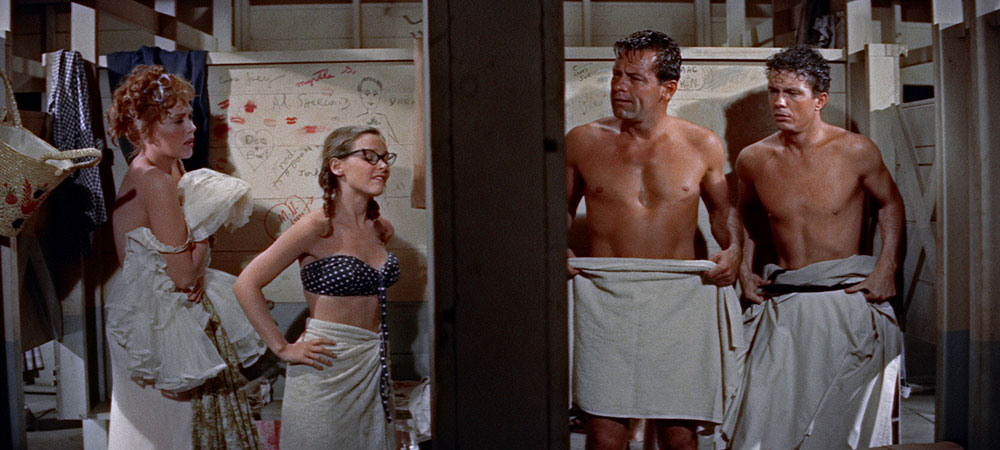 June 19th 2022
In their journeys from Broadway to Hollywood in the 1940s and '50s, theatrical adaptations tended to lose their edge. References to Code-violating topics were excised and sexuality toned down. Some films, like Joshua Logan's Picnic (1955), based upon the play by William Inge, could remain more faithful to their source material. Inge's play lacked the scandalous depictions of rape and homosexuality with which screen takes on Tennessee Williams's works had to grapple, but its deeply empathetic portrayal of female desire and desperation held fast from stage to screen.
Picnic begins with an enduring premise. Hal (William Holden), a drifter and petty criminal, arrives by hopped freight car to a sleepy Kansas town preparing for its festive Labor Day picnic. He intends to reunite with an old college friend, Alan (Cliff Robertson), whose father owns the town's lucrative grain elevators. Hal soon meets Alan's girlfriend Madge (Kim Novak), who lives in a matriarchal household with her mother, younger sister, and the self-described "old maid schoolteacher" who rents their spare room. Madge is suffocated by her mother's exhortations to marry Alan for his wealth and social standing, and Hal embodies the rebellious freedom that Alan's tight-lipped country club world would deny her. Schoolteacher Rosemary (Rosalind Russell) is terrified of remaining a spinster, plainly turned on by Hal's good looks, and maniacal in her desire to possess him.
The kid sister, Millie (Susan Strasberg), relates to Hal with an aspirational admiration that only resembles attraction if one ignores her obvious lesbianism. Millie wears jeans, reads Carson McCullers, and announces that in lieu of marriage and child rearing she plans to "go to New York and write novels that'll shock people right out of their senses." She is a clear stand-in for Inge, himself a closeted gay man and a lifelong observer and chronicler of the repressive world around him.
In a negative review of Picnic published on the occasion of its 1996 restoration, Roger Ebert wrote that "the Holden character is treated exactly like the women in the movie. Like them, he's not considered to be very smart. Like them, he's physically attractive. Like them, he's displayed in beefcake poses." Indeed, both Hal and his female admirers are bodies on display. In one tracking shot—a hallmark of cinematographer James Wong Howe's innovative style—the camera moves from the bare lower legs in the women's locker room at the town swimming hole to those in the men's room. A cross-sectioned concrete wall divides them as it emphasizes their symmetry. Like Inge and Millie, the eye of Picnic's camera is that of an outsider excluded from the comparatively simple dynamics of heterosexual desire.
Picnic screens this afternoon, June 19, at the Museum of the Moving Image as part of "How It's Done: The Cinema of James Wong Howe."