Featured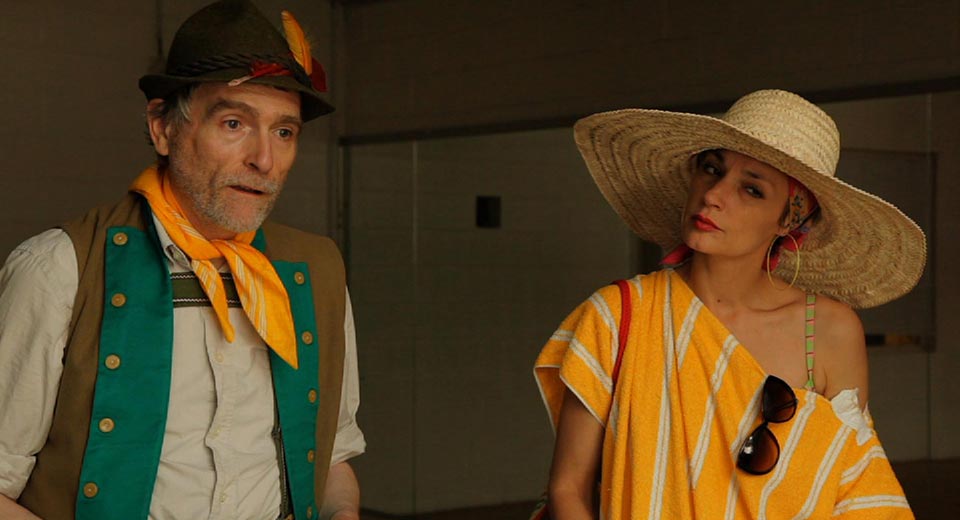 October 1st 2018
Jeanne Balibar is a capital-S Star in France: a stage and screen actress who has worked with Jacques Rivette, Olivier Assayas, Michael Winterbottom, Raul Ruiz, Pedro Costa, and (ex-husband) Mathieu Almaric, released two studio albums, and is a director in her own right. Balibar is busy right now - starring in Pawel Pawlikowski's newest film Cold War, screening at the New York Film Festival, as well as Almaric's Barbara, which will have a week-long premiere run at Anthology Film Archives October 12-18. While mere mortals are likely to be exhausted by that rundown, Balibar will also be in town for a retrospective of her prolific work, co-presented by Anthology and the French Institute Alliance Française. Included in the program is Par exemple, Electra, Balibar's directorial debut, a delirious fusion of styles and ideas from Balibar's decades of film work.
Co-directed with Pierre Léon and featuring Edith Scob, Barbet Schroeder, and Emmanuelle Béart, Par exemple, Electre details the efforts of an actress (Balibar) and a director (Léon) to make a modern cinematic interpretation of the Electra myth. Dressed like tourists in beach garb and German lederhosen respectively, Jeanne and Pierre try to find funding for their film, bargain with a costumed producer, and have rehearsals everywhere; Scob paces the Parisian Metro, practicing her lines on the platforms and the escalator.
Out of all her collaborators, it's Jacques Rivette that Balibar seems to have studied most closely; Par exemple, Electra is a shaggy, episodic, whimsical take on making a movie that feels right out of the New Wave master's playbook. Scenes of the most boring tasks – editing her film's website, writing emails, filling out funding applications – are elevated through playfulness. Balibar sings the text of her emails, and office drones and freelancers alike will understand the impulse to make a game out of scheduling meetings ("On the third I'm free in the morning/The fourth is less convenient for me" she croons). Balibar and Léon's film finds the Rivetteian rhythm – and the ridiculousness – of everyday tasks, the work forms the invisible backbone of every work of art under capitalism.