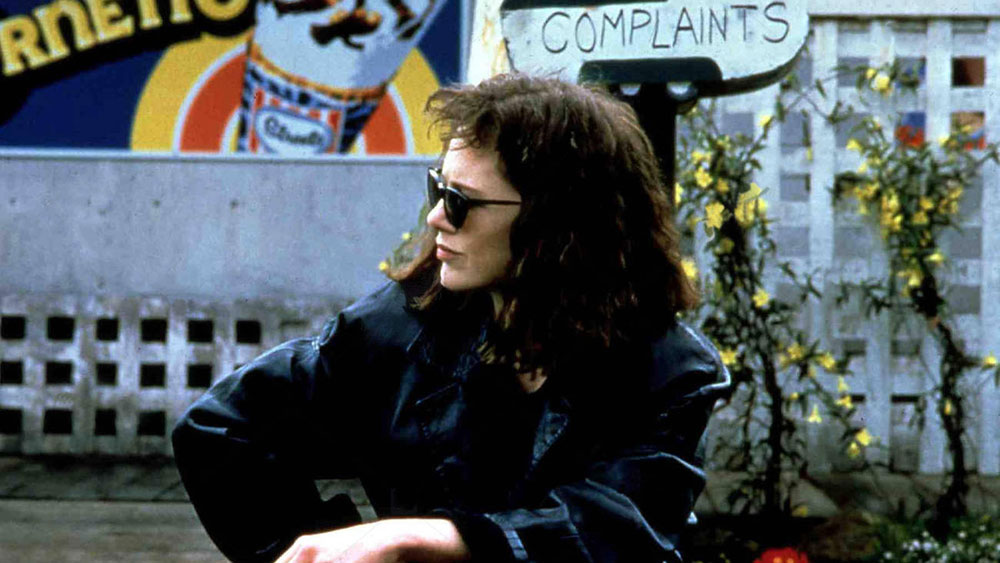 April 27th 2022
Eight years after working together on the lauded My Brilliant Career (1979), director Gillian Armstrong and actress Judy Davis collaborated on the less celebrated High Tide (1987), a poignant drama about a woman who has been adrift her entire life coincidentally rediscovering the daughter she left behind over a decade before. Depicting a quirky Australian small town, populated by characters similar to those of her masterpiece musical Starstruck (1982), Armstrong presents a story of rejected motherhood without judgment, and with an opportunity for redemption.
When Lilli (Davis) rolls through Mermaid Caravan Park, it's just another gig as a backup singer for a schlubby Elvis impersonator. Who knows how long she's hitched her wagon to the group—she travels by her own car and deliberately disobeys her employer, who soon tells her she's no longer needed. Finding her car broken down, she's stuck, a jail sentence for someone so restless. With no money for a repair and nowhere to be, she goes on a bender, wandering the shoreline. Ally (Claudia Karvan), a local teenager, finds her singing to herself in the bathroom and helps her locate her trailer. The two take an instant liking to each other, drawn by something unknown. Only when Lilli spots Bet (Jan Adele), Ally's grandmother, does she know who she's stumbled upon.
Ally, caught in the in-between age where she notices her breasts growing but still sleeps with an E.T. bedspread, seems content with her life. She spends a lot of time floating on a surfboard that belonged to her dead father, and helps Bet out with the ice cream truck in the summer. Bet has told her both of her parents are dead, and has given her a stable life, even if Bet herself still likes to get a bit wild, singing at a nightclub and sometimes picking up traveling musicians. Bet is visibly shaken to see her daughter-in-law, and makes it clear she does not want Ally to have any idea who Lilli is.
The portrayal of the complicated relationships of these women is handled in unexpected ways. Lilli, charming but wounded, is captivating to Ally. Struggling with the uncanny resemblance to her late husband, Lilli finds it difficult to be around Ally, yet is still drawn to her. Meanwhile Bet is a force, barrelling toward Lilli like she's ready to knock her down.
The personality of the town adds a quirky layer to the mix—it's a working-class place whose nightlife includes clunky slot machines and amateur stage shows. It makes sense that these untraditional lives should converge here, ready to make their own rules of motherhood, allowing their flaws to be part of the adventure.
High Tide screens tonight, April 27, at Nitehawk Prospect Park on 35mm as part of the series "The Outskirts," co-presented by Screen Slate. The screening will include a video introduction by director Gillian Armstrong.