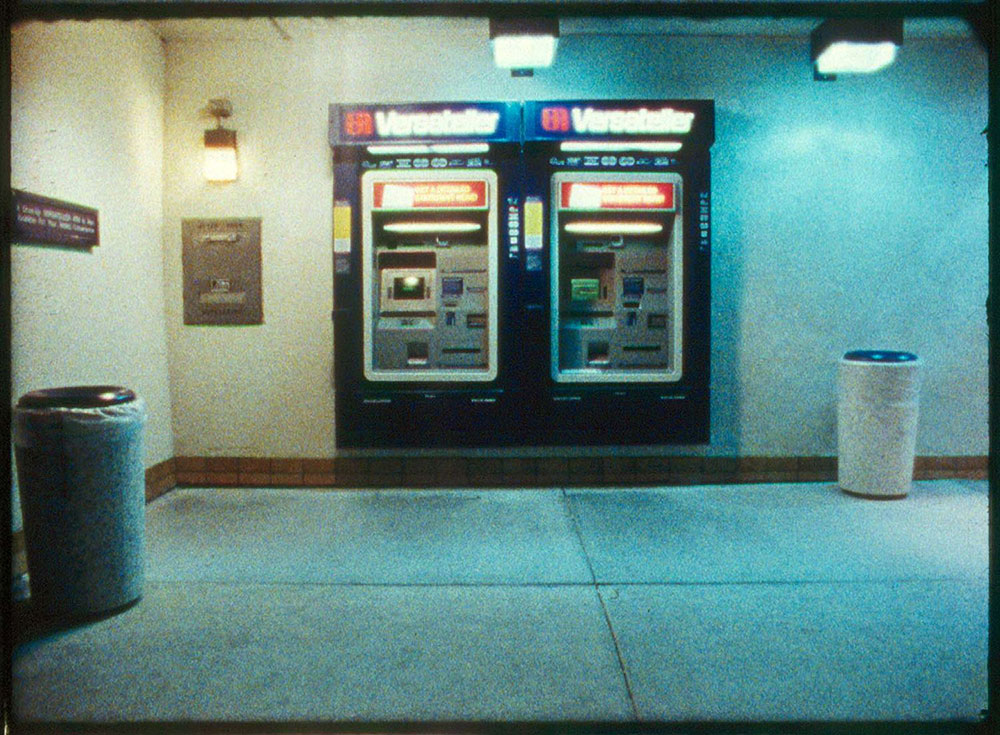 December 16th 2022
"IT IS NOT NECESSARY TO BE SOMEPLACE ELSE IN ORDER NOT TO BE HERE," declares the onscreen text that begins Deborah Stratman's 2002 short film In Order Not to Be Here. It's a dissociative motto for the ages, but also a threatening omen in the immediate post-9/11 world of indefinite detainment and the Patriot Act. Stratman's unnerving exploration of suburban surveillance in a police state anchors a program showcasing Stratman's diverse, astute short film work from the last 20 years.
In Order Not to be Here begins with footage from a police helicopter as the overhead cop directs his colleagues to a target through the pitch-black night. They are everywhere, it screams. The film then moves to a series of liminal suburban spaces, context-less and human-less: parking lots, convenience stores, identity-free buildings with manicured hedges that could contain offices, apartments, anything. Stratman expertly weaves police surveillance material into this "Anytown, U.S.A." footage, reminding us of the state violence that preserves suburban life. Then, a surprise: a man, running, running, running; no clear location in sight, it's obvious (even though we don't see him except through overhead footage) that he is trying to escape this hell. Stratman's film functions as a cautionary tale about the surveillance state (you can feel the influence on more recent films by Theo Anthony and Sierra Pettengill), but it's just as effective as found-footage horror: no context, all pounding anxiety.
On the opposite end of the spectrum, the program also features Stratman's Optimism (2018), filmed in Dawson City, Yukon, a major site during the Gold Rush of the late 1800s, today held together by a small group of residents reliant on tourism and the remnants of the mines. But, as the title suggests, Stratman's film is a beautifully clear-eyed portrait of this town: in voiceover, a former mayor relays his plans to create a city square made of light for Dawson City residents during the winter, when they get no direct sunlight; a fox traipses blissfully through the snow; a goldsmith nearly lights himself on fire to create a beautiful, shining gold bar. The ultimate optimism, though, is resistance: the former mayor ends the film by decrying the Canadian government's attempt to mine in Dawson City, exhorting his fellow residents not to make a deal with the government they know will destroy their ancestral lands. In Stratman's perceptive films, optimism is found outside the structures of the state.
"Optical Oracles: Five Short Films by Deborah Stratman" screens tonight, December 16, at Spectacle Theater. Stratman and Joaquín de la Puente (the running man himself) will phone in for a remote Q&A following the screening.