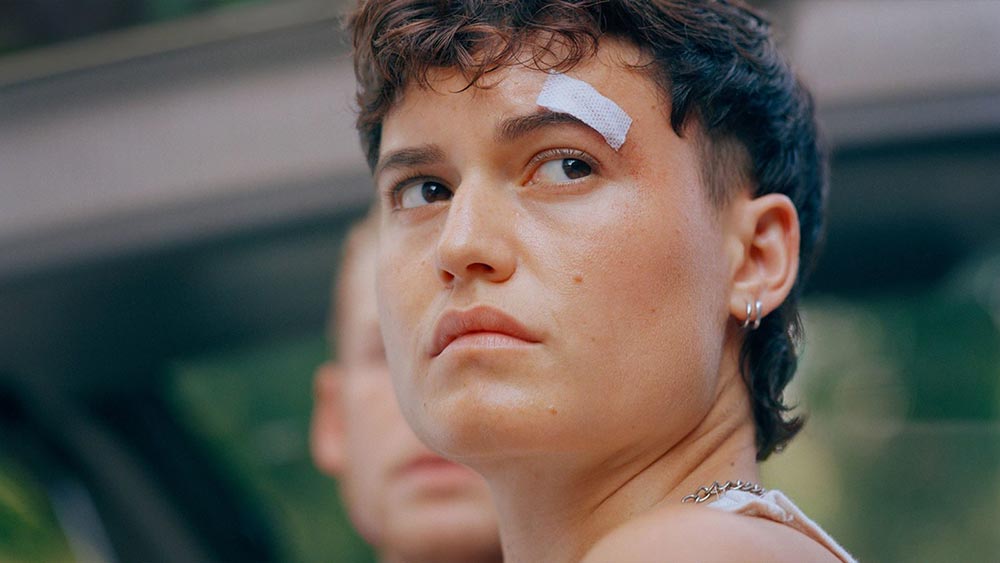 April 8th 2023
Mutt (2023), the directorial debut of Vuk Lungulov-Klotz, follows a young trans guy named Feña as he navigates three severed relationships from before his transition: father, sister, and the holy ghost—his straight male ex. Feña dashes around an uncharacteristically quiet New York to a wash of indie rock as he comes of age under flashing club lights, empty basketball courts, and beloved Bushwick bodegas. The film, Lío Mehiel's first feature, earned them a Special Jury Award at Sundance, making them the first trans person to receive one.
The depiction of trans masculine life on film often falls under the shadow of Boy's Don't Cry (1999) in which Hilary Swank takes the role of a trans boy. Meanwhile, Mehiel has described the set of Mutt as "T4T Heaven," with both a trans masculine director and star. So few trans directors get a chance to cruise, with Isabel Sandoval's stunning Lingua Franca (2019) a recent notable exception that interrogates trans representation with grace and clarity. Mutt, on the other hand, is a family film. Feña's friends retreat into the background, acting as little more than mouthpieces to say "Exes are exes for a reason." Feña's family members are the ones that count. The tender bond of a trans person with their sibling excavated with tender care, humor, and wit isn't something one normally sees on screen. Mutt asks how much change a family can accept without breaking. Apparently, a lot. Mehiel's portrayal of Feña soars when he repairs his relationship with his sister, sliding into the role of older brother with dashing flair.
The more typical scenes of the trans film also appear: A woman on coke delivers an exultant interrogation ("Do you have a dick?"). A cis person asks if top surgery hurts, and Feña responds with a monologue on pain accompanied by deep sighs. There are fights about pronouns, the "irreversible damage" of testosterone, and having been a beautiful child. There are no explicitly trans characters besides Feña, a fact that precludes the film from being a "T4T heaven," even if the set was. Feña is rarely given the gift of interiority, instead thrust into the cis world as a prophet to account for his transition. Nothing is left unsaid, whether in fights with his ex or when he argues with his father in a car. There are few scenes that linger on Feña alone, instead the camera situates the viewer alongside the cis ex's expectation of seeing top surgery scars. In Torrey Peters's speculative essay "CisWorld," she imagines a world with only trans people, where cis people are the monsters in horror movies, rather than the other way around. Reading Mutt in this light, we would hope Feña escapes the cis gaze by the end of the film.
The fight to be oneself is a hallmark of the coming-of-age film, a trope Mutt deploys with a bit of Trans™ flavor. The second puberty of transition is a vulnerable time that people navigate in a variety of ways. Feña contends with coming of age in long monologues, angsty condemnations, and letting cis people know he is the same person he always was. The cis world that many of my own friends face requires a certain amount of public dissociation in order to conserve energy, a tactic we don't find in the film. The sheer number of people you see every day in New York reminds us of the atmospheric transphobia at play. As angering as bureaucracy and family woes are, if our only strategy was anger we would quickly exhaust our reserves.
Feña, on the other hand, regularly argues with bank clerks and snaps at his dad with impunity. Do people really talk like this? Yes, I thought. Of course they do. Mutt wants to take a genre built for cis people and shift the center to allow the prodigal son to return to the flock. But what about those of us who would rather not return to CisWorld?
Mutt screens tonight and tomorrow, April 8 and 9, at the Museum of Modern Art and Film at Lincoln Center, the Closing Night selection of New Directors/New Films 2023. Director Vuk Lungulov-Klotz and stars Lío Mehiel, Cole Doman, and MiMi Ryder will be in attendance for Q&As.